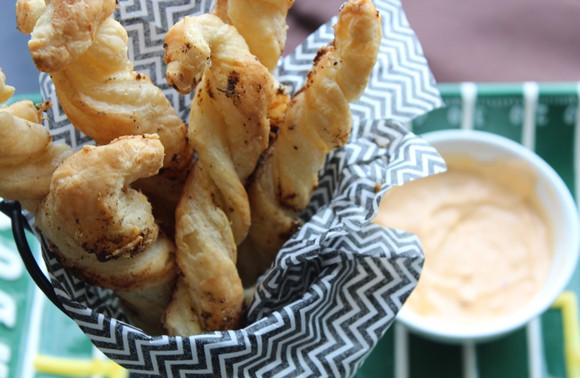 These puff pastry appetizers are so simple to make and are packed with flavor. The spices and parmesan cheese come together to create a great chili-cheese taste.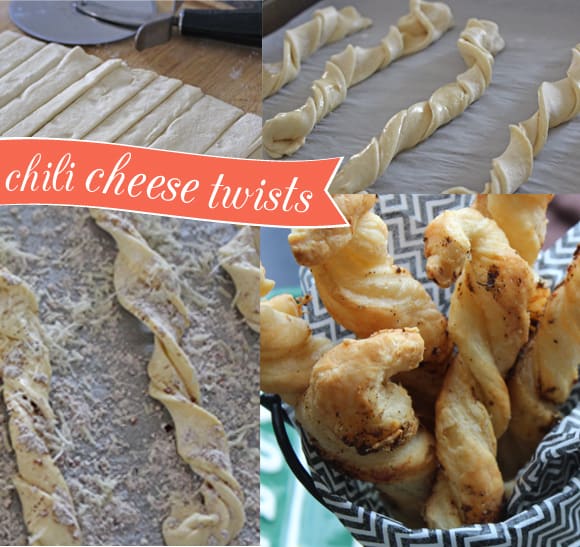 The light a flaky puff pastry pairs well with the chili cheese flavor. Dip these twists in a cheese sauce (or cheese dip like this one) and you have the perfect party appetizer.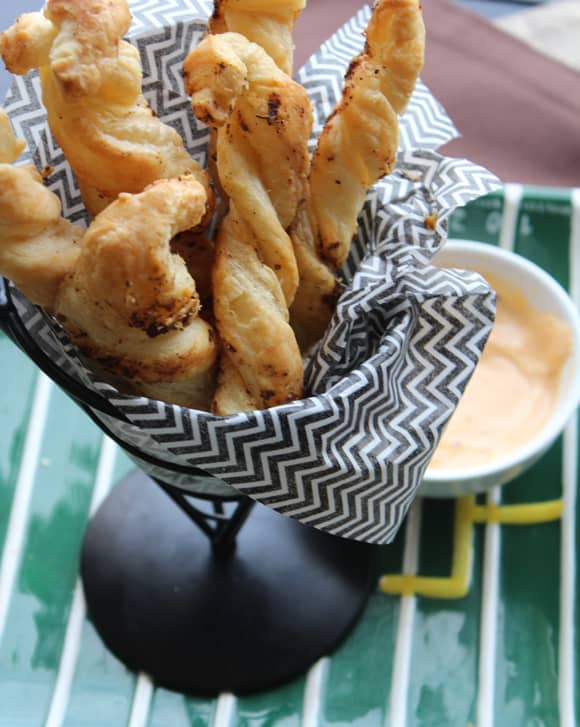 Chili Cheese Twists
Ingredients
Pepperidge Farm Puff Pastry sheets, cut into thin strips about 1/4″ wide
1 tbs olive oil mixed with 1 tsp Worcestershire sauce
3 tablespoons cornstarch
1 1/2 tablespoons chili powder
1/4 teaspoon red pepper flakes
1/4 teaspoon garlic powder
1/4 teaspoon ground cumin
1/4 cup parmesan cheese, grated
To make
Cut puff pastry into strips using a pizza cutter. Brush the strips with mixture of olive oil and Worcestershire sauce. Twist two strips of puff pastry together to make the "twist." Repeat with all strips and place on a baking sheet lined with parchment paper. Combine all of the spices and sprinkle generously over each twists. Sprinkle with parmesan cheese. Bake at 400 degrees for 15-20 minutes or until twists are golden brown.
Can be served warm or cooled. Best when dipped into cheese sauce or other dip (like this beer cheese dip).
Like this recipe? I'm part of the Pepperidge Farm "Puff is the Spark" panel which means you can submit your own ideas for using puff pastry inspired by this  game day recipe for a chance to WIN a trip to the Pepperidge Farm Innovation Center (with me!) and have your recipe included in the Campbell's Kitchen Recipe Database.
SIMPLY LEAVE A COMMENT BELOW TELLING ME WHAT RECIPE YOU WOULD CREATE FOR A CHANCE TO WIN!
Last month's winning comment was from Stella who wrote: What a fun project to share with the kids. I can't wait to give it a try.