This post is paid for by Sauza® Tequila
It's almost May which means it's almost time to fiesta! I recently got together with Sauza® Tequila to plan this simple Cinco de Mayo backyard celebration for a few of my friends. If you've read my past entertaining posts, you know I am a huge fan of keeping things SIMPLE–and that's just what I did for this party. I'm sharing all the Cinco de Mayo party food, drinks, and easy fiesta-inspired decor ideas with you. You'll want to pin these simple ideas to your "Fiesta" Pinterest board for later!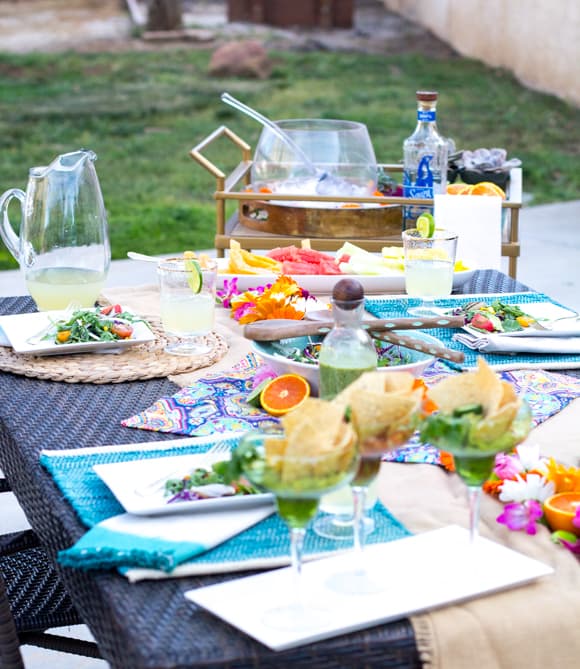 The setting was simply my back patio. How easy is that? I pulled my patio table over to a nice shady spot in the yard and it was the perfect spot to set up our fiesta dinner.
I'm a huge fan of incorporating fresh flowers into every tablescape but I never put the pressure on myself to make perfectly arranged centerpieces (simple is key, remember). I picked up some colorful flowers from my local grocery store, trimmed off the stems, and just grouped them together in the center of the table. SO EASY. I mixed in a couple fresh oranges and limes to bring in that citrusy-fiesta vibe.
An easy way to add to a basic table is to layer on textures. I used a burlap runner, wicker chargers, and linen placemats. Not everything matched either–I just used what I had already and ended up with an eclectic, yet festive look.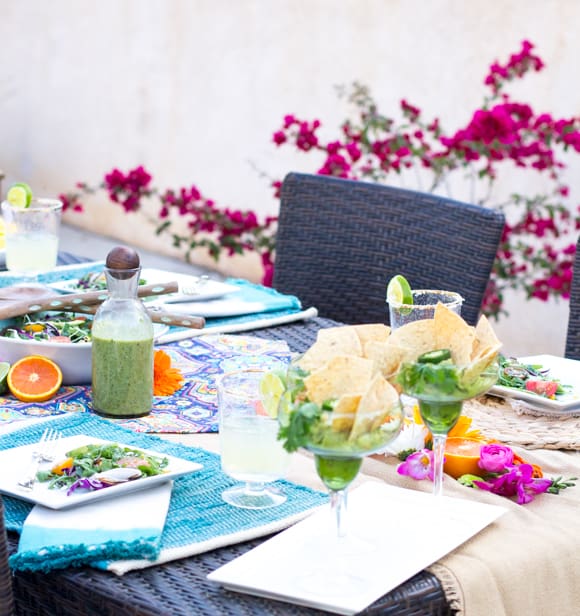 What I love about entertaining in your own backyard is that you can really keep everything low key and you can use what you have on hand. I brought my bar cart outside for our Sauza® Tequila margarita set up (more on that below!).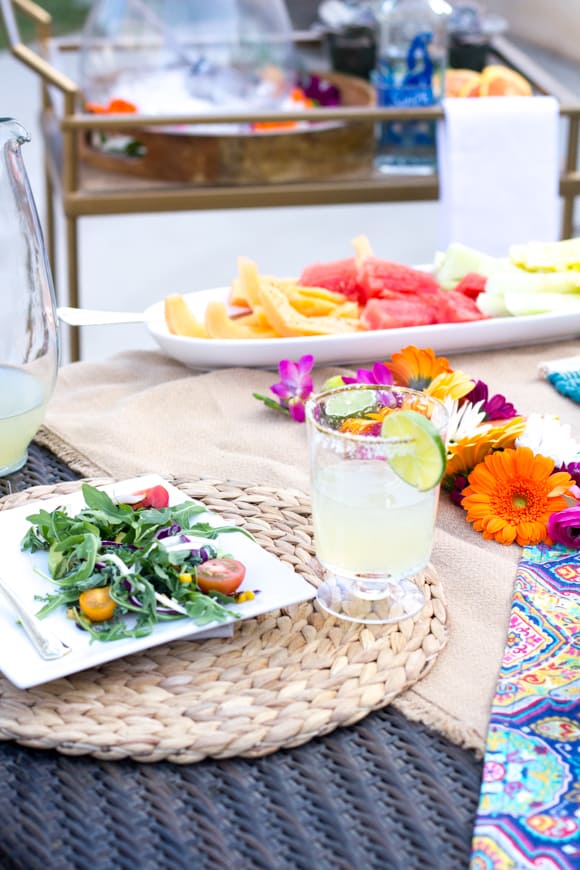 Don't be afraid to use a lot of bright colors for your Cinco de Mayo set up!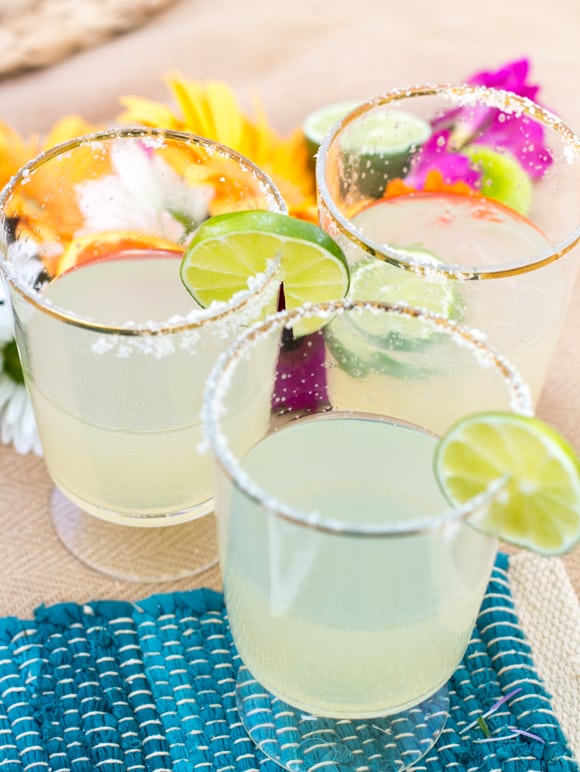 Did you know, Cinco de Mayo is the biggest holiday of the year for tequila? You probably did. But, even so, that means it's the perfect reason to serve up a classic margarita. Instead of crafting individual cocktails, I decided to mix things up (literally!) by making a batch of pitcher-style margaritas. This is the perfect hostess secret because it allows you to spend time enjoying drinks with your guests, rather than constantly playing bartender.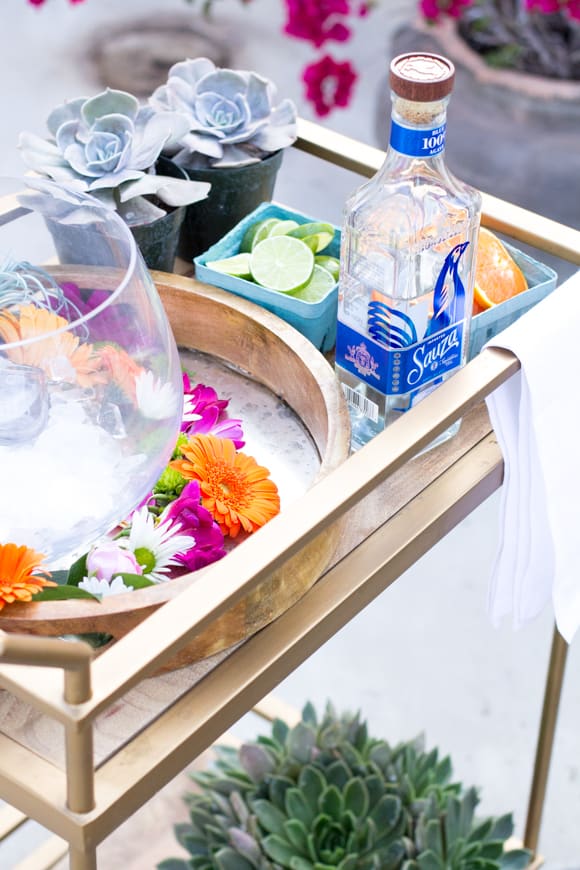 I used a glass punch bowl as an ice bucket in case guests needed a refill. I love the idea of using a punch bowl this way (and you can use the ladle as the ice scoop).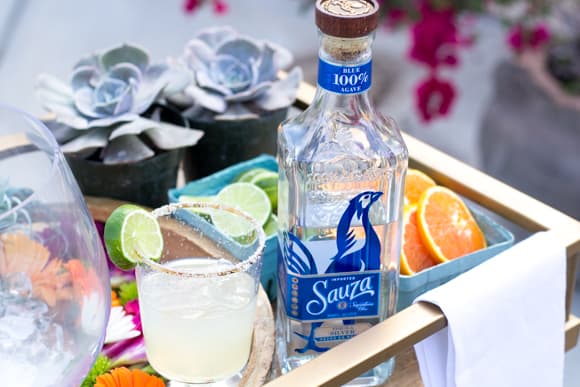 I set out extra garnishes in case guests wanted to mix things up with limes and oranges.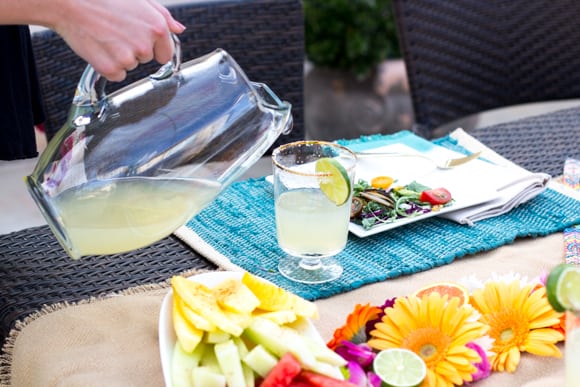 The best things about serving pitcher-style margaritas is that it makes things easy on you. When you're sitting back enjoying your guests they have a better time as well. If someone needs a refill, you can just pass around the pitcher!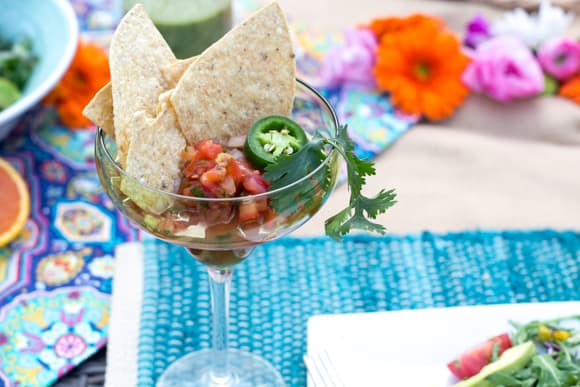 I also kept the food simple. I picked up salsa and guacamole from the market and served them in margarita glasses for a fun touch. Just toss in a few tortilla chips and you have an appetizer in a glass!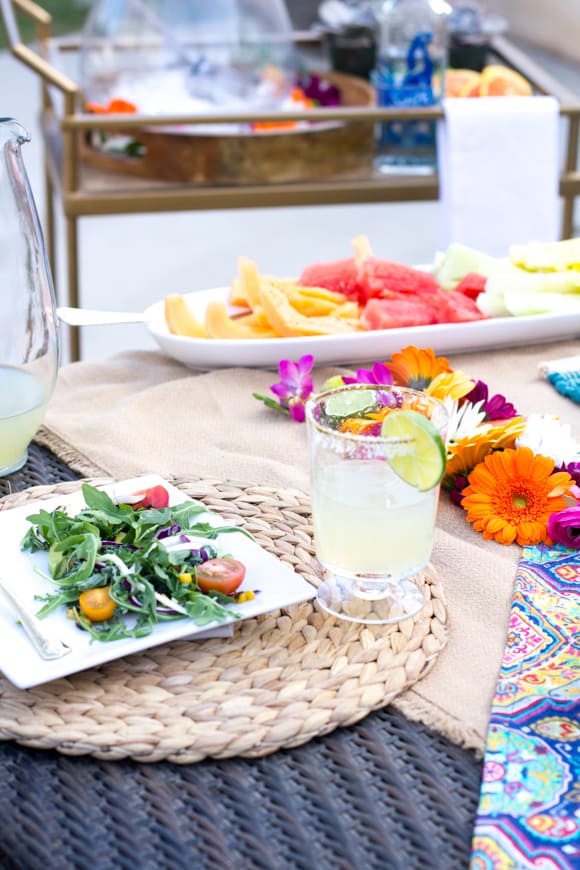 The food was flavorful but not fussy. Not all Cinco de Mayo party food has to include tacos (though tacos are always a crowd pleaser). I decided to serve a lighter option–a fiesta salad. There wasn't much prep needed either, I mixed some arugula, cabbage, heirloom tomatoes, roasted corn (I bought this in the frozen vegetable section) and grilled shallots. Grilling the shallots was the only thing I had to "cook" for this entire meal. For dressing, I picked up a cilantro salad dressing which was just the perfect flavor. This all took me about 10 minutes to put together.
I also cut up a variety of fruit to serve: pineapple, honeydew, watermelon, and cantaloupe. I placed it on a platter and sprinkled it with Mexican seasoning (you can grab it on the ethnic food aisle or at any Mexican market). I put the salad bowl and the fruit tray on the table so guests could help themselves.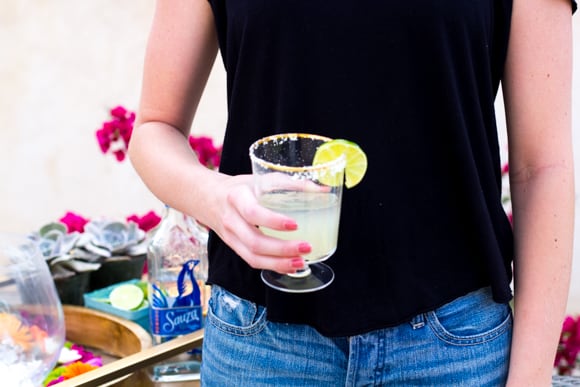 This backyard fiesta took very minimal effort to plan and set up and was an amazing evening with friends. My tip is to always keep things simple. You will enjoy yourself more, which will mean guests will enjoy themselves more as well.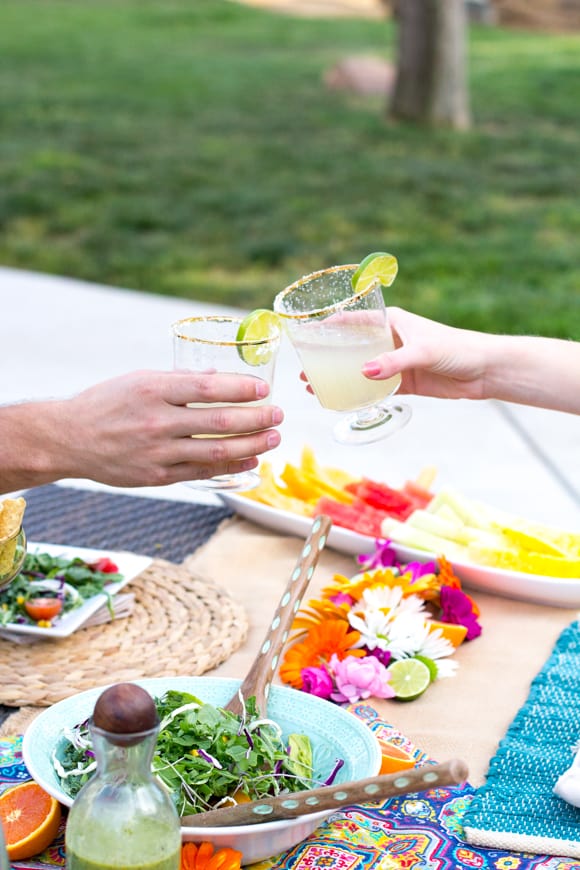 I hope you enjoyed these moments from my backyard fiesta and ideas for Cinco de Mayo party food. I hope it inspires you to throw a fiesta of your own!
Drink Smart® Sauza® Blue Tequila, 40% alc./vol. ©2017 Sauza Tequila Import Company, Chicago, IL
Sauza® is a trademark of Jim Beam Brands Co. ("Beam") and is used with permission. The information, comments and ideas expressed in this post do not necessarily reflect the views or opinions of Beam, its affiliated companies or any of their directors or employees.