Whether you are throwing a horse party or cowgirl party, I hope you find inspiration in the party pictures below. This party was extra special to plan (it was for my little girl!) and the theme and color was entirely chosen by her! "Purple Cowgirl" were the instructions I received and here's what I came up with. Hope you like it!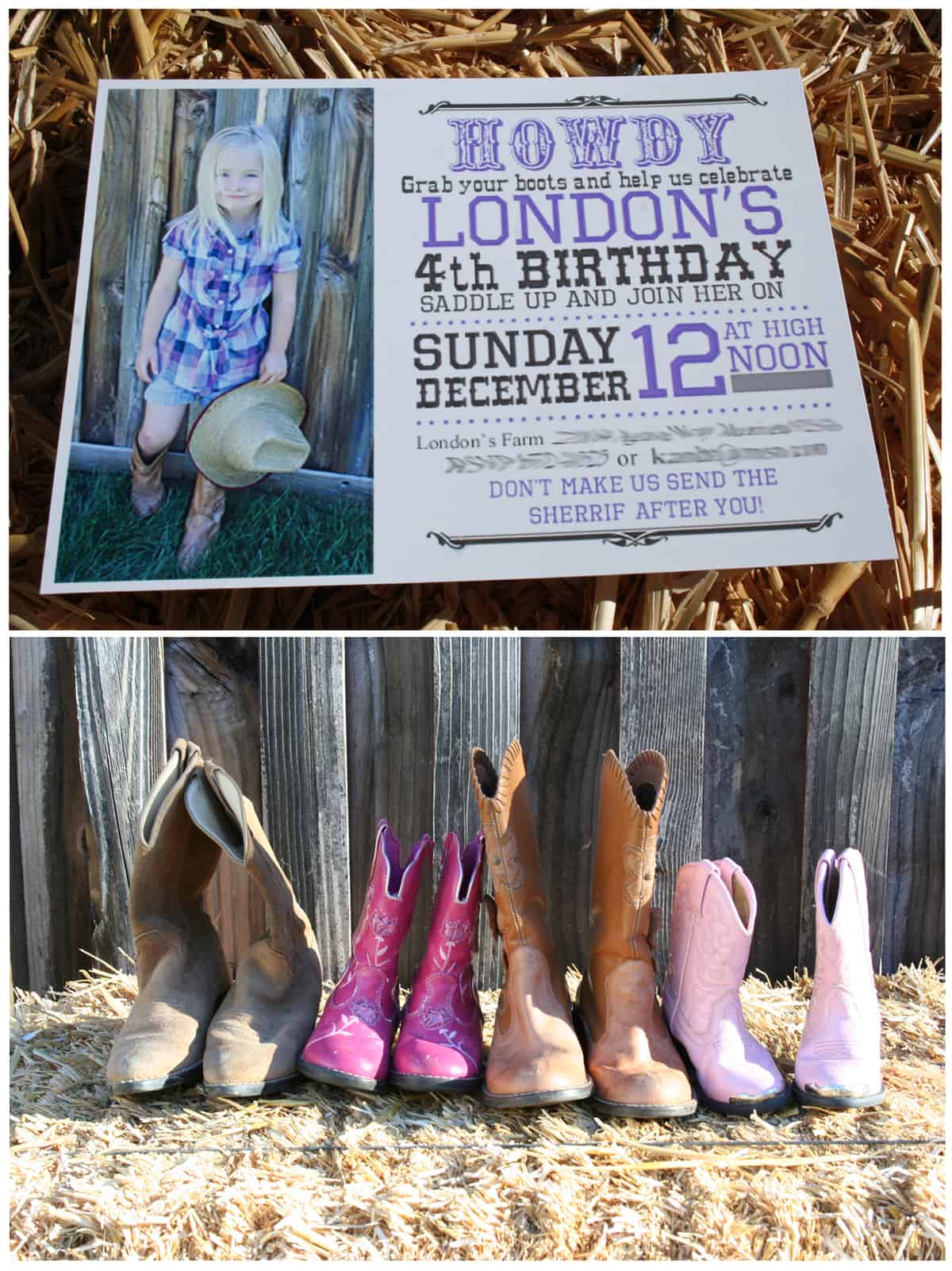 The invitations I made using Adobe Photoshop and printed on a home computer onto linen cardstock. Below the invite is an image of little girls' boots. I had them slip them off to grab this photo.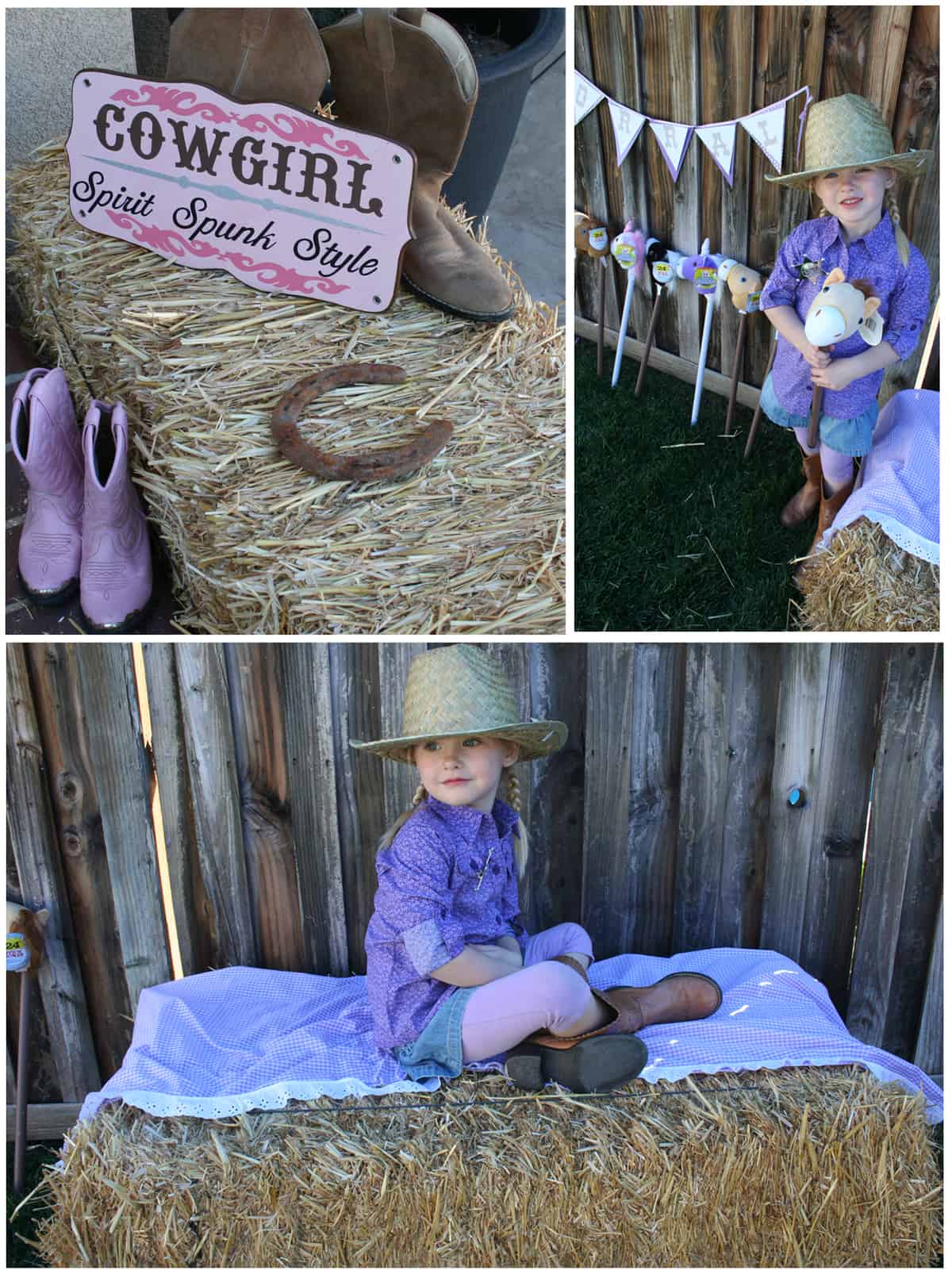 On the porch by the front door, I placed a hay bale with the cowgirl sign, an old horseshoe, and a pair of boots she had outgrown. Even though our color was purple – I pulled these items from her bedroom to use as decor (sometimes you have to bend the rules!).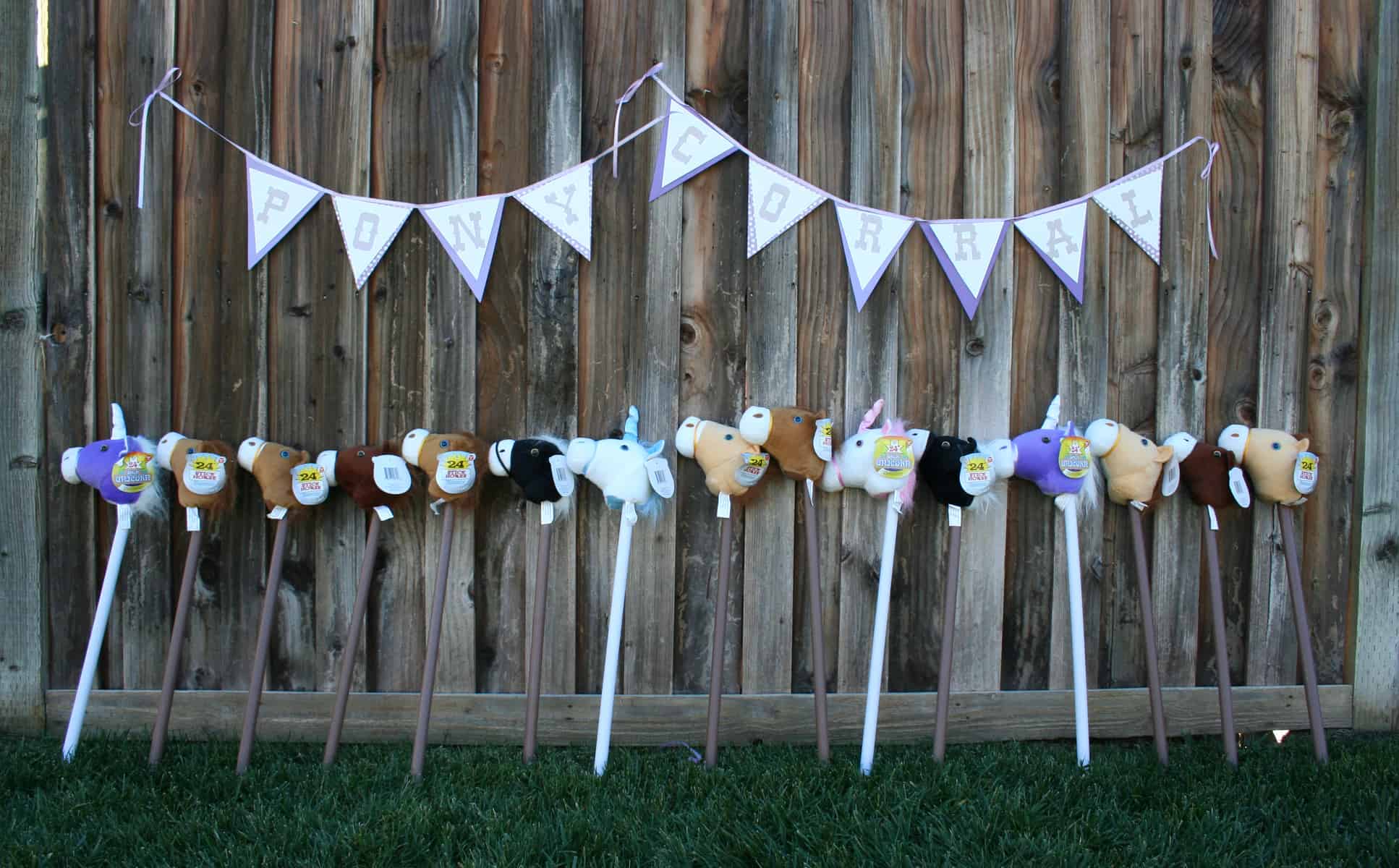 What would a Cowgirl Party be without the horses? I got the idea to give stick ponies as favors from the fabulous party Erin Volante threw for her adorable daughter (thanks Erin!). The ponies were in their "Pony Corral" and each child was able to take one home after the party so they could continue the fun at their own ranch. I got them from the nearby dollar store.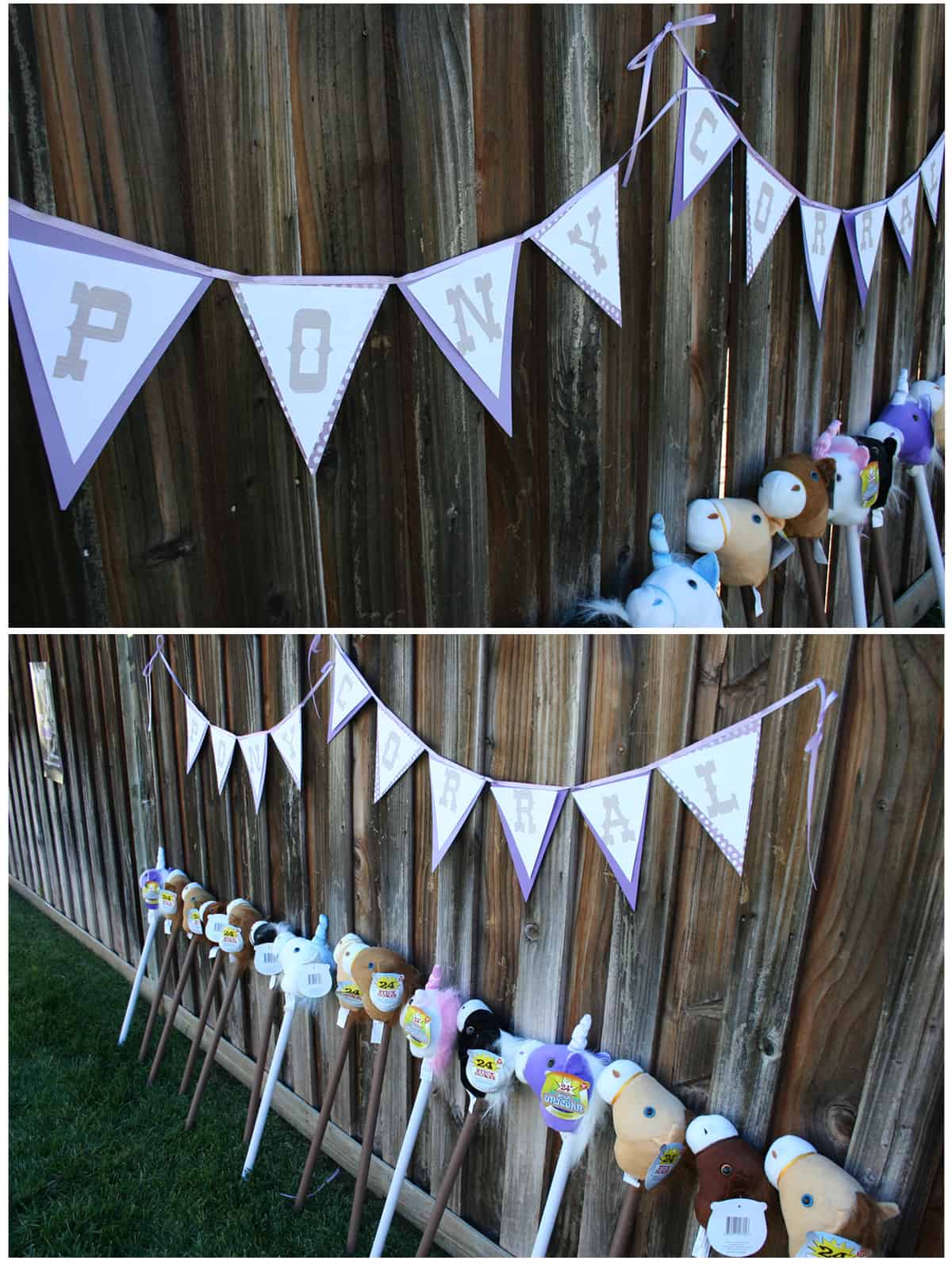 I just loved the purple unicorn!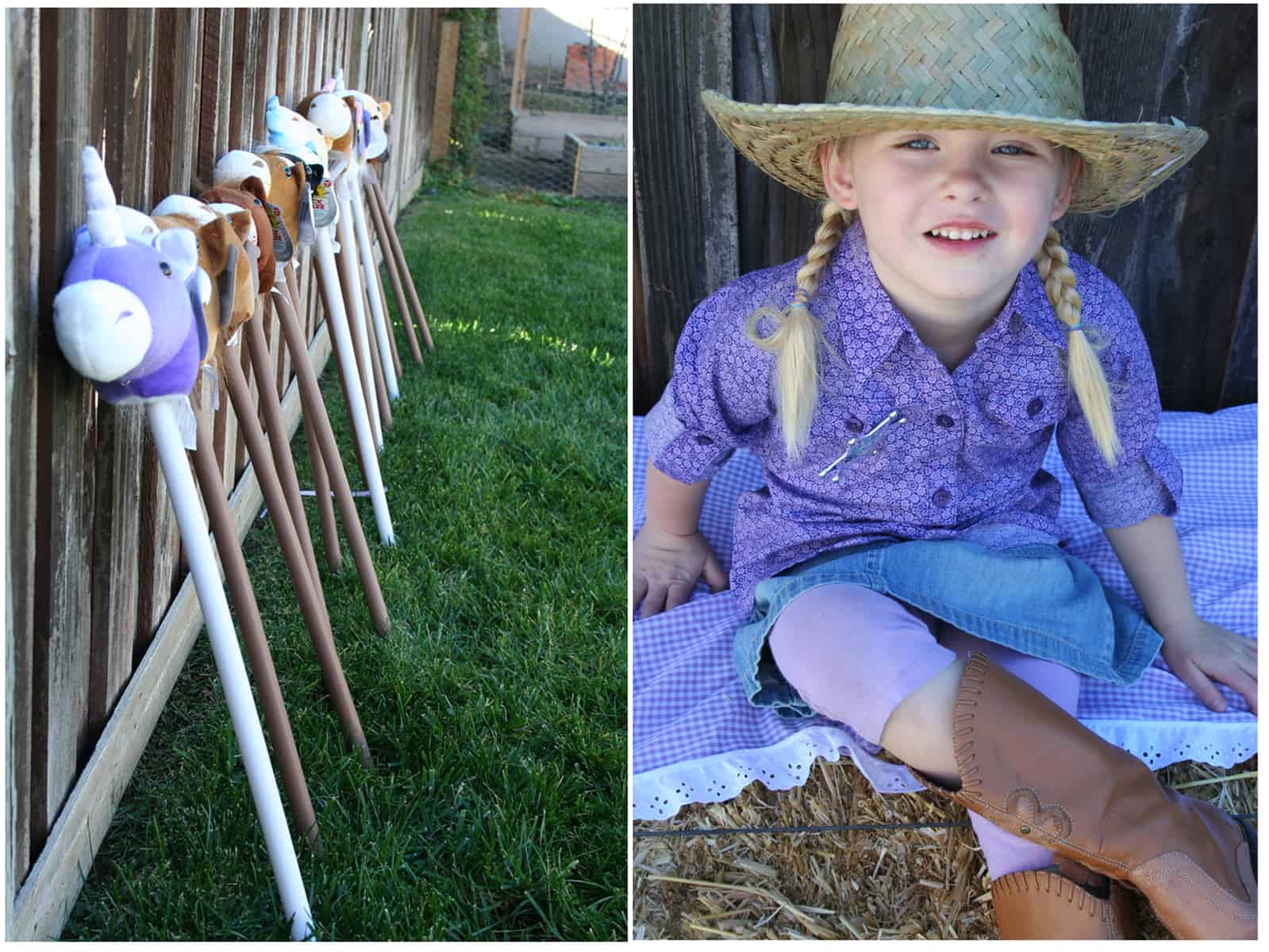 And here is a close up of our little Cowgirl.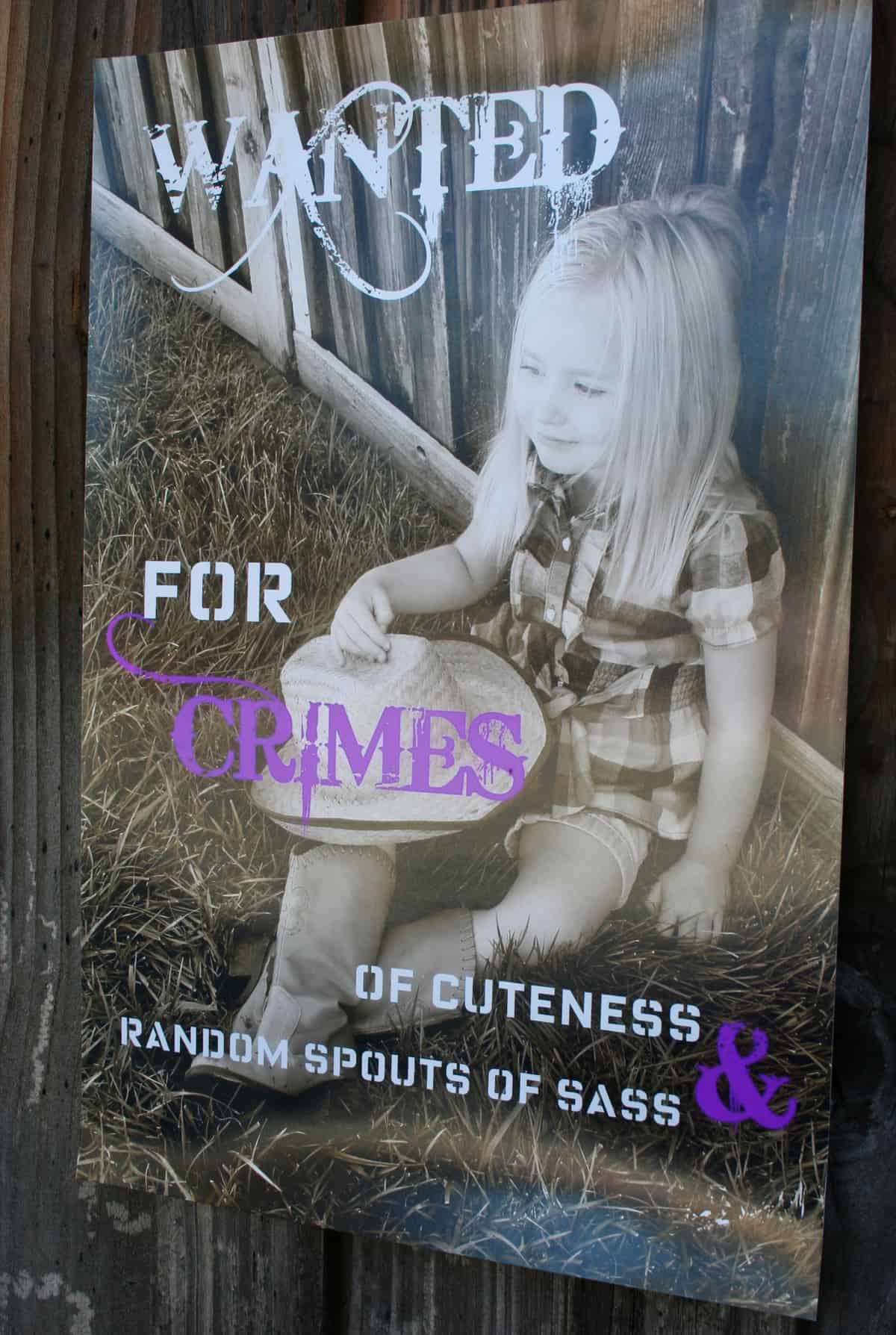 I also got this idea to make a Wanted poster from Erin — and I LOVE how it turned out.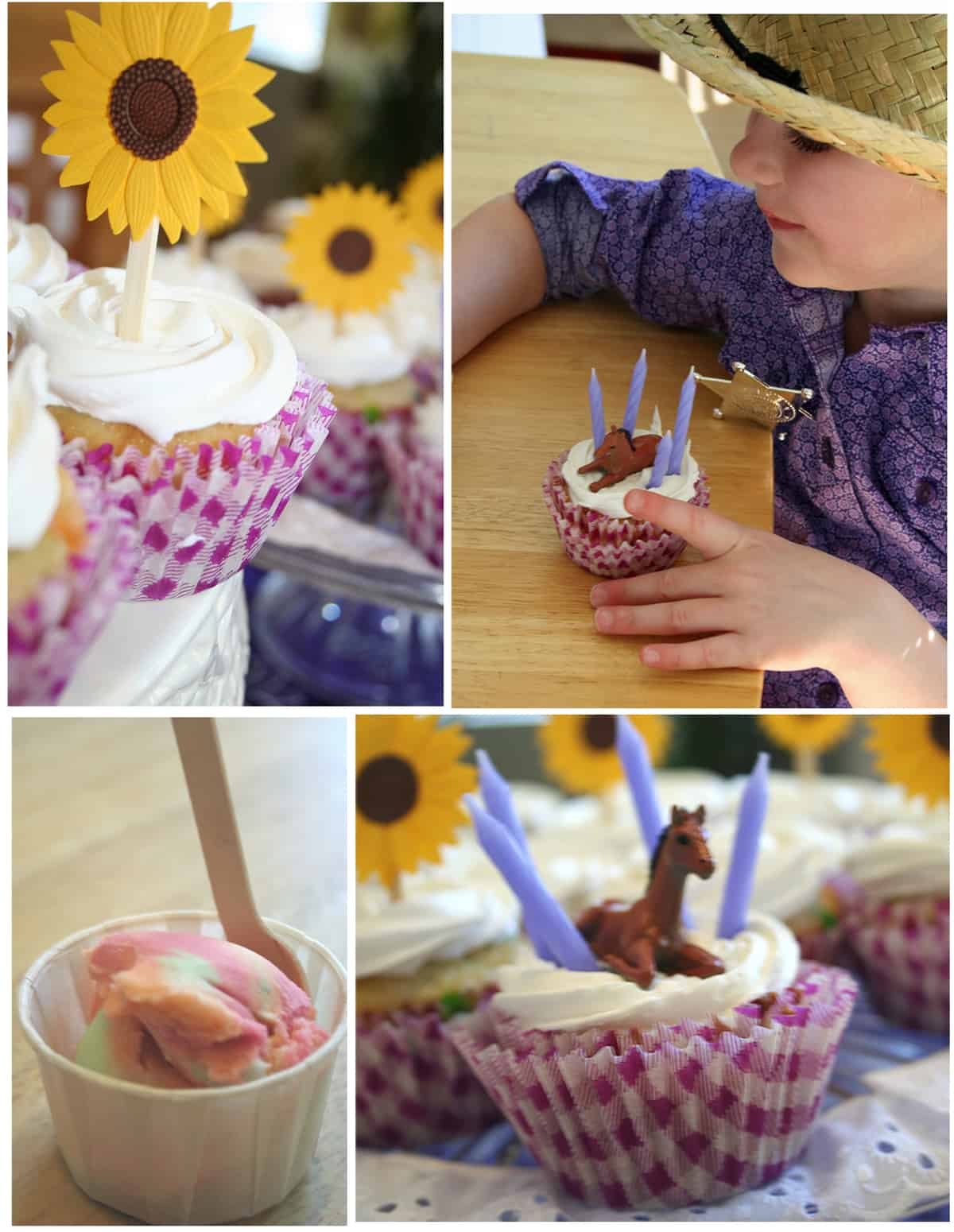 For dessert, our cowgirl requested cupcakes and sherbet ice cream. The purple gingham cupcake liners are from The Cupcake Social. And the sunflower toppers are made out of scrapbook stickers and wooden party picks.
Hostess Tip: The night before the party, pre-scoop ice cream and place in paper cups. Fill a couple of trays and place in the freezer. Then when it comes cake and ice cream, you can easily pass them out and ditch manning the ice cream scoop.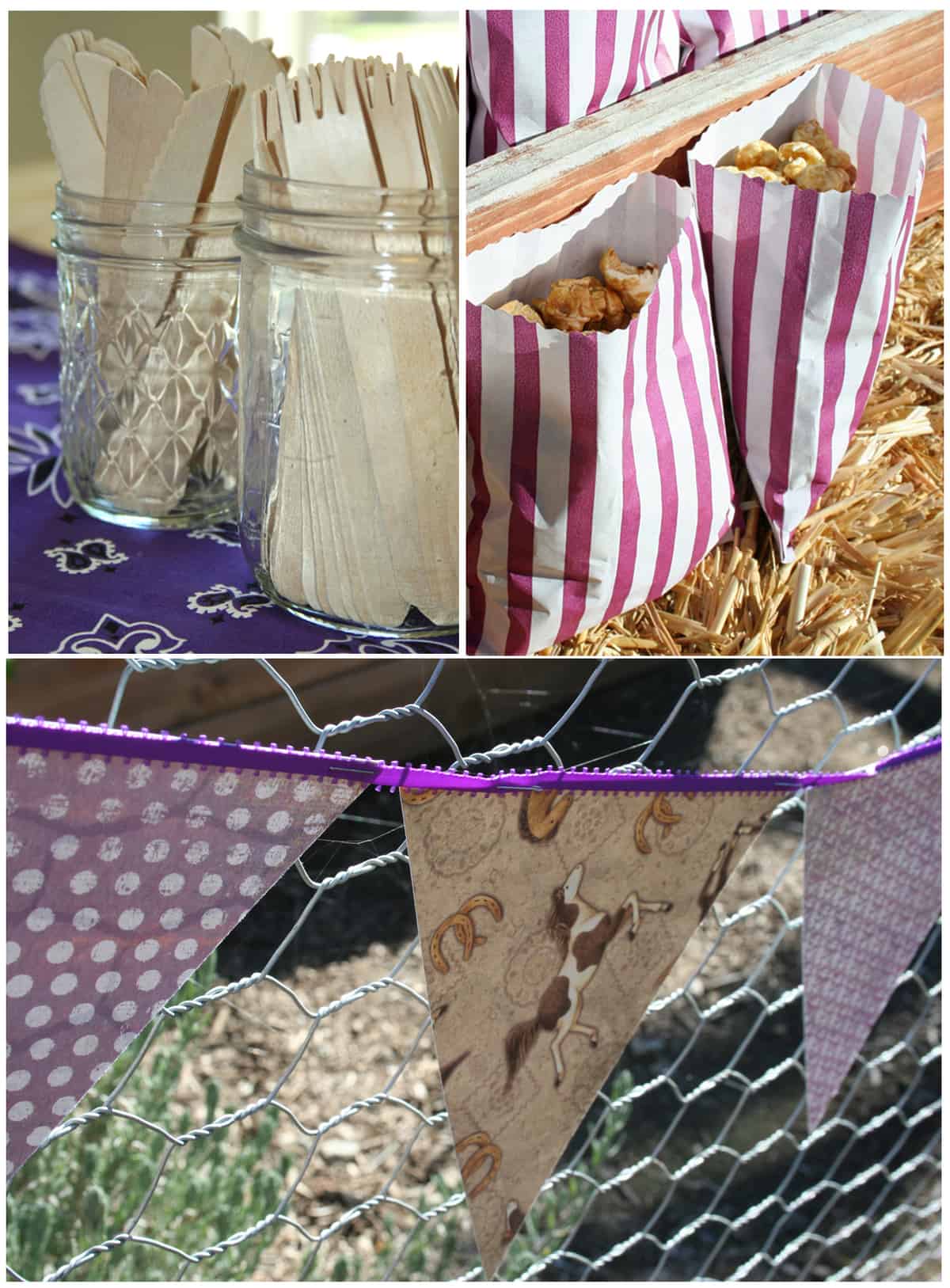 Other elements used:
-Paper pennant flags hung outside on the garden gate (we also placed horseshoes along the dirt path).
–Wooden cutlery were placed in mason jars.
–Striped treat bags were filled with carmel corn and placed in an old wooden planter for guests to grab.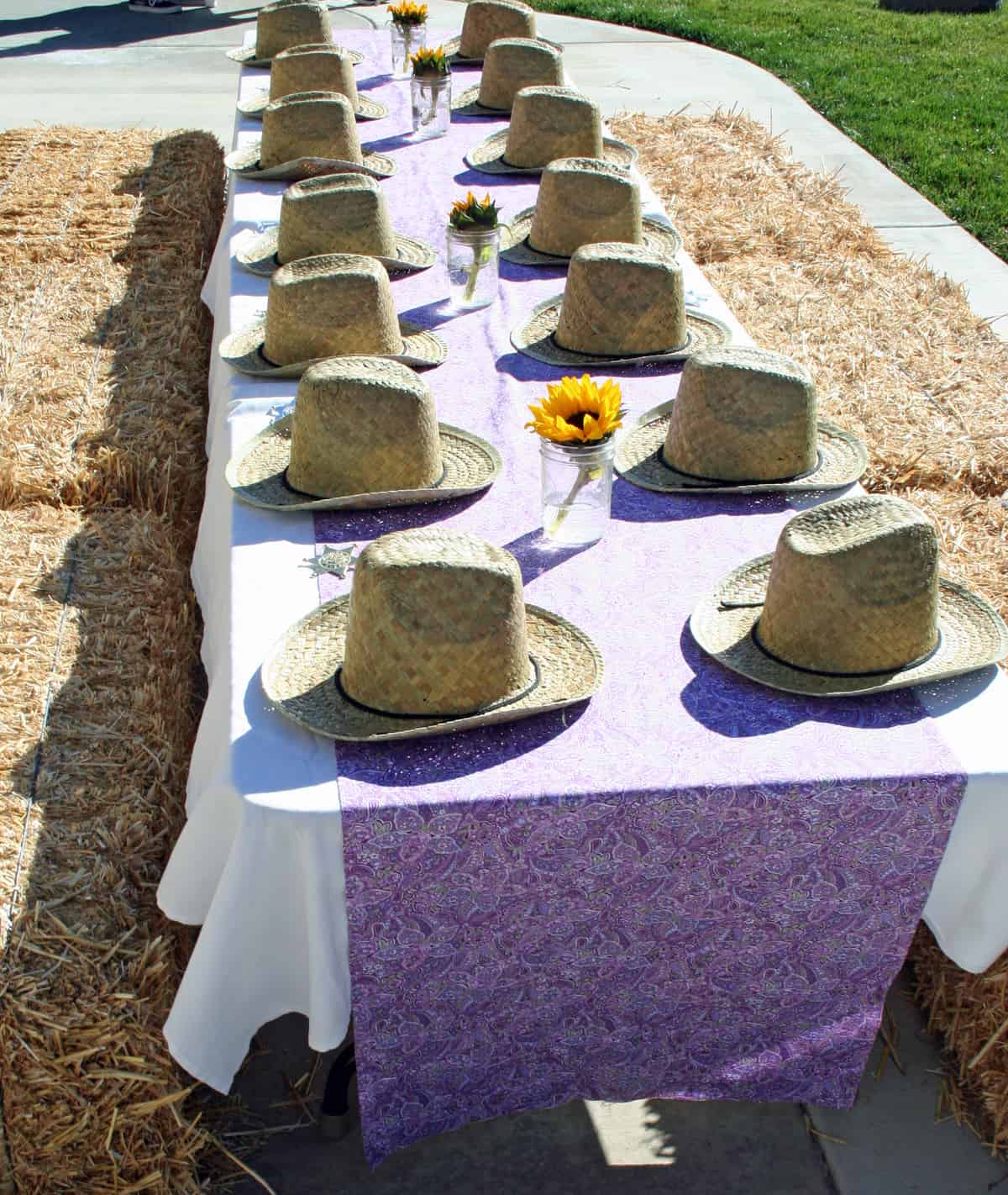 The childrens' table was lined with bales of straw that doubled as benches.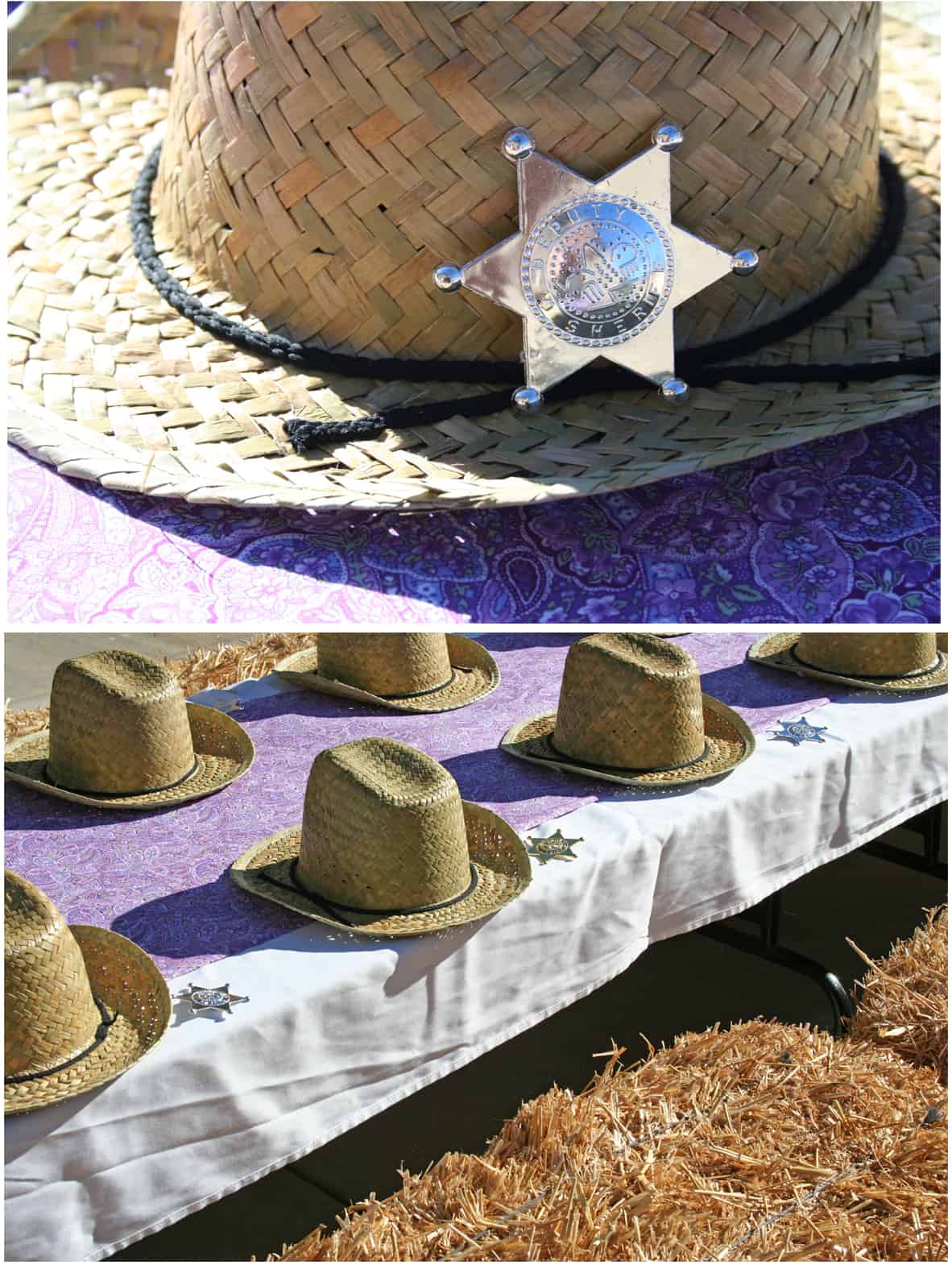 Each guest got their own cowgirl/boy hat and sheriff's badge.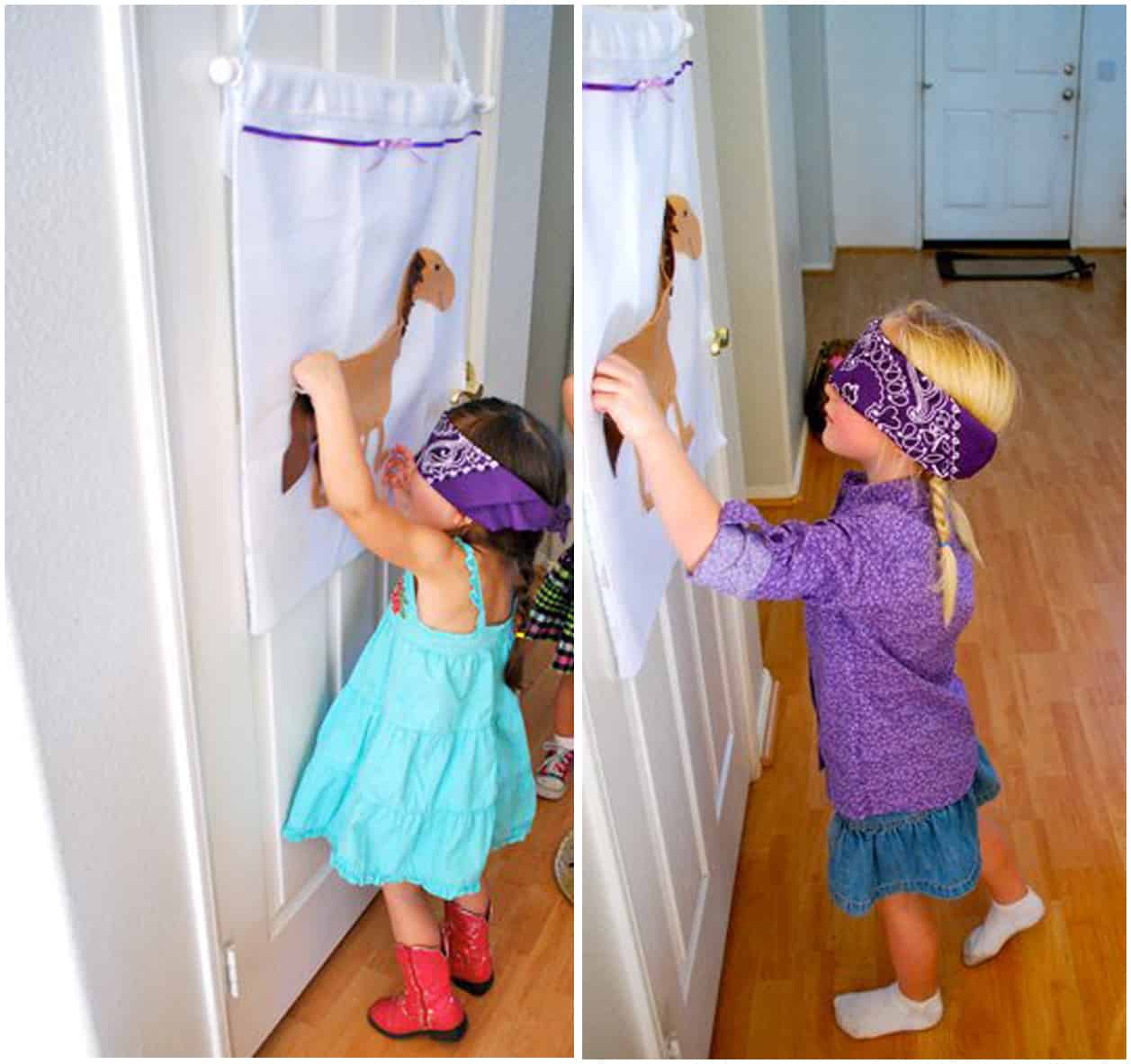 Activities included pin-the-tail on the pony, coloring paper horses and putting on horse tattoos.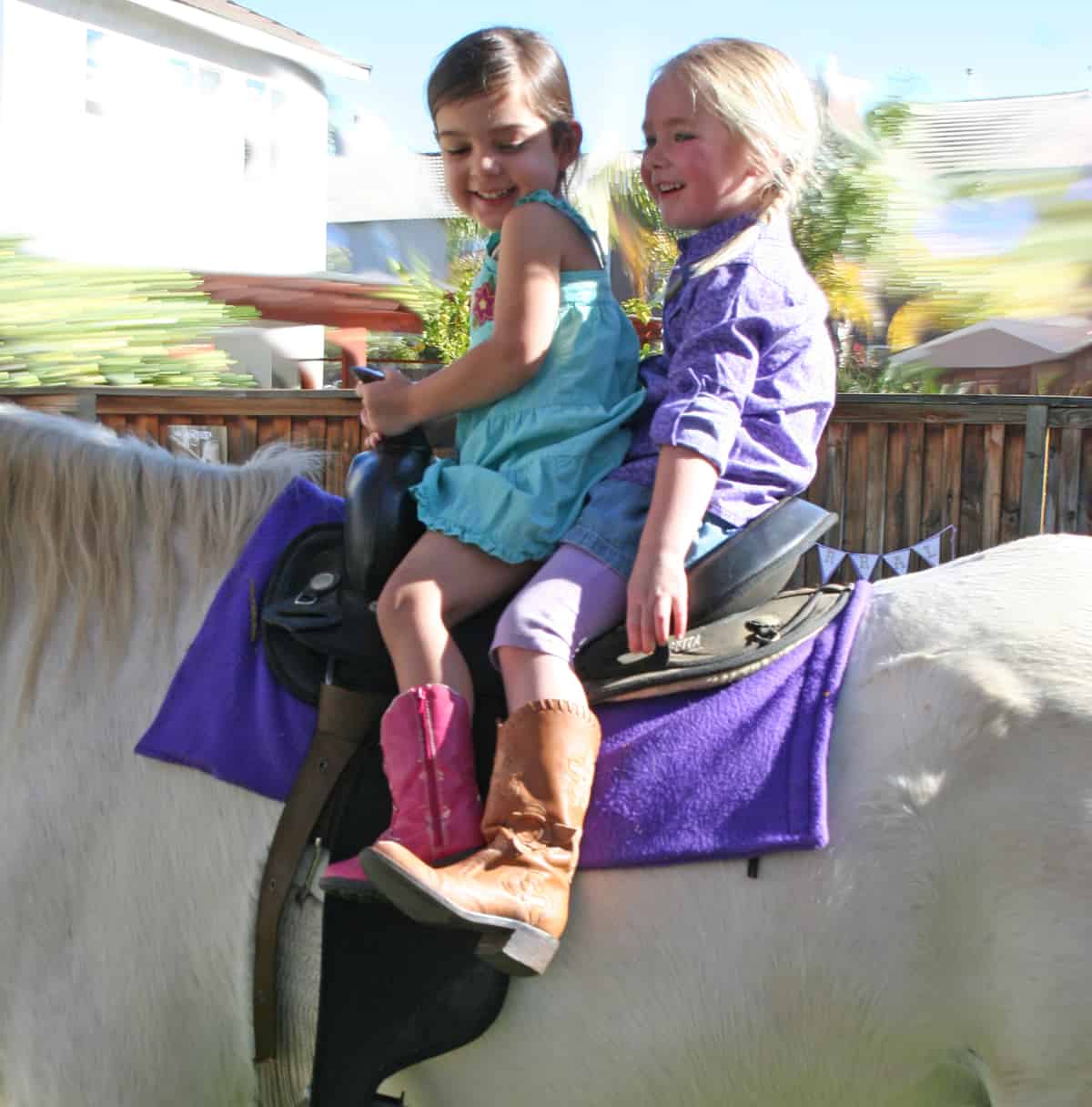 And then there was D.J. the horse. He was the biggest hit of the party, especially with the birthday girl!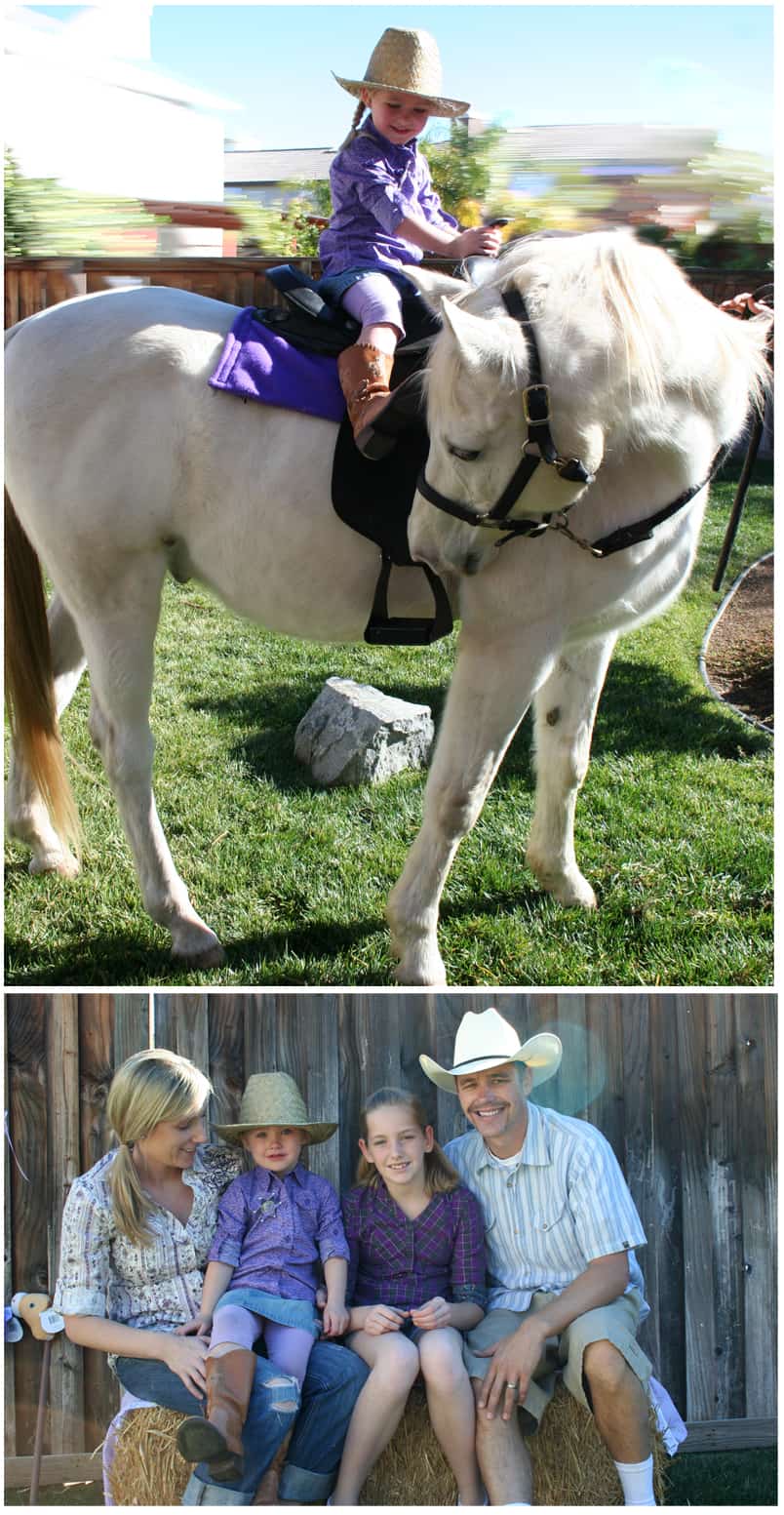 Our little cowgirl is 4!
For food – we served up lunch… ranch-style! The menu included Mustang Mac-n-Cheese, Wild West Chicken Strips, Tumbleweed Salad, Bootstrap Biscuits, Smoky Bacon Potato Salad and Applesauce. Of course all was washed down with some ice cold lemonade! Thank you to Amy from Blowout Party for the menu inspiration – it was a hit!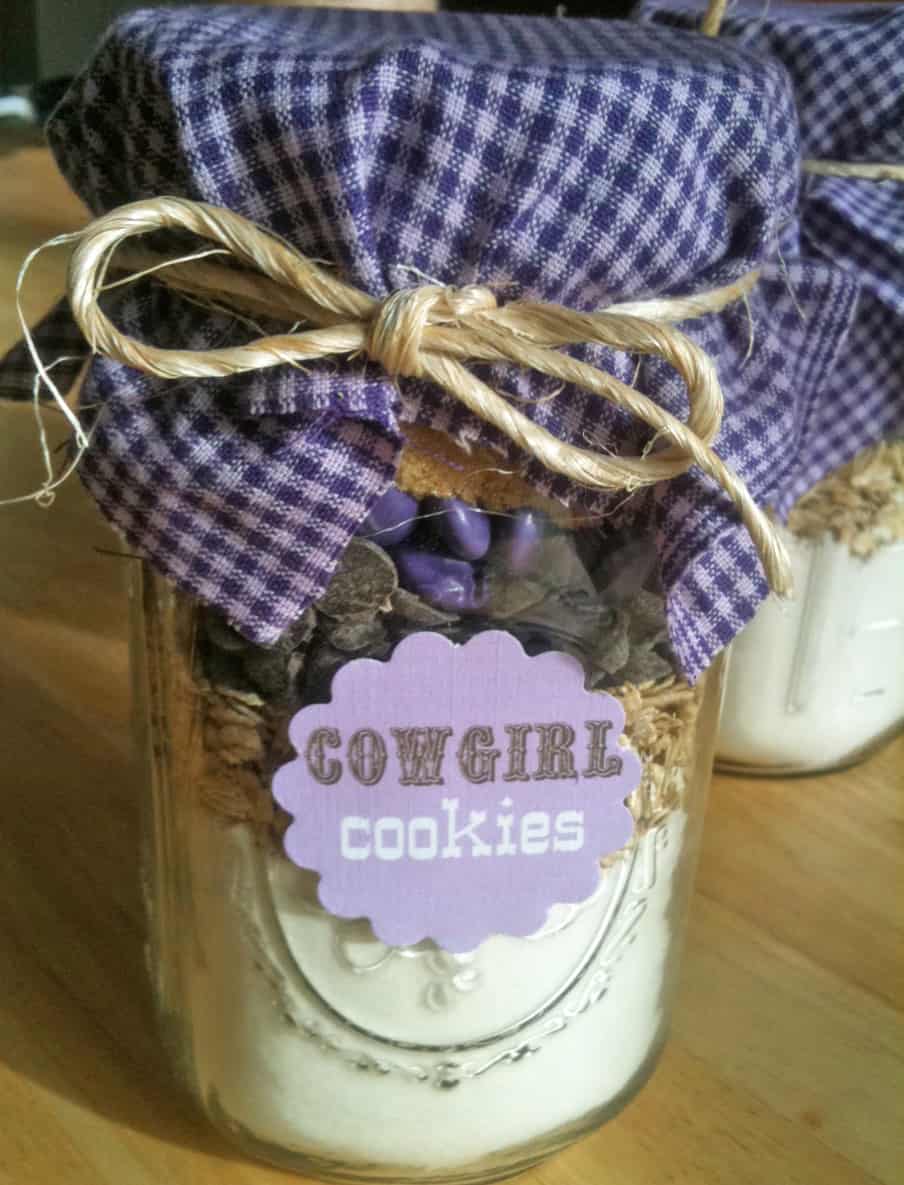 As the afternoon came to an end, the little ones left with their stick ponies, hats and badges and the parents were sent off with these infamous Cowgirl Cookie Jars (recipe and DIY instructions from Bakerella!).
It was a perfect cowgirl party … thoughtful and simple. Hope you like it!