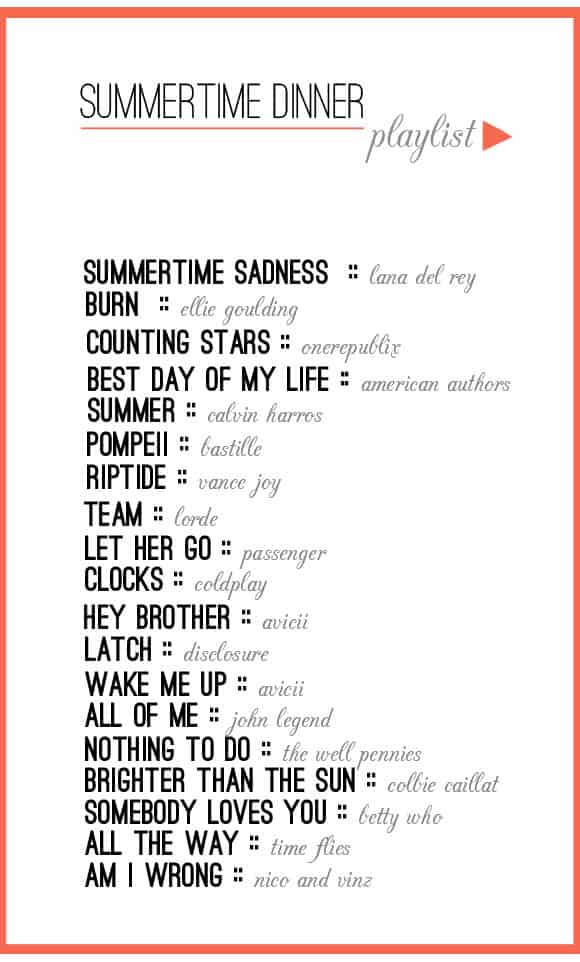 I love to entertain in the summertime. There's just something so simple about hosting friends and family this time of year. Perhaps it's the great mood everyone is in, or the laid-back vibe? I can't put my finger on it exactly but I just find summer entertaining easy and enjoyable. Now that the nights are getting longer, I'm itching to kick off the backyard-entertaining season! We've been getting dirty in the garden and making sure our yard is inviting — I'd say a dinner party is soon in order.
Do you like to entertain during the summer? When thinking about hosting a gathering I like to pick a few points of inspiration to guide my party prep.  I am usually inspired by:
Flora & Fauna :: We spend a lot of time in the spring working in our yard. From planting our garden with veggies and herbs, to adding flowers for pops of color throughout — we love create a fresh and  vibrant space outdoors.
Tunes :: Every dinner party needs a great dinner party playlist. I like to pick upbeat yet pretty chill music to set the tone. I also like to be inspired by my guests when creating my playlist. Anything really goes and don't be afraid to mix in new summer hits with tried-and-true classics.
A Gathering Place :: The whole point is to get together and connect, isn't it? To do that, you'll want to make sure you have an inviting and comfortable place to sit,chat, eat, and drink. How you do that is totally up to you! I like to mix things up between setting up a dinner table for dining alfresco, to simply tossing some blankets and pillows on the lawn for more of a picnic style experience.
Before you get your party-planning hat on, find what speaks to you.
We'll be having an intimate dinner party in a few weeks and I've been having a ton of fun planning already. This Summer Simplicity playlist I created on Spotify is totally inspiring me. The mood has been set, check!  Looking forward to sharing more with you soon!
Press play below to have a listen.
Do you like it? What song would be YOUR "must-have" this summer? Leave them in the comments so I can check them out!
…
This post is a collaboration and compensation was provided by Pier 1 via Mode Media.  The opinions expressed herein are those of the author and are not indicative of the opinions or positions of Pier 1.