The next time you find yourself planning a child's birthday party, try one of these DIY decor ideas before you hit the store for those old crepe streamers.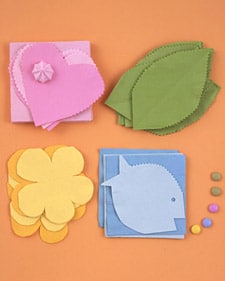 Party Napkins
Instead of buying printed party napkins, try this DIY party idea:
Purchase solid colored party napkins to match your party decor.
Choose a shape to cut out that matches your party theme
Make a template of your shape using card stock.
Trace template onto napkin, then cut around design (cut through 3-4 napkins at once to save time).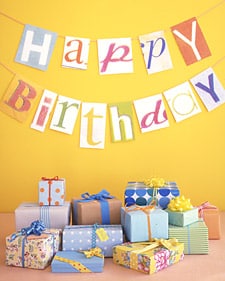 Birthday Banner
Make your own birthday banner to match any birthday theme and/or color. You can really get creative with this idea since the fonts, letters, and colors are completely up to you.
Choose a piece of colored ribbon to hang your banner on (or any type of string or twine will work).
Print individual letters out from your computer (one letter per sheet) increasing font size to fill up page.
Repeat above until your completed message is printed
Attach pages to ribbon by folding over top and securing with tape. Then simply hang!
Tip: Alternate between different fonts and colors when printing out your message for a whimsical effect like shown above.

photos from Martha Stewart Crafts
Leave a comment and share you simple DIY birthday ideas with us!