Looking for a fun family game? This DIY cactus ring toss game was a huge hit with my family!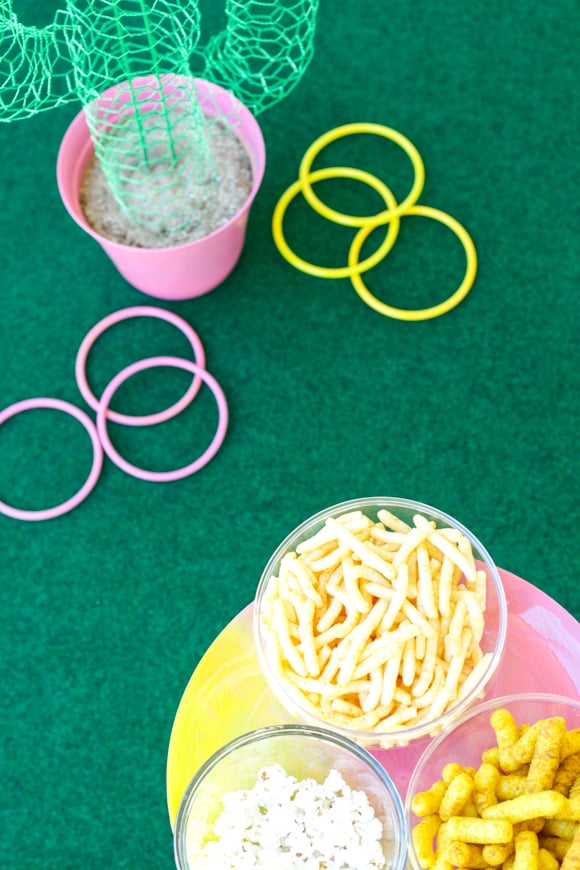 We like to play games together often (and we're also a pretty competitive group so it gets interesting), indoors or out. Since summer is winding down, we've been trying to play more outdoor games and that's what inspired this DIY cactus ring toss game.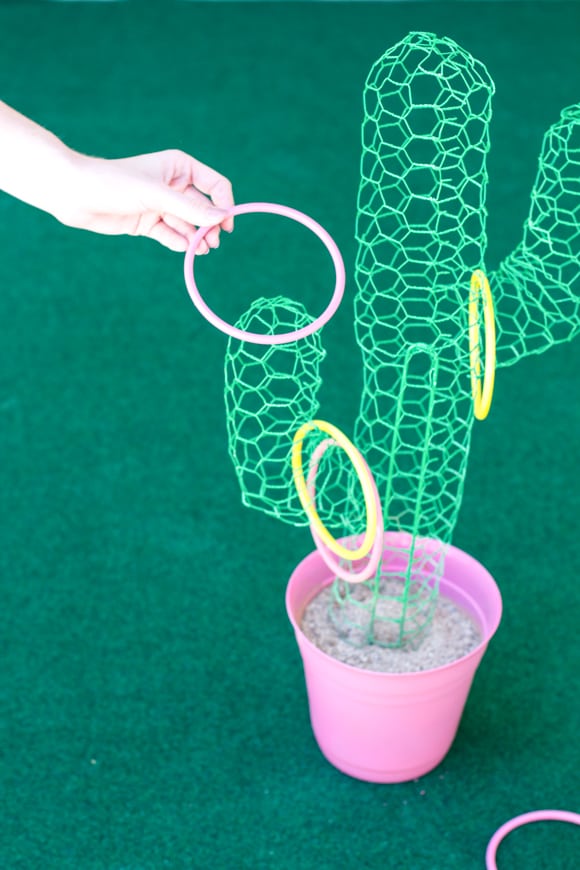 The cactus trend is still going strong and I thought making a cactus ring toss game just screamed summer–so viola! It was really easy to make.  We were playing within 30 minutes of putting it together (it's triple digits with a dry heat so the spray paint basically instantly dried). We put ours in a pot so you can technically play this indoors or out (or even take it to the park for a picnic).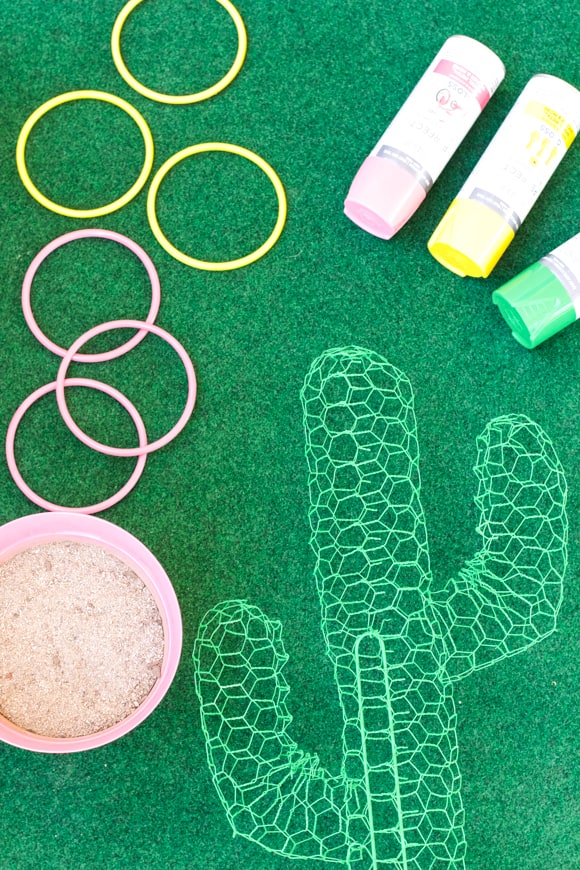 I found this cactus topiary and spray painted it green. I also spray painted a plant pot pink to hold the cactus (I just filled it with sand from our yard). You could skip the pot if you wanted and just stuck the topiary directly into the grass.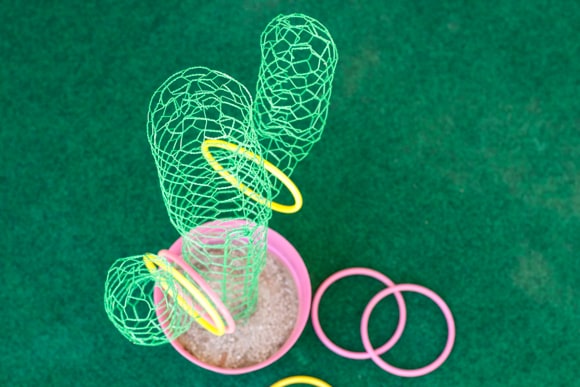 We had these plastic rings left over from another toss game so I just spray painted those to match as well. We used six rings which is perfect for a two player game–each person gets three rings each. The one who gets the most around the cactus wins. It was really fun for all ages.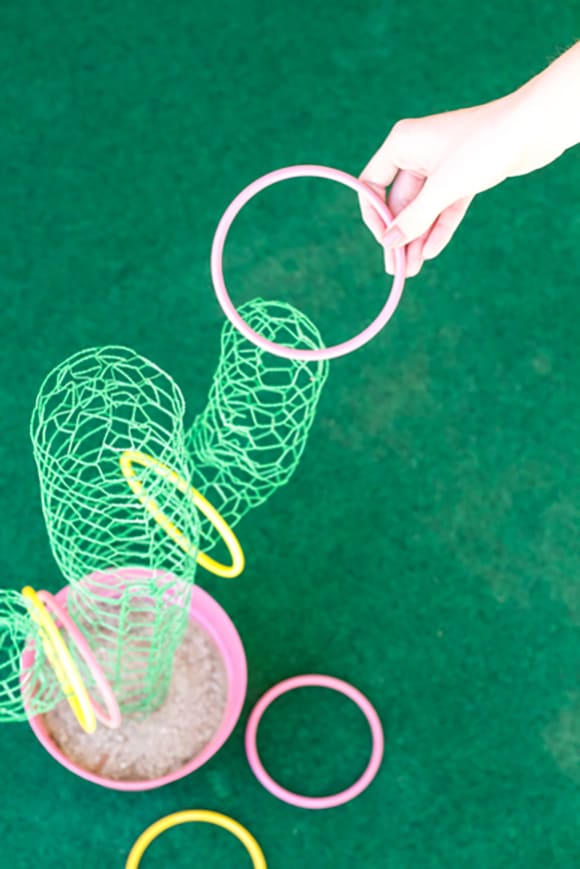 To play: Agree on how far to stand back and then take turns tossing your colored rings onto the cactus. The person who gets the most on is the winner! Since there was four of us, we set up a small bracket for our ring toss tournament. Winner took all!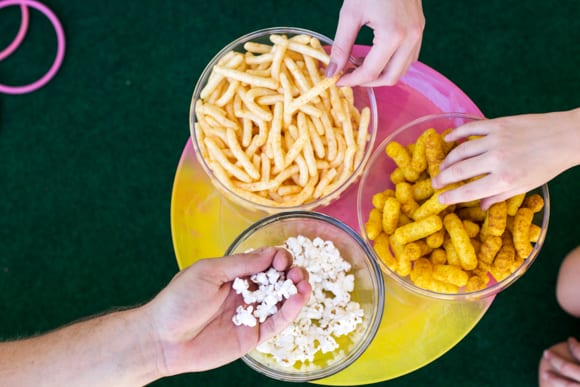 While we were playing ring toss, I set out a trio of snacks for us to eat and made that into a little game as well. We were exctied to try out the new Gold Emblem and Gold Emblem abound products (you can find them at CVS). They make the perfect addition to any summer gathering or activity and were really tasty.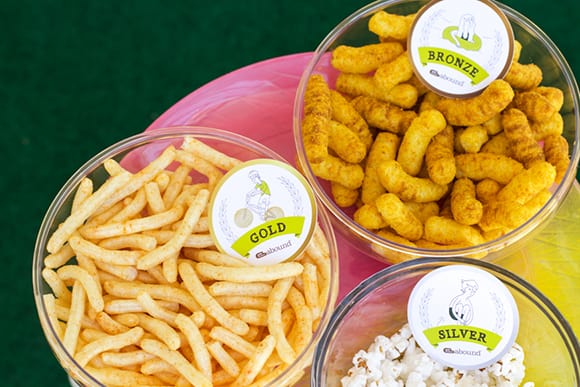 After our ring toss tournament was over, we voted on which snack was our flavor and awarded them gold, silver, and bronze titles. Each was really flavorful and a nice upgrade from our normal snacks. There was something for everyone's tastebuds–we loved the variety and trying something new.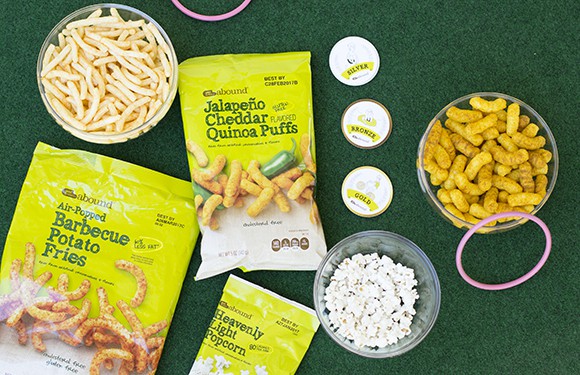 What do you think? Will you try this DIY cactus ring toss game? Make it an evening and set out your own snack tasting table.
I'm proud to partner with CVS Pharmacy to promote their exclusive Gold Emblem and Gold Emblem abound snack lines. I am being sponsored by CVS Pharmacy for my posts and activities, but all opinions expressed are my own, and all product claims or program details shared should be verified at CVS.com or with the appropriate manufacturers.