As I mentioned in Part 1 of this engagement party, the entire concept of this party was created around the Bride-to-be's mention that she was envisioning a party that was "classy with a touch of whimsical" and "black with a pop of color."
Here is a reminder to what started it all … the perfect invitation.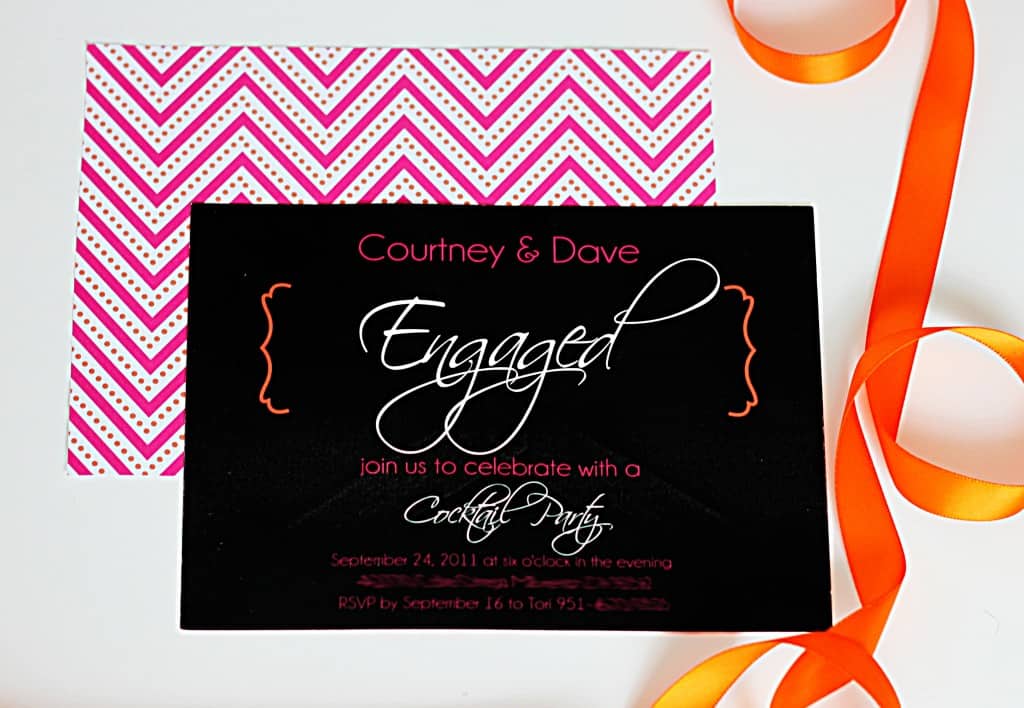 Designed by the very talented Kori of Paper and Pigtails, the invite was the source of inspiration for the rest of the event details.
 If you missed Part 1 be sure to take a look. We shared lots of bright florals and details. Here's a peek back: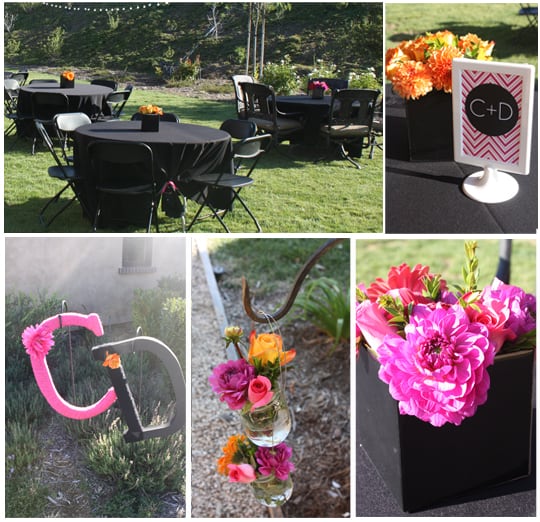 And at last …  more of the event: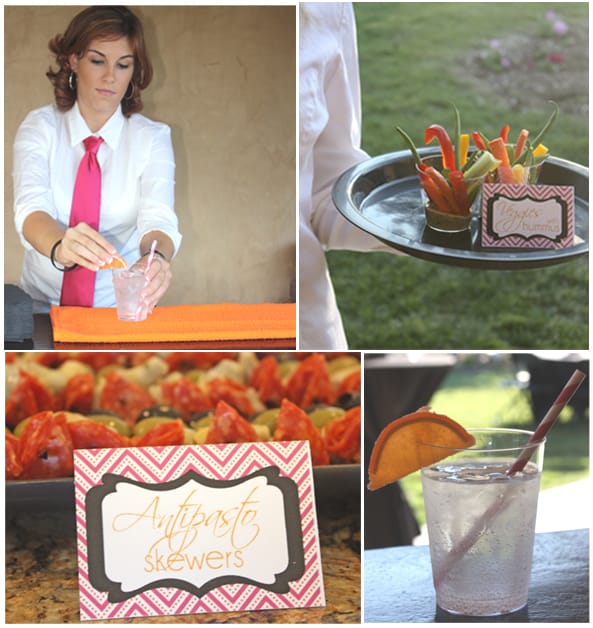 In addition to the fully stocked bar, we served up two signature cocktails. We took classic traditional drinks and gave them a twist by using some fun candy. More details on those below! The tray-passed appetizers were classy but a little playful.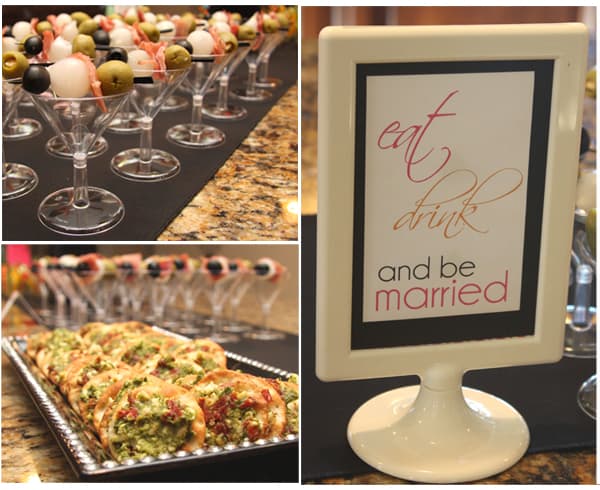 Throughout the night, servers passed trays of veggies and hummus, dirty martini skewers (recipe coming!), caprese turkey meatballs, crackers with pesto tapenade, spinach & feta puff pastries, spicy stuffed mushrooms, chipotle mayo beef sliders and french fries served in a cup with spicy ketchup. The food was a hit!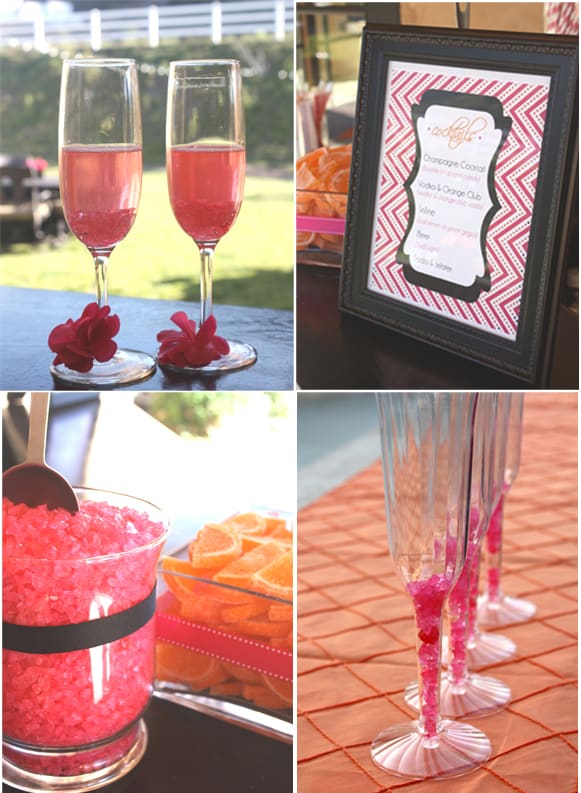 The two signature drinks were both inspired by candy from CandyWarehouse.com — a Rock Candy Champagne Cocktail and a Vodka and Orange Cream Club. Both recipes to come soon!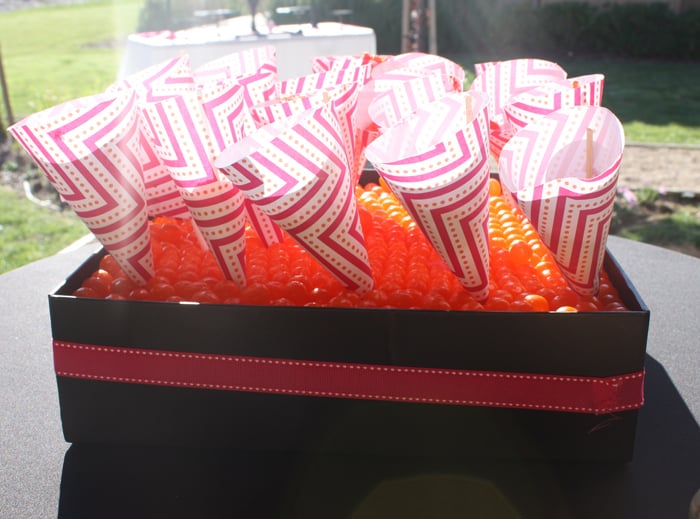 Paper cones were filled with gourmet cotton candy adult could appreciate. The flavor? Strawberry Jalapeno (it was GOOD!).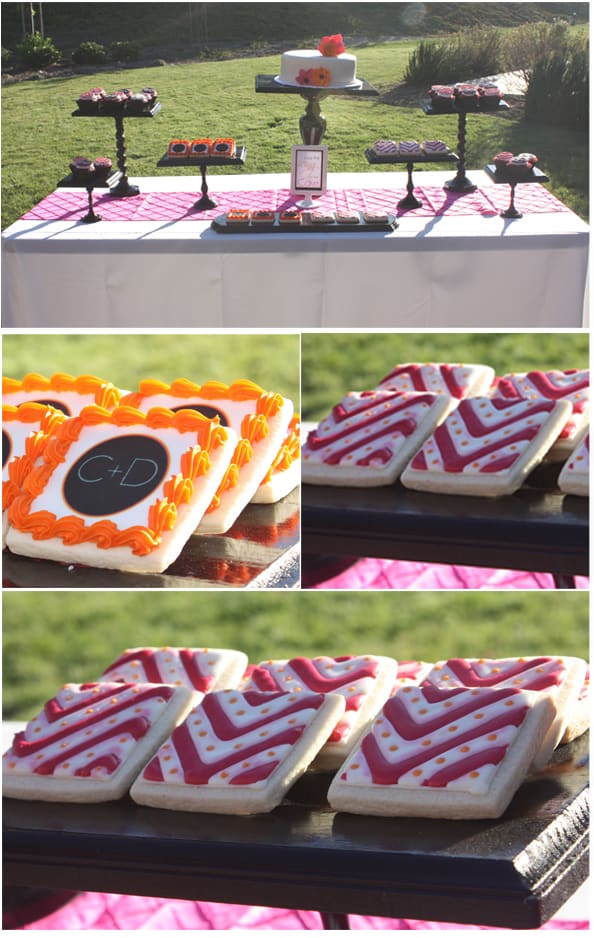 The dessert table could not have been more perfect, really. Not over the top — but SPOT ON with the design (just how I like it). Custom cookies by Allyson Jane were a perfect match. She incorporated the logo I designed with a pop of orange and the custom print from the invitaions. She hand decorated our "chevron with a twist" pattern and they were perfect!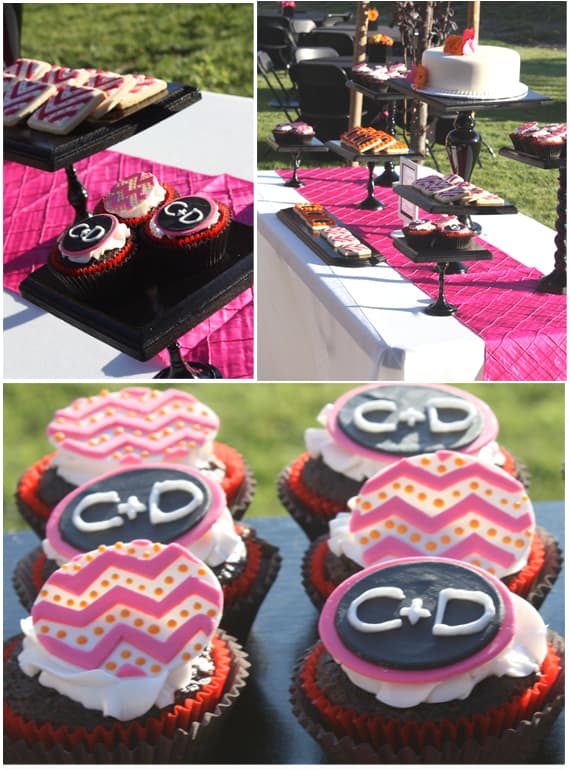 Matching custom cupcake toppers were made by the talented Edibtal Details. The monogram and custom pattern showed off beautifully here.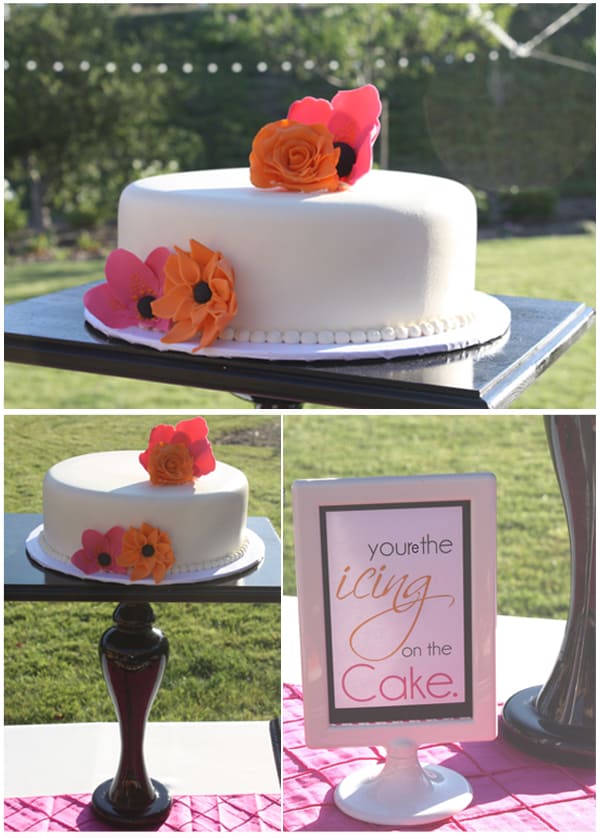 Also, designed by Edible Details were the GORGEOUS sugar flowers that adorned our cake — just so lovely. They mimicked the fresh florals we used throughout the party.
Thank you to all the very talented and helpful vendors who helped me pull this party off. And thank you to the darling couple (Courtney & Dave) who gave me the honor of coordinating this amazing evening for them! Now, let's plan a wedding shall we? :)
Our Amazing Vendors
Invitations & Paper Elements | Paper and Pigtails
Party Rentals | Allie's
Cupcake Toppers & Sugar Flowers | Edible Details
Custom Cookies | Allyson Jane
Candy | Candy Warehouse
Vases for centerpieces | Blumebox
Cotton Candy | Daily Grommet
Cake | Jodee's Bakery