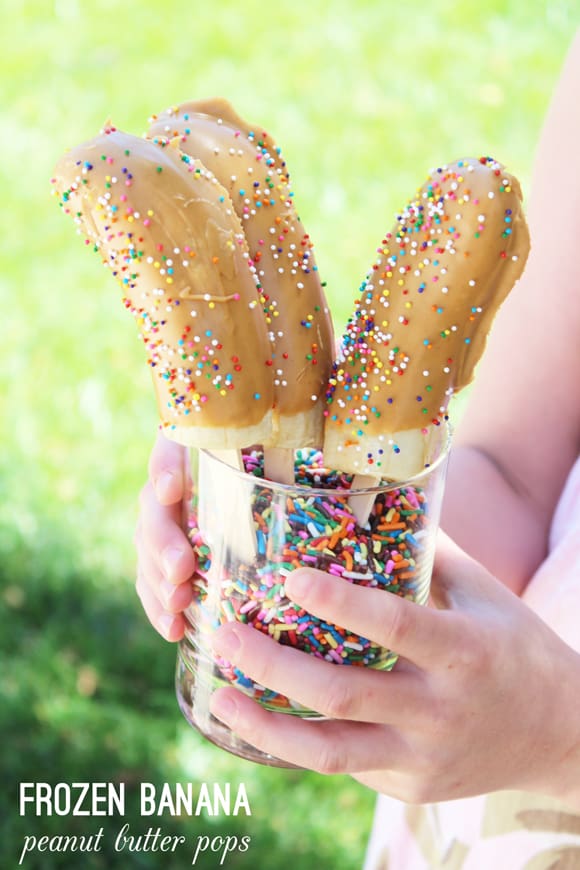 Last week I shared the my youngest daughter and I had been inspired to come up with a unique idea to help create a better world, and select a Summer Sunlight Activity we'd like to do together to make our household more sustainable. Pairing the challenge with her love for the kitchen, we decided to make our challenge  One Ingredient, Five Ways which will help eliminate food waste in our home.
I let her lead the charge in selecting an ingredient. A little nervous since we had to come up with five unique recipes in one week using said ingredient, but I like to think I can live on the edge a little. The ingredient she chose? Bananas! At first I paused to ask "why bananas?" and then she explained that since this challenge was about eliminating food waste we should choose something we waste often. Yep, she got the point. We are a banana-wasting family. Guilty as charged. This week, we set out to change that!
Our first recipe we created was my absolute favorite! Frozen banana peanut butter pops (with sprinkles!).
I loved this recipe because she could do it almost completely by herself which made her happy! First, peel bananas and cut in half. Insert popsicle stick in cute end about 1/2 way. Place banana pops onto a parchment paper lined tray and freeze for at least an hour (we did overnight).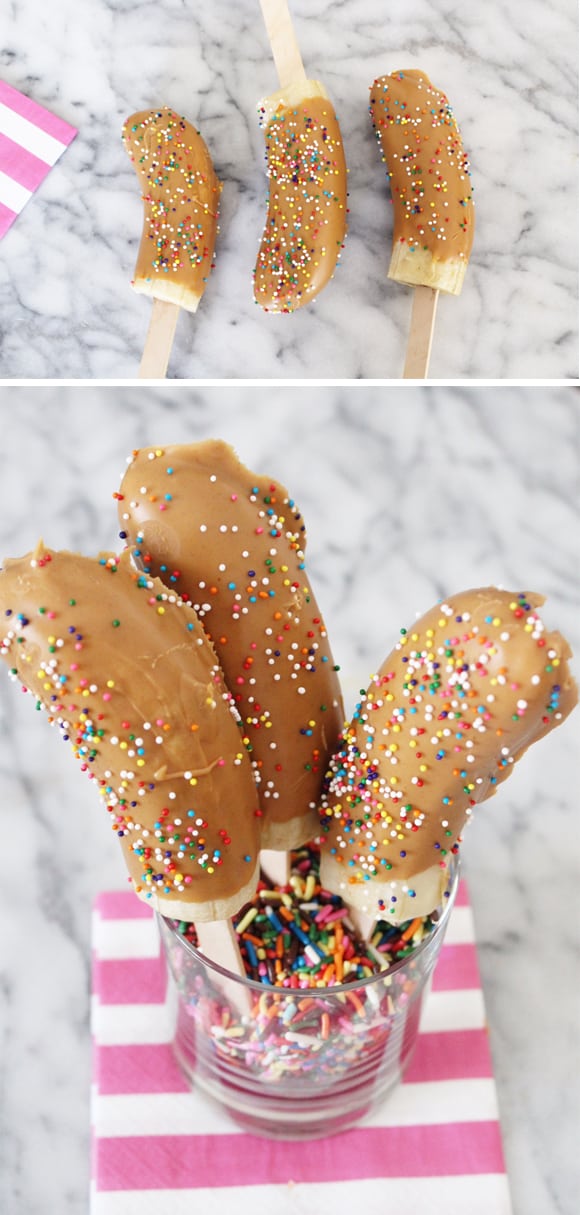 Next, you will dip your bananas into melted peanut butter. I had never melted peanut butter before but this just might be my new favorite thing! To melt, add about one cup creamy peanut butter and 1 tsp vegetable oil to a tall skinny glass (the glass needs to be tall and skinny so you can dip your banana down into the peanut butter in one dip). Lay dipped pops back onto parchment paper and add sprinkles if desired. Freeze for at least an hour longer.
When you're ready to enjoy, just grab one from the freezer and dig in! We both loved these healthy treats and I know we won't be letting our bananas go to waist knowing how simple it is to make these.
These are the other dishes we created this week incorporating bananas. Check them out!
Banana Chocolate Pancakes :: Banana Crumble Cake :: Strawberry Banana Smoothie :: Oatmeal Chocolate Chip Banana Muffins
I loved that this challenge encouraged us to think about eliminating food waste and get creative in the kitchen. This is something we plan to keep up all summer so stay tuned for more recipes!
This post is a sponsored collaboration with Unilever Project Sunlight. Of course, all thoughts are my own.