Ahhh springtime. Spring is the perfect time to host a garden party (regardless of how many veggies or flowers you have planted in your garden). Use the warmer weather and colorful backdrop of the outdoors as an excuse to gather  friends, enjoy some good food and cool drinks. Here are a few tips to help make your outdoor party a success:
Invitations
These can be as simple or elegant as your style suits. Even a handwritten note with a dried pressed flower enclosed would be thoughtful. Regardless if you choose a formal, handwritten, or even online invitation − be sure to set the mood of your garden-themed event by including floral designs or flowers themselves.
Setting
If your guests will be spending most of their time outside (perhaps in your garden area), make sure your spot has plenty of shade. You can always set out beach umbrellas or canopies if the natural shade of the space is minimal. If your guests will be outdoors into the evening, consider wrapping white twinkle lights around tree trunks to add a little sparkle and gathering some throw blankets in a basket for guests to grab.
Menu
Try to keep your menu simple and seasonal by serving items such as fresh green salads and hand held appetizers and put together a crudite platter. Serve water, iced tea, lemonade and of course, refreshing cocktails for the older crowd. For the final course, place mini desserts including tarts, shortbread cookies and fresh fruit out on a small table (indoors if it will be warm outside). Check out these darling free spring party printables for your menu and food cards.
You can also plan simple activities to keep guests entertained. I've shared one fun idea with the folks at SC Johnson. Be sure to read the full post here.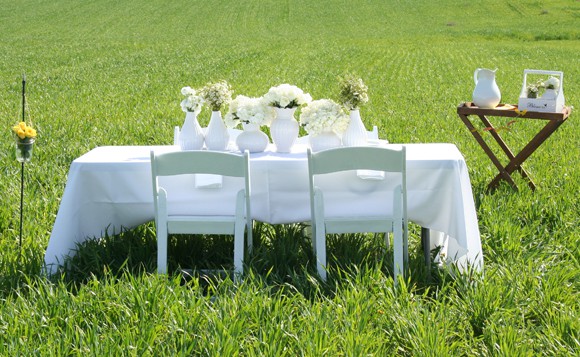 For simple garden party decor ideas, check out this past spring brunch we did.