Last week was a week of poolside lounging and much needed down-time. I was eager to soak up the sun with the family and also super excited to test out 3 new poolside cocktail recipes that I've had my eye on. One cocktail really appealed to me because I have never had gin before. Gin cocktails? Okay, I knew I should try this because I have been eating a ton of cucumbers lately. It was  a sign, right?
I picked up gin and the St. Germain ( I also have never had this but the guy at the liquor store said it has been flying off the shelves lately. Another good sign in my book).
Here she is …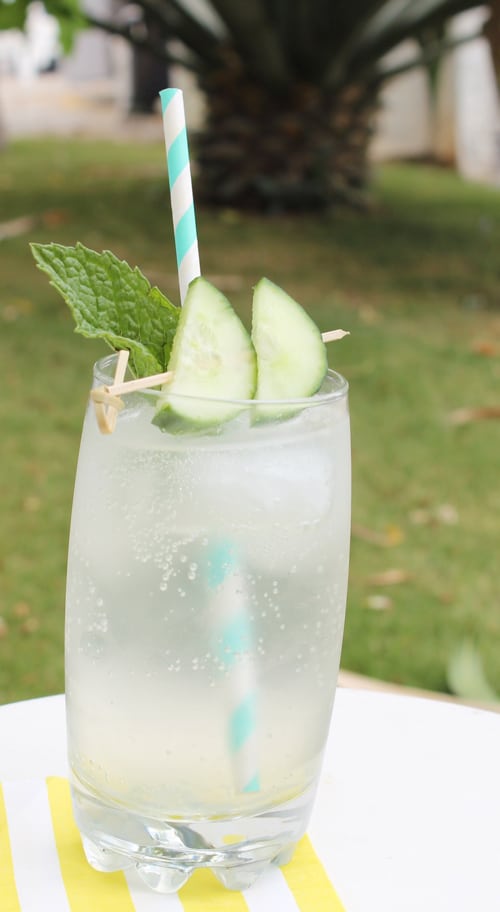 The verdict? Gin is goooood. Who knew? This drink was super refreshing and crisp which made for the perfect summer sipping in 100 degree heat. Ahhhh summertime.
Cucumber Cooler (found on Fruetcake)
1½ parts Gin
¾ part St. Germain
¾ part fresh lime juice
¼ part simple syrup
soda water or club soda
5 mint leaves
Directions:
1. Muddle mint in a cocktail shaker and fill with ice
2. Add Gin, St. Germain, lime juice, simple syrup, and then shake well
3. Strain into a tall glass filled with ice and top with soda water
Garnish with cucumber slices (I also liked to pop them in the glass and let them soak up all the gin-goodness)
Next gin cocktails on my list?  This blackberry gin fizz!