Earlier this week, I shared two unique holiday cocktails with you that were made with Sierra Mist. For a little refresher you can check out the recipes for Meet Me at the Mist-letoe and Frost Bite here.
Today, I have two NEW holiday drinks that I created  while playing bartender with Sierra Mist myself — one cocktail and one mocktail (the kids will love this one!).
First, we have the cocktail.
This is my type of festive cocktail — it looks really pretty but isn't full of sweet stuff. I like the crisp, all natural flavor the Sierra Mist brings to this drink.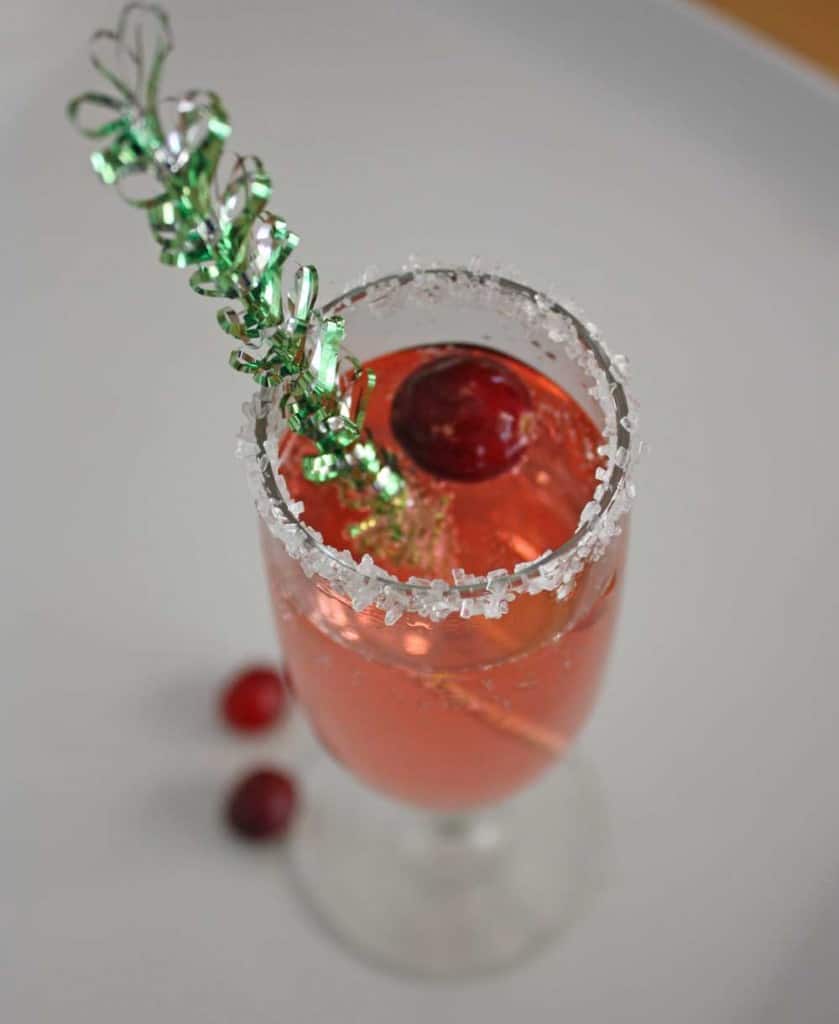 Makes me want to start unwrapping my Christmas gifts right now. Isn't it pretty?
Chris-Mist
Ingredients:
1 oz Cranberry Juice (I used sugar free)
1 oz Cranberry Vodka
Splash of  lime juice
Top with Sierra Mist
Directions: In shaker combine: Cranberry Juice, Cranberry Vodka and lime. Shake over ice  and strain into glass. Top with Sierra Mist.
………………………………………
Drink number 2 is a mocktail and equally festive.
Berry Christmas
Ingredients:
2 oz Cranberry Juice (or other favorite red juice)
Splash of lime juice
Sierra Mist
Directions: Fill glass with ice (or chill all ingredients and skip the ice). Add to glass: cranberry juice, splash of lime juice and then top with Sierra Mist. Garnish with something festive and fun (above: glass is rimmed with green sugar crystals and adorned with a candy cane twist).
………………………………………
I hope that these festive holiday drinks have inspired you to create your own recipes! In fact, if you do create a cocktail or mocktail of your own, share it with Sierra Mist on their Facebook page (they'd love to see it!).
Maybe you need some supplies? How about a Mixology kit from Sierra Mist?
GIVEAWAY!
One lucky reader will win: A Sierra Mist Natural holiday gift pack (shaker, drink garnishes/sugars for rimming, party glasses & a $50 AMEX gift card!)
Congrats to Jennifer M!
Contest is closed. To Enter: Leave a comment telling me about your favorite cocktail/mocktail or the name of the one you'd like to create (mandatory entry).
For Extra Entries (not required, leave a separate comment for each you d0):
-Like Thoughtfully Simple on Facbeook
-Like Sierra Mist on Facebook (tell them @Thoughtfully Simple sent you!)
-Tweet about this giveaway by copying & pasting this:
I entered the Holiday Cocktail giveaway from @HostessTori for a chance to win a @SierraMist gift pack http://ow.ly/82eLw
Good luck, and Cheers! Contest ends 12/20/2011 at 11pm PST
This is a sponsored post. I was provided products and/or compensation for this post. All opinions are my own.