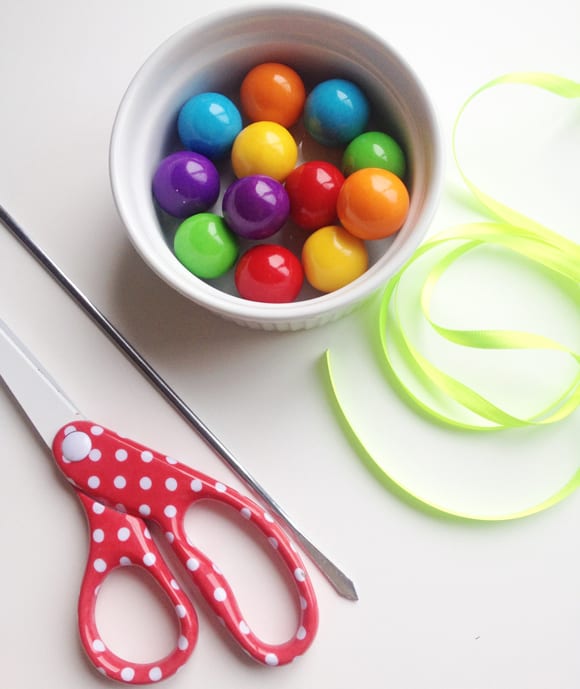 Ever wondered how to make candy necklaces? The good news is — it's super simple. The bad news? Well, you'll probably eat as much as you craft. But hey, we'll call that a perk.
Gumball necklaces will put a smile on any child's face − big or small. You can make them in a variety of color combos, making them perfect party favors or special holiday treats. They are simple enough to make with your kiddos and would make a fun birthday party activity. These rainbow gumball necklaces are perfect for St. Patrick's Day!
You will need: Ribbon (thinner works better but texture and color will be fine), 5-6 gumballs, Scissors, Tape, Metal skewer
To make: 
1. Using a metal skewer puncture a hole through the center of each of the gumballs until you have a hole in all of the gumballs being used. Please note: This step is intended for adults only. Please ensure all sharp objects are away from children and the skewer is pointed away from your body.
2. Next, wrap a piece of tape around one end of the ribbon and thread it through the gumball. Continue threading all of the gumballs in your desired order or pattern.
3. After you have threaded all of the gumballs, measure out your ideal length of the necklace, and cut the ribbon using your scissors.

4. Tie the two ends of ribbon together making a bow to form your necklace. Optionally, use a piece of ribbon scrap to make another small bow on the necklace as an embellishment, as pictured below.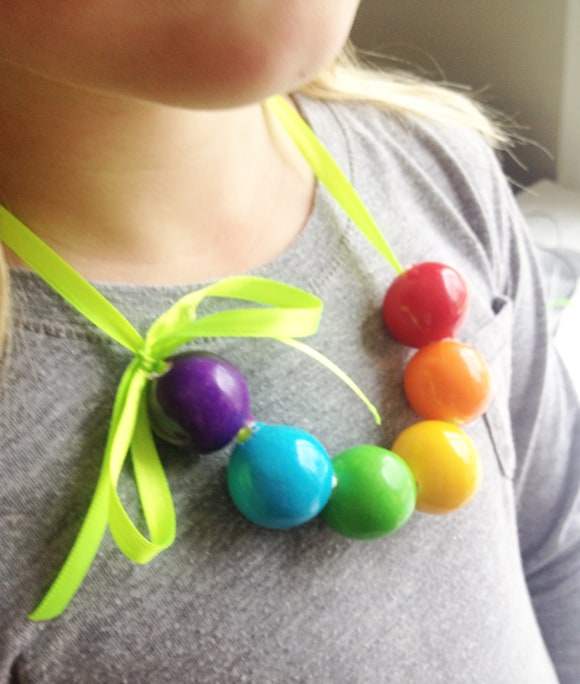 I hope you like this idea! 
This post was originally created for SC Johnson where I am a blogger panel member. See it here.
Looking for more St. Patty's Day ideas? Check out these posts :: A lucky breakfast :: green pancakes :: rainbow pancakes :: rainbow cupcakes