Have you ever thought about throwing a birthday party for your pet? Pets have birthdays too right? I mean, what pet do you know that doesn't enjoy a ton of attention? Consider celebrating their special day with a pet party!
Host your party at a local dog park or in your own yard. Ask friends and family to bring their pet over for the party. Send out treats in little envelopes for a fun invite- a hand written note is fine accompanied by say, a small dog bone for the invitee. Be sure to ask pet parents to bring a leash. Oh- and you might want to let your neighbors in on your plans- just in case your party gets a bit loud.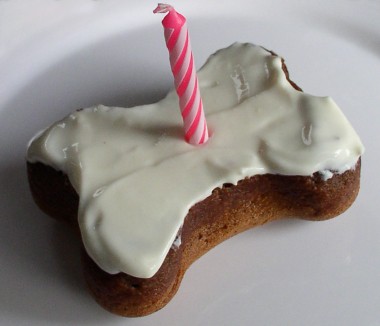 Make sure your party space has plenty of food and water for all the party guests. Also- consider preparing pet cupcakes so that each four legged friend can have a little birthday dessert! If you are in need of pet dessert recipes (that are safe to serve), check out Puppy Cake cake mix. And for ice cream, pick up some Frosty Paws (sold at most major grocery stores). I also like this recipe for homemade Peanut Butter and Banana Blondies for dogs. Your pet friends will be in for a treat!
You can even play pet games. If you are having a dog party try having each dog show of their best trick (for a treat of course). You can also play relays and get the pet parents involved which is always fun. For prizes or party favors, pick up some inexpensive pet treats and toys. Oh- and don't forget the pictures. As thank you notes- send each pet friend's owner a photo of them at the party!