It's that time! Another #FBTbash Twitter Party has been planned, so get ready to party! Each month, we will be bringing you new topics, a fabulous guest, and some pretty impressive prizes. This is an open party- so bring all your Twitter Friends and let's celebrate together!

July's Twitter #FBTbash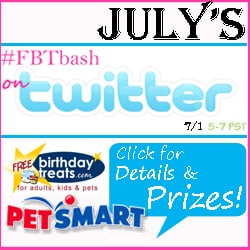 Who:
You, Me (@hostesstori), Julie from Free Birthday Treats (@JulieFBT) and our great live guest PetSmart (PetSmartTLC)! Be sure to follow us before party time!
What:
Twitter Party to celebrating all things Birthdays. July's Topic: Pet Birthdays, Pet Treats, Pet Saftey and 4th of July fun of course!
Where:
Where else? On Twitter! Join the party by using hashtag #FBTbash in every tweet! Don't have a Twitter account? Get one here (it's simple). You can also learn more about Twitter here.
When:
Wednesday July 1st from 5-7 PST
RSVP:
Let us know you're coming! Follow @hostesstori & @JulieFBT then copy and tweet the following:
RT Hey @hostesstori @JulieFBT I'll be there! July #FBTbash Twitter Bday Bash! cli.gs/hnusEe
—————————————————————
Fabulous prizes given away live! Enter now and join the party to see if you've won!
(2) Savvy Host's TableTop-in-a-Box *for 6* value-priced gift sets (retail valie $120 each) – one in Red and one in Terra. Enter Here!
——————————————————————————————–
Also- don't forget to stop by Free Birthday Treats and see what all the talk is about for yourself! I bet you're dying to know what you can get FREE for your birthday!
P.S. Be sure to leave your twitter handle in a comment below so others can follow you too!