Cereal donuts are all the rage these days and since I love baking special holiday treats for my kiddos, I wanted to give them a try. What I don't love? Having creative ideas that land me 2+ hours cleaning up in the kitchen. (Tell me this has happened to you too. I'll feel better if it has.) I recently wanted to whip up fun some St. Patrick's Day recipes, and I was thrilled to come up with a recipe that was delicious and left me more time to enjoy with my family (vs. standing over the sink).
What did I whip up? The luckiest donuts you ever did see! Check out these cereal donuts with Lucky Charms!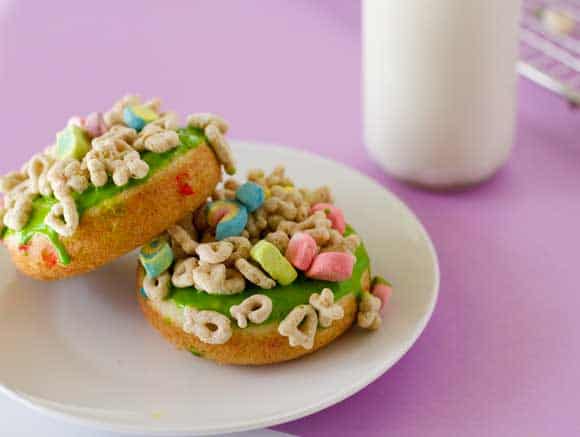 These donuts are made with Funfetti cake mix, which means not only were they super simple to mix up, but they are also super fun!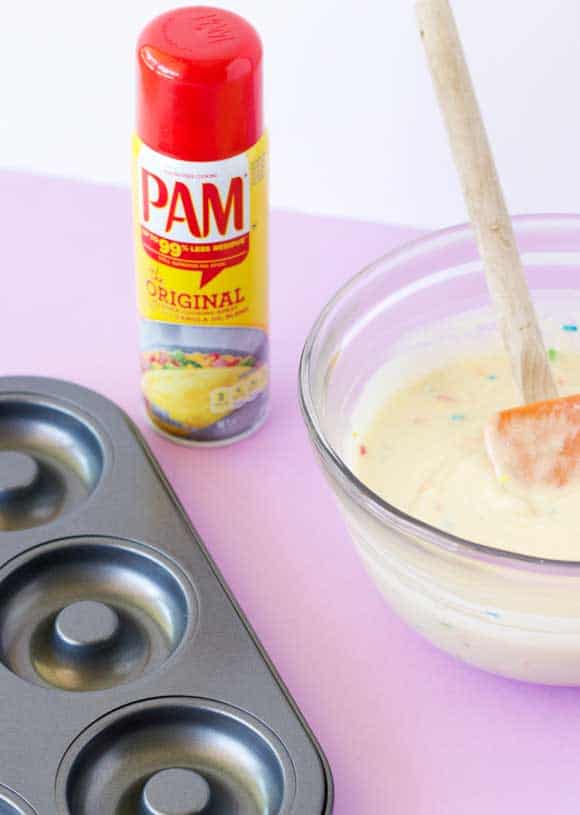 The trick to easy cleanup is spraying the donut pan with PAM Cooking Spray.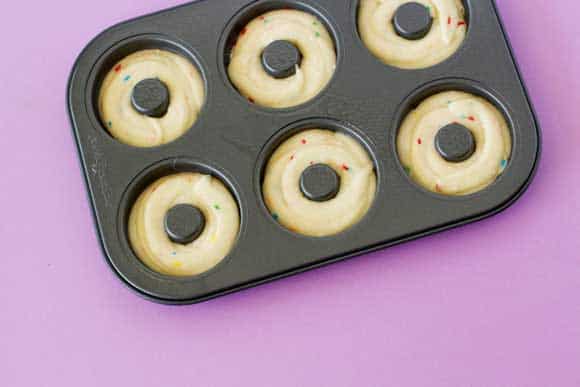 Mix up the Funfetti cake mix and fill the donut pan so each donut ring is about 2/3 full. Bake at 350 degrees for about 10 minutes.
Once baked, remove to a wire rack for cooling. As the donuts cool, make the icing. Whisk about 1 cup of powdered sugar with 3 tablespoons of milk to start. Add more milk a tablespoon at a time until your icing is the desired consistency. Mix in green food coloring (a couple drops will give you light green icing, for a darker green add a few more drops).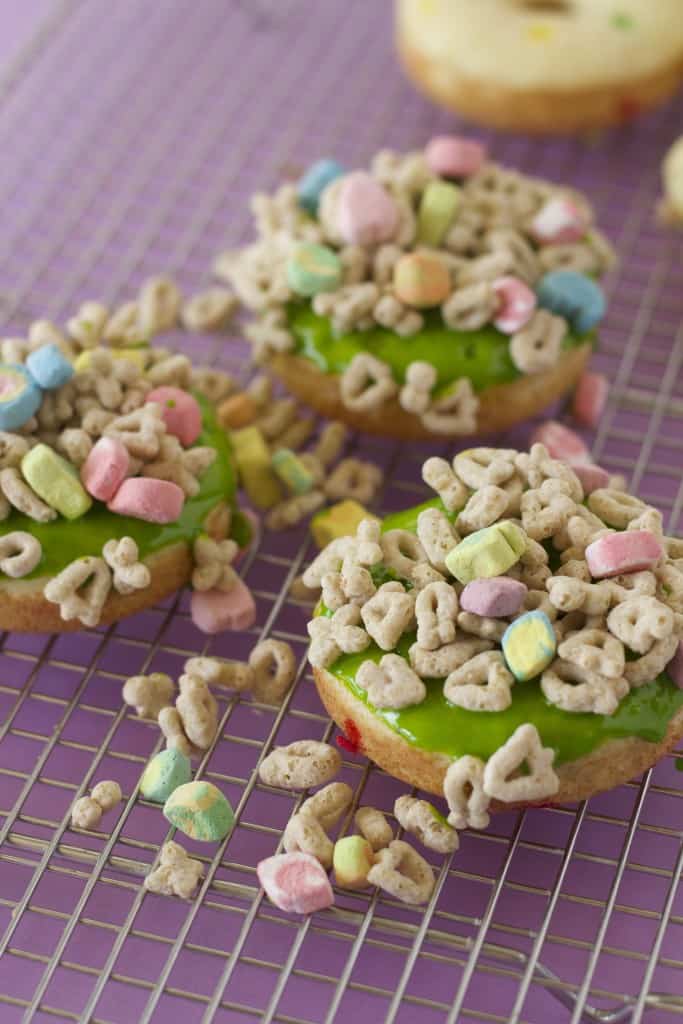 And for the topping . . . Lucky Charms are the perfect choice for these themed cereal donuts.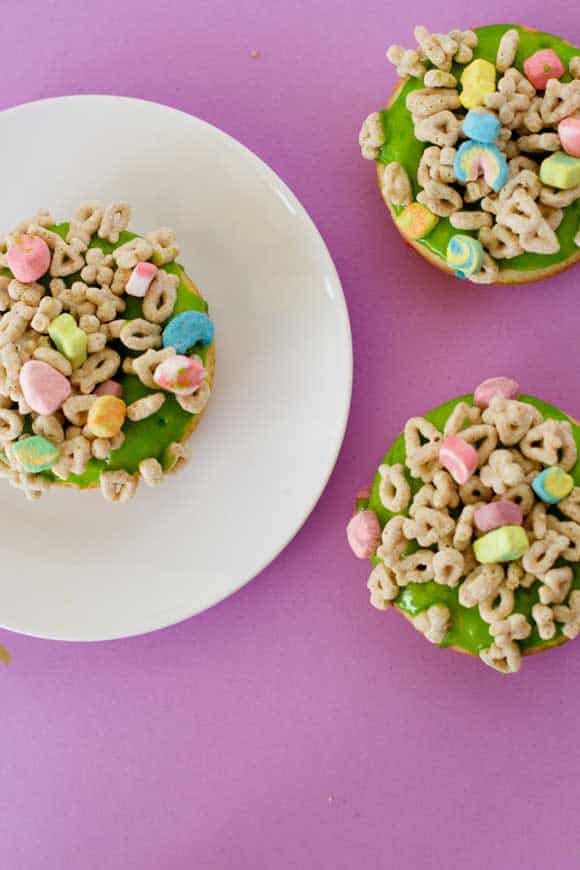 Dip tops of donuts into the green icing and then top with a small handful of marshmallow cereal. (Be sure there is a healthy portion of marshmallows!)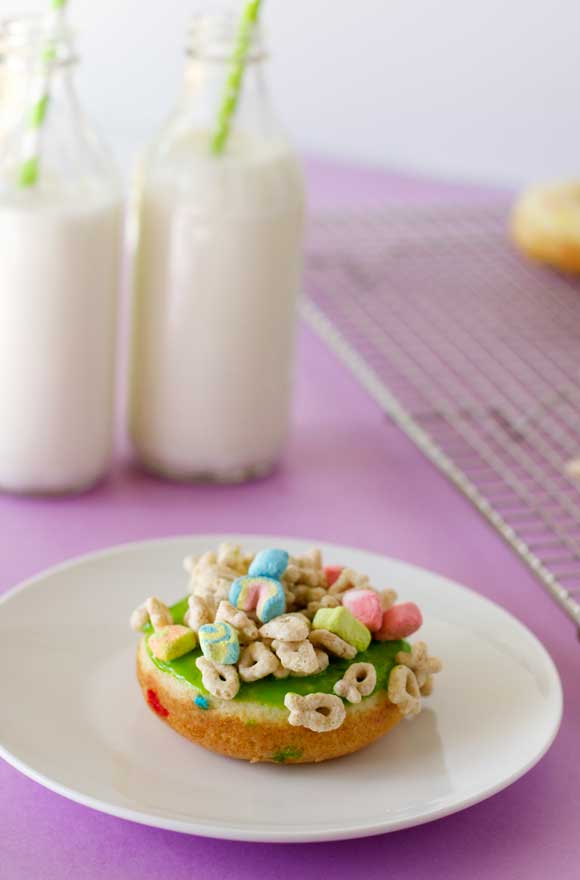 I know my kiddos are going to love these on St. Patrick's Day! A marshmallow cereal donut with a glass of milk? What could be better? I plan to spend the morning sitting with them and chatting about our upcoming day. I bet it's going to be a lucky one all around!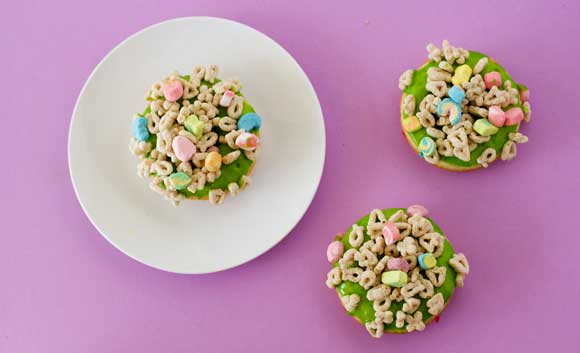 This entire recipe took me about 20 minutes (and that included cleanup!). Be sure to incorporate PAM Cooking Spray into your next baking adventure and save yourself cleanup time. Now someone, please pass me a donut!
Marshmallow Cereal Donuts
Ingredients
PAM Cooking Spray
Funfetti cake mix
1 Cup water
½ Cup oil
3 Eggs
2 Cups powdered sugar
3-6 Tablespoons Milk
Green food coloring
2 Cups marshmallow cereal
To Make
Preheat oven to 350 degrees. Spray the donut pan with PAM cooking spray. Mix cake mix according to package instructions (using 1 cup water, ½ cup oil, and 3 eggs). Fill donut pan with cake mix so that each donut is about ⅔ filled with mix. Bake until tops of donuts are a light golden brown (about 10 minutes). Let cool. To make the icing, whisk together the powered sugar and milk until desired consistency. Add in food coloring. Dip tops of donuts into icing and then top with marshmallow cereal. Enjoy!
Looking for more St. Patrick's Day recipes? Try this SUPER simple breakfast cereal idea or these green pancakes.