I have a little confession: I was always scared to bake a cheesecake. I am not sure why, really. I guess I just assumed it was tricky, required a special pan, and was going to taste bad. But none of those things are true. This simple recipe for mini cheesecake bites is my proof. I am so glad I decided to develop this recipe because it was easy and the reward was delicious!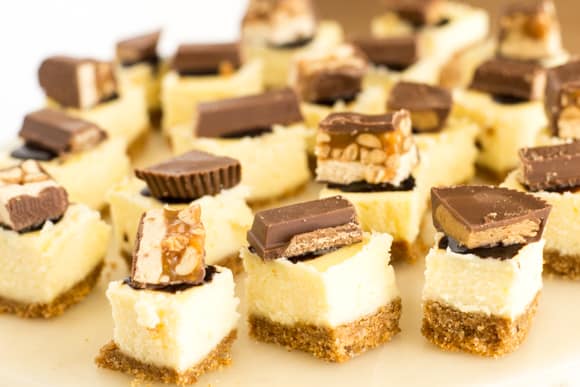 I wanted to come up with a creative dessert that was easy to make but would impress guests at our recent family dinner party. I like being able to serve bite-sized desserts on a platter so guests can take one (or two) and pass them around. This also works out really well for the dishwasher, because there is less to clean up after everyone has gone home.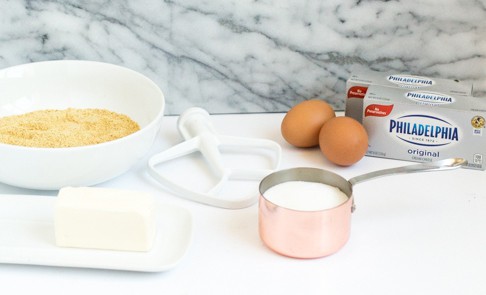 Gather a few ingredients and get ready to bake (you'll find the full recipe below). Don't be intimidated (like I was) at the idea of making your own cheesecake from scratch. I promise it wasn't difficult and it tastes way much better than the no bake-versions I had tried in the past. The star is the Philadelphia Cream Cheese which is made with, fresh milk, real cream, and no preservatives – nothing else tastes like it.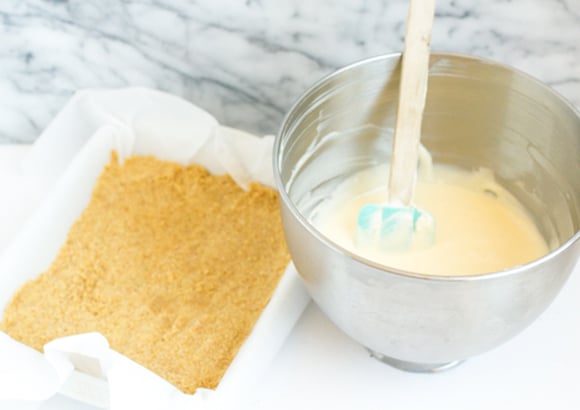 See, no special pan! I simply lined an 8×8 baking dish with parchment paper. You'll want to let it overhang about 2″ on each side so you can later "lift" the baked cheesecake out of the dish. If your parchment paper isn't big enough, just use two pieces that criss-cross the pan. The bottom part of the dish will be your graham cracker crust layer. Then, you'll pour in the creamy cheesecake mixture on top before putting it in the oven.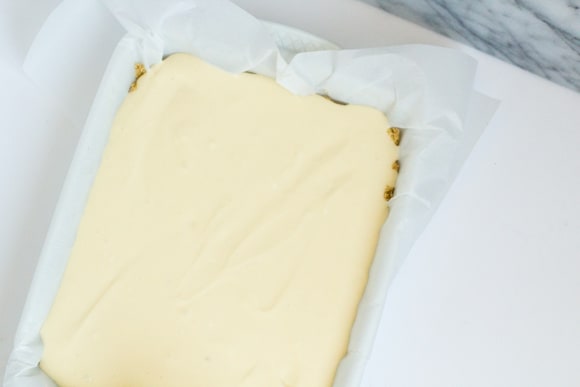 It bakes low and slow for about 30 minutes at 325 degrees. This ensures your cheesecake top doesn't crack. But don't worry too much about it even if it does because you're going to top it with drizzled chocolate and candy bar pieces so no one will even notice.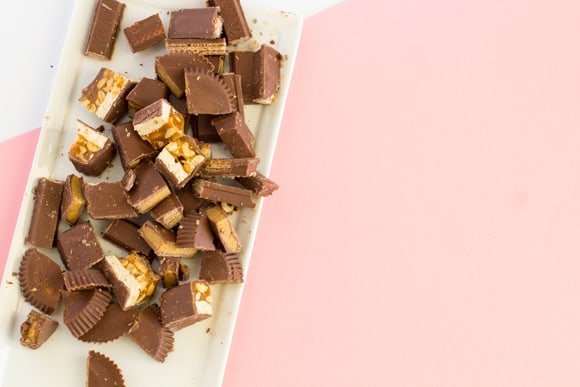 While it's baking, cut your favorite candy bars into bite-sized pieces. You'll use these for your cheesecake toppings. You'll need about 48 pieces.
After it comes out of the oven, let it cool for about 15 minutes and then place it in the freezer for another hour, (be sure to cover it with plastic wrap first). This cools it down so it can harden a bit, which will help you cut the cheesecake into nice 1-inch pieces.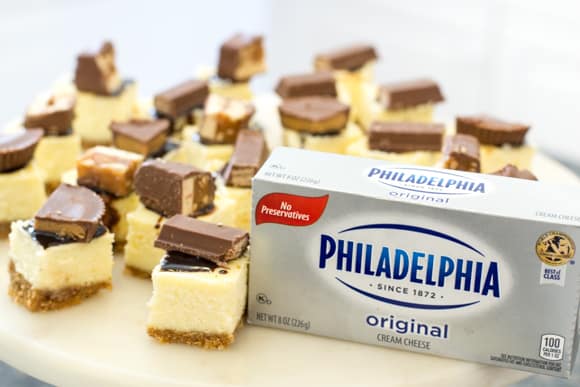 Once you have cut your pieces, add a drop of chocolate sauce or fudge to each piece and then place a candy bar on top. That's it. Easy, right?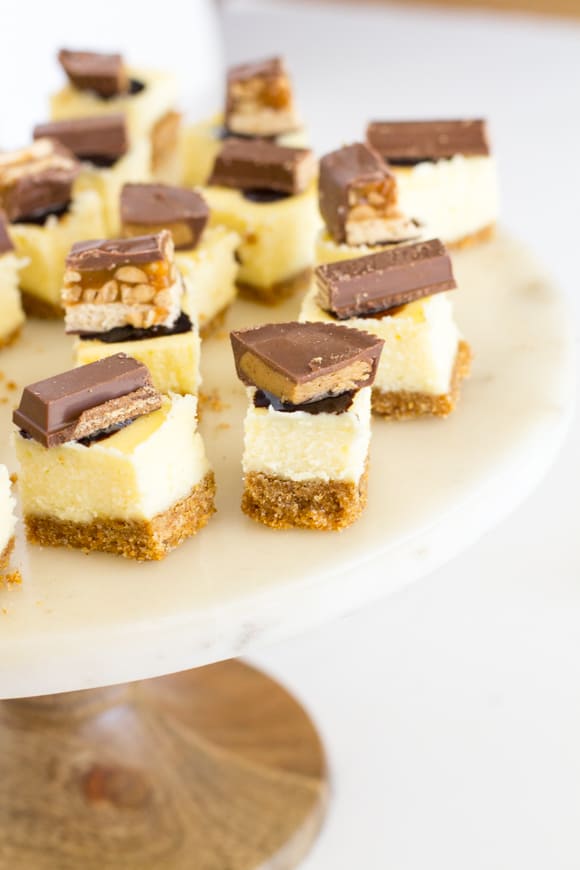 Place these mini cheesecake bites on a platter or use a cake stand. I promise, they won't last long!
If you like these mini cheesecake bites, you might also like these mini pudding parfaits with sprinkles or these oreo cookie balls.
Mini Cheesecake Bites
Serves:
16 Servings when a serving equals 3 pieces
Ingredients
For the crust
1½ cups Graham Cracker Crumbs
5 tablespoons butter, melted
For the cheesecake filling
2 eggs at room temperature
2 8-ounce PHILADELPHIA Cream Cheese Bricks, softened, at room temperature
1 teaspoon vanilla extract
¾ cup granulated sugar
⅛ teaspoon salt
2 tablespoons cornstarch
1 teaspoon pure vanilla extract
For The Topping
5 Tablespoons chocolate sauce
48 Candy bar pieces
To Make
Preheat oven to 325°F. Line an 8-inch square baking pan with overhung parchment paper.
For the crust. In a bowl, combine the graham cracker crumbs and the melted butter, and mix until all of the crumbs are moistened. Press the mixture in the pan and press firmly into an even layer.
For the filling. In a bowl, beat the cream cheese (I used the paddle attachment in a stand mixer but you could also use a hand mixer) until it is light and fluffy. Next, add in the sugar, salt, cornstarch, eggs and vanilla, beating to combine well after each ingredient is added. The mixture should be very smooth. Pour the filling into the prepared pan on top of the crust. Place in the center of the oven and bake until just set (about 30 minutes). You'll know it's set when it doesn't jiggle in the pan. Remove from the oven and let cool in the pan for about 15 minutes before covering the pan with plastic wrap and placing in the freezer for an additional hour to harden up.
To Make The Bites. Remove the cheesecake from the freezer, uncover and remove from the pan using the overhung parchment paper to "lift" it out. Using a sharp knife, slice into about 48 1-inch squares. Top each bite with a drop of chocolate sauce, then place a piece of candy bar on top of each one.