This week I've spent some time learning about new Makers on Great.ly as I've been curating my shop with handmade items for the home, entertaining, and gifting. Great.ly makes it easy to find Makers who's style compliments mine and I've been filling up my shop with great finds like the ones above.
Stone Vessels :: These polka dot vessels are hand made  on a wheel from natural stoneware and then painted. They'd make lovely bowls, mini planters or catch-alls. Maker :: Takeawei Studio
Numbered Edition Napkins :: Made with organic hemp/cotton fabric and screen printed with water-based ink, these napkins double as placecards. Maker :: Heather Lins
Handmade polka dot number/cake topper :: This will add an extra special touch to your next birthday cake. Several colors available, I can see reusing this in many ways! Maker :: Hana Brewster
Print on cotton rag-art paper :: I am not sure what speaks to me more, the colors or the title of this print: "Everything All At Once" but I know I need it hanging in my office. Maker :: Belinda Marshall

I was excited to join Great.ly because it offers me access to help curate my own shop with products from Makers I admire and in doing that, supporting their independent businesses. The Maker Movement is gaining full steam and as it does more Makers will surface and their work will be seen on a bigger stage — exciting!
Speaking of The Maker Movement, did you hear the White House is hosting it's first-ever Maker Faire next week? They've also established Wednesday, June 18, 2014 as a National Day of Making; inviting all of us to share our own projects using #NationOfMakers on Twitter and Instagram.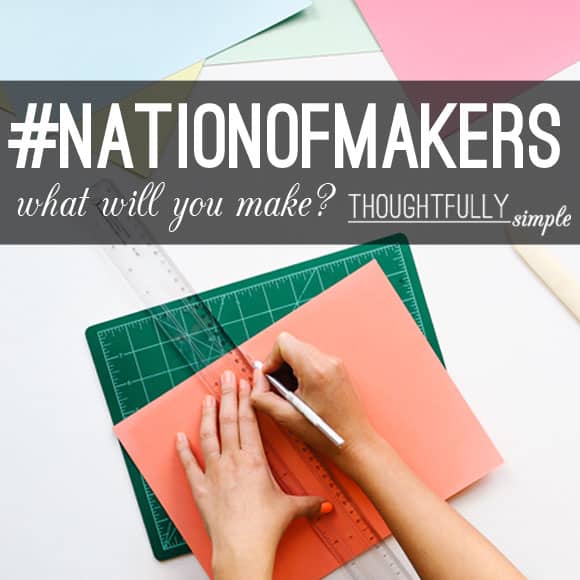 Take the weekend to think of what new projects you can make on Wednesday and be sure to share them using #NationOfMakers. A day when the whole country unites around making things? I'm in! Follow me on Twitter and Instagram as I'll be sharing my #NationOfMakers pics too!
What project are you currently working on? Share in the comments!