I love that inspiration from a party can come on a whim. While playing volleyball lakeside recently, by husband mentioned it would be fun to have a volleyball party. Just so happens he has a birthday coming up — so …. why not we thought?
I had to throw in some NEON and make it a NEON volleyball party (you know, for good measure).
Thinking of hosting a neon party? I hope our invites and inspiration board inspire you. Because ….. if it isn't NEON, it shouldn't BEON.  :)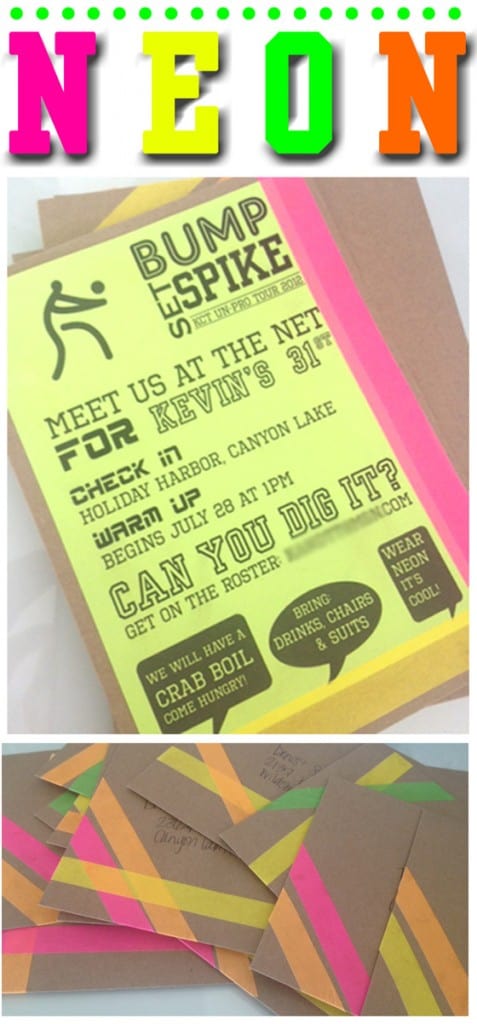 Nothing fancy here. Kraft paper cardstock and envelopes are a nice neutral contrast to the neon (and they reminded me of the sand at the volleyball court). A simple invite design for the "KCT UN-PRO Tour 2012" and some party details. I used neon washi tape to give the envelops a fun neon pop.

Here is the rest of the items I bought for he party. Since it will mainly be a bunch of adults playing beach volleyball …. there really isn't much else to decorate. So, we thought we'd have fun with our outfits :).
For links to purchase the items check out my Neon Pinterest board. I'll post picks after the party, they should be fun ones!