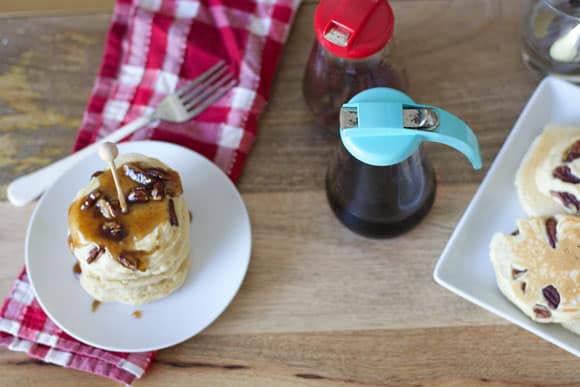 I have this mild obsession with pecan pie. Specifically this pecan pie recipe (thanks PW!). But it seems I only make it during the holidays … which is not cool. So I came up with a reason to eat pecan pie all year round — and for breakfast.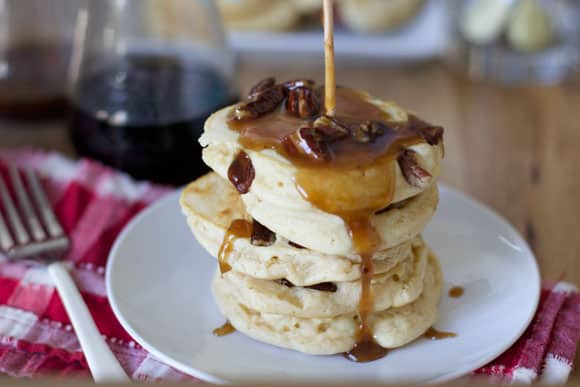 These pecan pie pancakes are DIVINE. And see that topping dripping off? It's sort of amazing. The pancakes have this familiar nutty flavor reminiscent of the pie itself. Mmmm so good. I made them silver dollar size which made me feel not so bad about eating 6 of them… which makes no logical sense (I know).
(PS I have also been known to drink my pie. Yep. Check out these pumpkin pie mini martinis).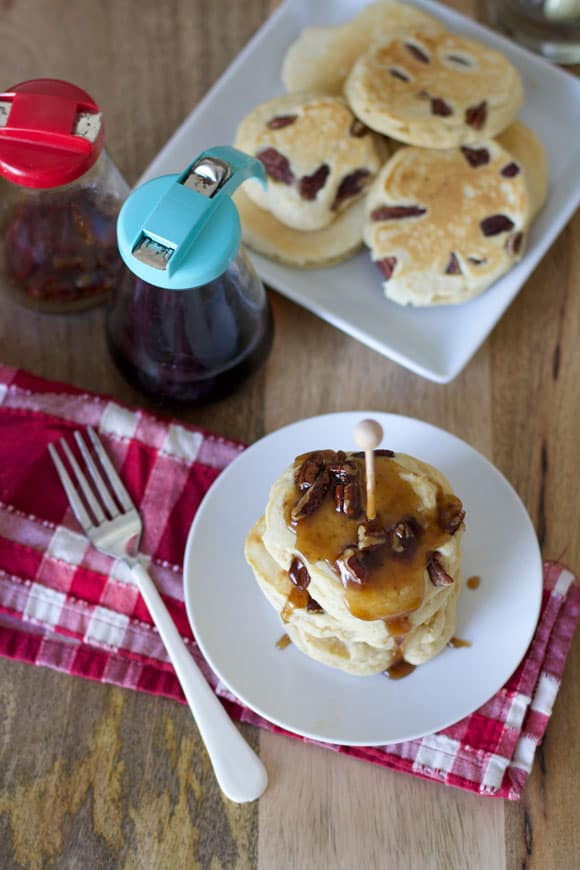 This recipe is my new favorite. I hope you try it and love it too. And stay tuned … I have a great gift idea for these coming up!
Pecan Pie Pancakes
1½ cups cake flour
1 TBS baking powder
2 TBS brown sugar
¼ teaspoon salt
2 cups Milk
1 whole large egg
1 TBS vanilla
2 TBS butter, melted
1 cup Chopped pecans
For the Topping:
3 TBS butter
2 TBS brown sugar
½ cup chopped pecans
½ cup light corn syrup
1/4 cup traditional pancake syrup
1 tsp vanilla extract
Pinch of salt
To Make: In a small bowl mix the cake flour, baking powder and salt. In another bowl add the milk, egg, and vanilla and whisk. Pour the wet ingredients over the dry and mix. Whisk in the melted butter. The batter should still be lumpy. If it is too thick, add a little more milk to thin it down.
Heat a griddle or skillet to medium heat. Spray with nonstick cooking spray. Pour a small circle of batter onto the griddle. Cook until golden brown, flip and repeat.
For the topping: Melt the butter and brown sugar together in a small saucepan over medium heat. When the sugar melts, add the pecans and reduce the heat to low. Cook 10 minutes to bring out the nutty flavor. Add the corn syrup, regular syrup, vanilla, and salt. Stir. Keep it warm over very low heat until ready to serve or remove from the heat and re-heat just before serving. This topping becomes stiff when it cools so it will definitely need to be heated to pour. But it's ph so worth the extra step. You can even make this topping the night before and simply reheat it when ready to serve.