Heading to a potluck this Labor Day Weekend? Here are a few simple potluck recipes and tips that are sure to impress!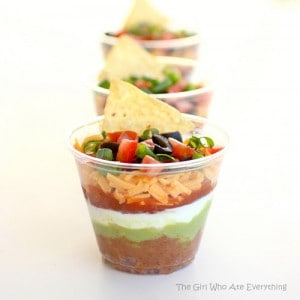 7 layer dip is one of my all-time favorite potluck dishes. I love to bring it, I love to eat it and I'm loving this single-serving idea (see tip #2 below!). Get the recipe here.
These bacon-wrapped stuffed jalapenos are my go-to. I make them for Superbowl, for parties, potlucks and just because. They are dangerously good. Recipe here.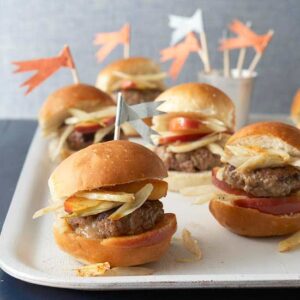 Sliders are a great option and you and you can put so many things in between those 2 mini buns. These are sausage sliders with peppers which are great for a "heartier" potluck dish. Bonus = you can top them with a cute mini flag pick! Recipe here.
Inspired?  Before you plan your dish ….
My 3 tips when planning your next potluck dish:
1. Purchase plastic platters and serving bowls from the dollar store (or stock up on those holiday dishes during end-of-season clearances). A plastic colorful dish looks much nicer than a foil pan, and if it cost you a dollar — you won't be disappointed if you leave it behind.
2. Single servings are best. Consider creating single serving "mini dishes" for a convenient grab-n-go option at the potluck
3. Stick with classic recipes or create a twist on a classic recipe, but avoid preparing dishes that have exotic or unique ingredients. The goal of a potluck is to appeal to and feed a crowd so don't get too fancy.
Have a tip or favorite potluck dish? I'd love to hear about it below!