Can we agree that mini desserts are just better? And I have to admit, a mini pudding parfait is just so cuuuute.  (Spoiler alert: They also taste delicious.)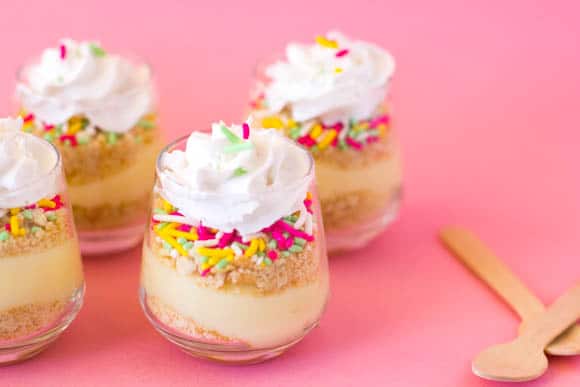 I actually made these dessert in mini wine tasting glasses I had on hand. They just so happen to be the perfect size for mini pudding parfaits! These mini mason jars
 would also work perfectly (and I love that they have lids).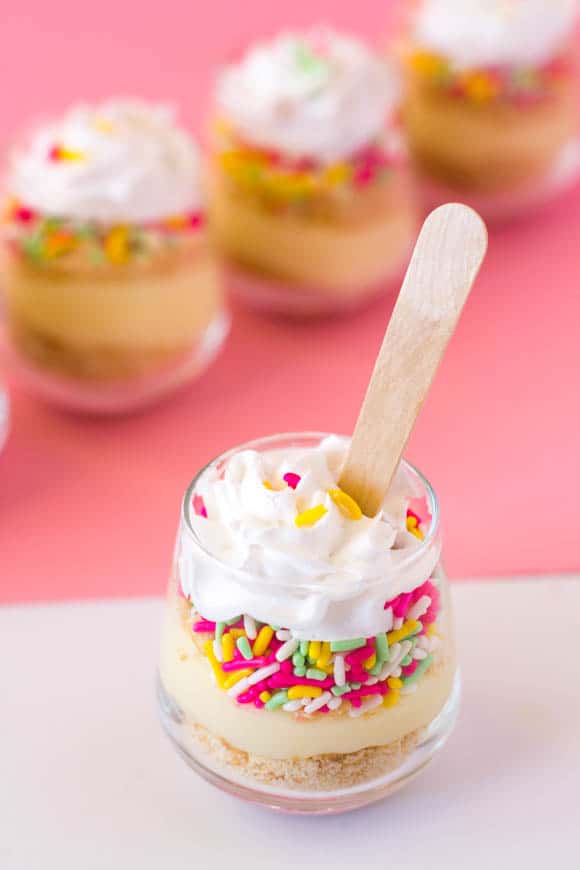 You can completely customize this recipe and get really creative. I used the classic Nilla Wafer cookies to make a cookie crumb crust at the bottom. (It totally reminds be of a dessert my grandma used to make.) Then I layered homemade vanilla pudding, jimmies (sprinkles), and whipped cream. But you can do any cookie crumble (Oreo would be so good!) and any flavor of pudding you like. You get the idea, have fun with it! This combo reminds me of my childhood which just makes it taste extra sweet. :)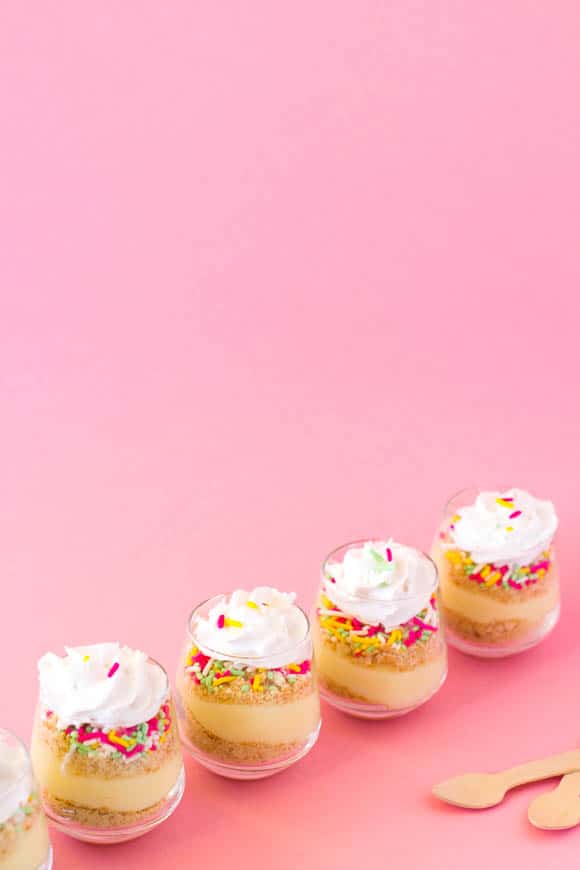 Not only are these so yummy, they make for a great presentation. Line them up on a serving tray and pass them out. So fun! I like to use these mini wooden spoons when serving (they are the perfect size)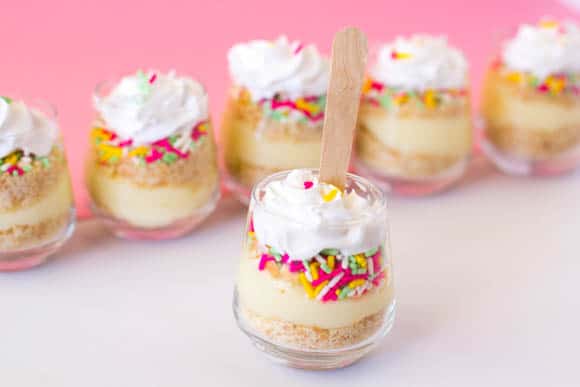 If you're looking for more fun desserts, you might also like this candy dessert pizza or these mini candy bar cheesecake bites!
Mini Pudding Parfaits With Sprinkles
Serves:
6-8 Small Servings
Ingredients
⅓ cup sugar
⅓ cup sugar
2 tablespoons cornstarch
2 tablespoons cornstarch
¼ teaspoon salt
¼ teaspoon salt
2 tablespoons butter
2 tablespoons butter
2 egg yolks
2 egg yolks
2 cups whole milk
2 cups whole milk
1 teaspoon pure vanilla extract
1 teaspoon pure vanilla extract
Crushed vanilla wafer cookies
Crushed vanilla wafer cookies
Whipped Cream, to taste
Whipped Cream, to taste
Sprinkles
To Make
Whisk together the sugar, cornstarch and salt in a medium saucepan. Briskly whisk in the egg yolks and the milk.
Place the mixture over medium heat and cook, whisking often, until the mixture bubbles and thickens.
Once it has bubbled for a full minute, remove from the heat and mix in the butter and vanilla. Stir until the butter melts and the mixture is smooth.
Pour into 6-8 small glasses with a layer of crushed cookie on the bottom. Cover each glass with a small piece of plastic wrap and place in the refrigerator until cool.
Once the pudding is chilled, remove from the fridge and top with another layer of crushed cookies. Add sprinkles, whipped cream and for good measure, a few more sprinkles. Enjoy!