It happened. I had leftover pumpkins from Halloween and decided I would make soup out of them. I'm not sure why I was intimidated, it was super easy — yay for firsts!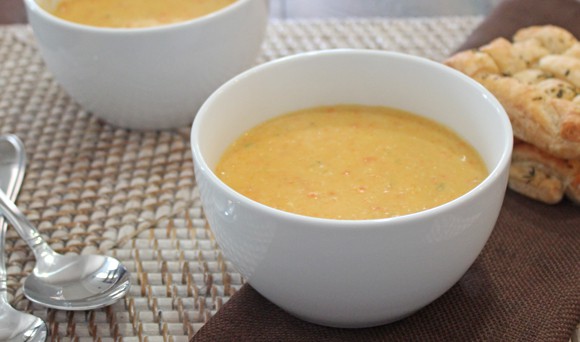 What I loved about this soup is that it had a great texture to it. I could taste the veggies and they still had some bite. I like my soup with some bit and pieces of love still in it.
This soup would make an amazing course at your Thanksgiving dinner. You could even make it up early in the week and it will be fine in the fridge until Thanksgiving. Double "yay" for getting things done ahead!
Pumpkin Beer Soup
Serves 4-6
Ingredients:
2 tablespoons extra virgin olive oil
1/2 yellow onion, finely diced
1 large leek, thinly sliced
2 garlic cloves, minced
2 carrots, finley diced
1 rib celery, finely diced
3 tablespoons minced thyme
1 bottle of  your favorite pumpkin ale
2 cups chicken broth
1/4 cup butter
1/3 cup all purpose flour
2 cups milk
2/3 cup pumpkin fresh pumpkin puree
4 cups shredded sharp cheddar cheese
1 teaspoon dry mustard
1/2 teaspoon smoked paprika
1/4 teaspoon ground nutmeg
salt and pepper to taste
Directions:
1. For the pumpkin puree: Make it from scratch by following these steps. Set aside until you need it.
2. For the soup: Pour oil into a medium pot and place over medium-high heat. Add onion and leek and sauté for 3 to 4 minutes or until translucent. Add in the garlic, carrots and celery, Be sure to season with salt and pepper.
3. Add 2 tablespoons thyme and sauté for 4 to 5 minutes. Add in beer and broth, simmering for 8 to 10 minutes or until vegetable mixture is tender. Remove from heat and set aside.
4. In another medium pot melt butter. Whisk in flour to create a roux and continue to whisk for 2 to 3 minutes. Whisk in milk until no lumps remaining and mixture thickens. Stir in pumpkin puree until smooth. Add cheese, stirring into the milk mixture. Stir until cheese sauce is smooth. Stir in remaining spices. Adjust spices to taste.
Serve with these soup dippers and enjoy!
Recipe adapted from Spoon Fork Bacon.