We recently asked our Facebook Fans to share any party planning questions they may have with us. Kim, shared that she was having a combined 30th birthday party and grad school graduation party and needed help with party ideas. We jumped at the chance to brainstorm with her…. Kim is a Kindergarten teacher, so what better theme than an elementary one?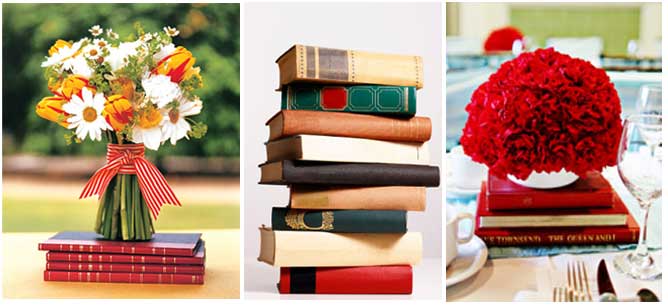 Remember this school themed wedding we featured? I love their use of books as centerpieces. You can stack up an eclectic group of books and place them anywhere you would like some decoration. For a more streamlined look, cover the books using solid red paper which will really make them pop. Use the books alone or top them with flowers or even a framed black and white photo of the guest of honor. For a buffet or dessert table, use the stacks of books as cake stands and pedestals to give your table height.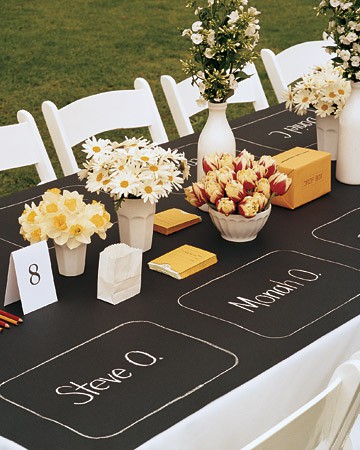 Here, black paper was used as table runners. Use chalk to draw placemats if it is a seated meal. For a buffet table, use chalk to write the names of the dishes that are set out. You can also just use this paper on tables throughout your space leaving chalk for others to have fun with and doodle you graduation (or birthday) wishes.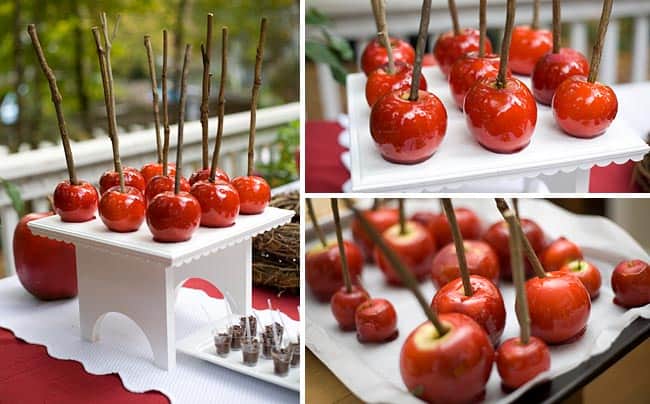 I love this mini candy apple buffet for a dessert table!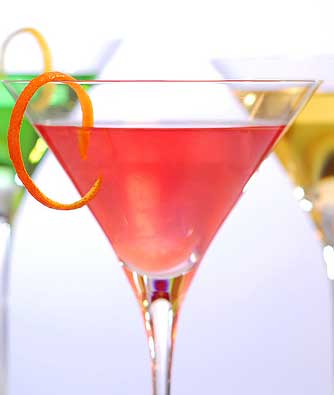 Themed drink? Serve Washington Apple Martinis.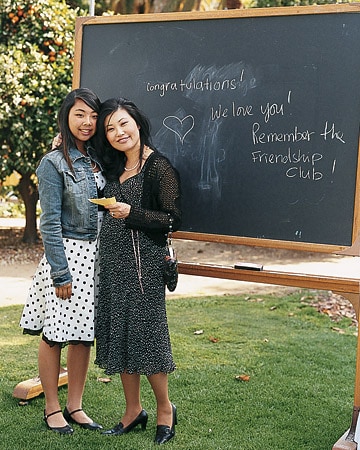 I can never get enough of the chalkboard photo booth idea. Start of by drawing a big 3-0 on the board!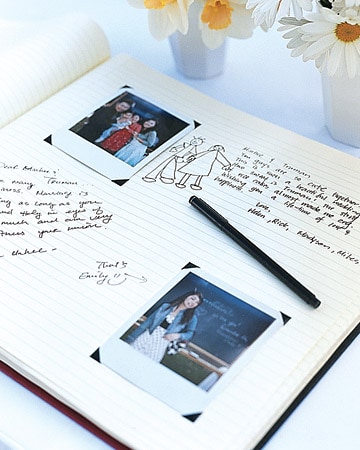 Let guests leave you graduation and birthday wishes in a yearbook styled guest book. This will be loads of fun to look back on. If you don't wish to do the photo booth, ask guests to bring their favorite picture of you two together and let them add them to the book when they arrive.
*I like the red color scheme that flows throughout this party but if you prefer, swap out the red for green. Use green apples for the buffet and make a green apple martini.
*For invites, a mock report card would be really cool!
{additional images via The Knot and The Bride's Guide}