Here are two simple and impressive appetizers you can do in a snap! Having guests? Try these!!!
Grilled Beef Tenderloin on Focaccia Toasts & Spitfire Shrimp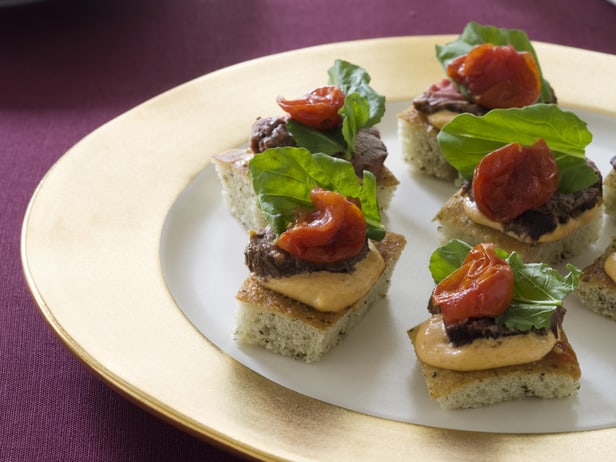 Grilled Be ef Tenderloin on Focaccia Toasts
Cook Time 1 hr 10 min Enough for a crowd! 30 plus servings
Ingredients
2 pounds cherry tomatoes
1 cup extra-virgin olive oil, plus more for drizzling
Kosher salt and freshly ground black pepper
2 heads garlic
4 sprigs fresh rosemary
1 lemon, juiced
1 red bell pepper, seeded and chopped
2 cups good quality mayonnaise
2 tablespoons hot chili paste
1 whole beef tenderloin*, about 6 to 8 pounds
2 loaves focaccia bread , sliced and toasted
Baby arugula, for garnish
Directions
Heat the oven to 400 degrees F.
Toss the tomatoes into a roasting pan, drizzle with some olive oil and season with salt and pepper. Cook until the tomatoes have collapsed, about 30 minutes. Remove them from the oven and let them cool.
Drizzle the garlic with olive oil, wrap it in foil, and bake it until soft, about 30 minutes. When cool enough to handle, squeeze the soft garlic onto a cutting board. Strip the needles from the rosemary, add them to the garlic, and chop them together. Pour 1 cup olive oil into a small bowl; add the garlic and rosemary mixture and lemon juice. Season with salt and pepper and mix well. Set aside until ready to grill.
Char the outside of the pepper under the broiler or over a gas flame. Put it into a bowl and cover it with plastic wrap. When cool enough to handle, peel, seed, and chop and put it into a blender. Add the mayonnaise and chili paste; process until smooth. Taste and adjust seasoning with salt and pepper; refrigerate until ready to use. (Can be made the day before.)
Heat the grill. Remove the meat from the refrigerator about 1/2 hour before you are going to grill it. Brush it with some of the flavored olive oil and season it generously with salt and pepper. Grill the tenderloin, turning frequently, until the meat is rare or medium rare, about 8 to 10 minutes. Remove to a platter and let it rest for 5 minutes, brushing it with the flavored olive oil. Cut the beef into thin slices.
To serve, put some of the flavored mayonnaise onto a piece of focaccia toast. Top it with a thin slice of the beef and spoon on some of the roasted tomatoes. Garnish with some arugula leaves and serve.
*Cook's note: Have your butcher clean the fat and silver skin from the tenderloin and tie it.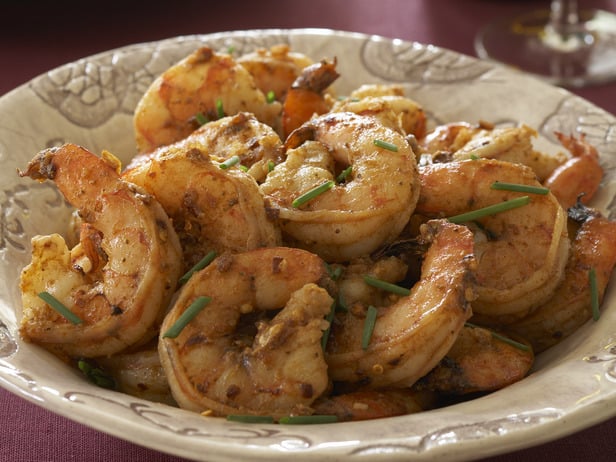 Spitfire Shrimp
Prep Time: 10 min
Cook Time: 5 min
Serves: 6 to 8 servings for snacking
Ingredients
Seasoning:
1 lime, juiced
2 ounces (1/4 cup) hot cayenne pepper sauce
1 tablespoon ground cumin
1/2 teaspoon crushed red pepper flakes
1 tablespoon crab boil seasoning
Shrimp:
4 cloves garlic, crushed and chopped
2 shallots, chopped
1 tablespoon extra-virgin olive oil
2 tablespoons butter, cut into pieces
2 pounds jumbo shrimp peeled and de-veined*
12 to 15 blades fresh chives, chopped, for garnish
*Ask for easy-peel raw deveined shrimp at seafood counter of market
Directions
Preheat large nonstick skillet over medium high heat.
Combine lime juice, hot sauce, cumin, red pepper flakes and seafood seasoning blend.
Quickly saute garlic and shallots in oil and butter for 1 minute, add shrimp and cook 3 minutes, tossing and turning frequently. Dump pink, firm, cooked shrimp from hot pan into hot seasoning blend and toss in seasoning mixture to coat shrimp evenly. Garnish with chopped chives. Serve warm or chilled.
Recipe courtesy Tyler Florence photos from Food Network