Emily from My Little Window Shoppe shares her simple and creative tips for making an impressive holiday wreath. She proves that it doesn't take a lot to make something fabulous!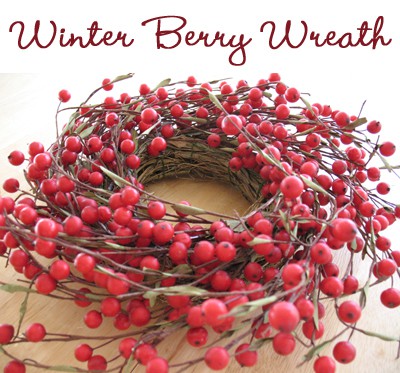 Hello Thoughtfully Simple readers! This is my favorite Winter Berry wreath! I have it at home proudly displayed and since I thought it was so pretty, I took a few pictures of it and put it up on the front page of Little Window Shoppe a week ago. Since posting it up, I have had a lot of questions about it! So, due to popular demand, I wanted to write a quick tutorial with easy steps on how to make your own gorgeous wreath this year.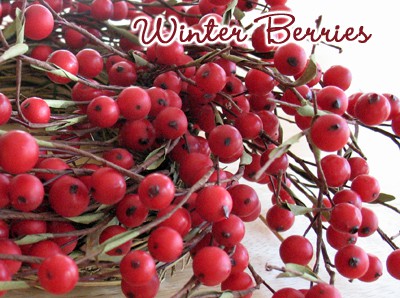 Supplies
An old or new grapevine wreath base (size = your choice). You can buy these at Michaels for about $3 – $6. Mine also has extra dried twigs included in it, in fact you could dry your own twigs and make a base out of it…just secure it together with floral wire.
A bunch of your favorite freshly picked Red Winter Berry Stems – (the artificial stems are also found at various craft stores).
Floral Wire – to secure everything in place and to make a hanger for your wreath.
Scissors and/or a wire cutter
(Extra) Ribbon – if you want to add a ribbon to your wreath.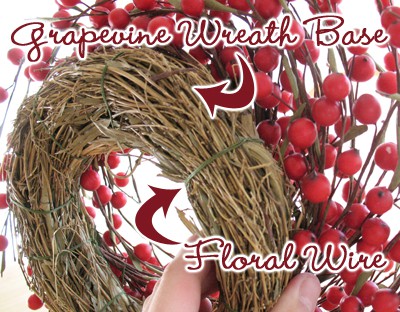 Simple Steps
Once you have your grapevine/twig base and your Winter Berry stems, start weaving them into the base and secure them with floral wire. If you can't keep it in place with just the wire, you can also use hot glue (I like to avoid glue if at all possible on this project, but it can definitely help hold it all together if nothing else is working).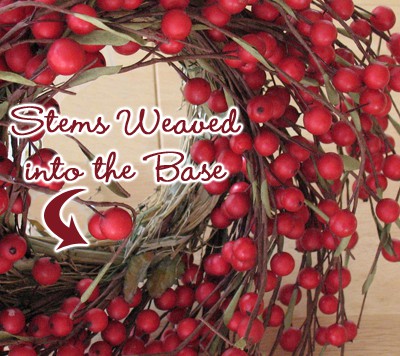 Finally, once the stems are intertwined and secured, you can use your floral wire to make a hanger for your wreath or to attach a pretty bow. This is a fun and easy little project for the holidays and will help you to save a lot of money too! Many of pre-made berry wreaths are selling for about $20 to $40 (depending on the size). So, have fun and keep your cash this season.
Looking for more festive ways to decorate this holiday season? Check out more ideas using cranberries and how to turn wrapping paper into holiday decor.