Single serve summer salads. Say that twice.
It's barely spring but the warmer weather just makes me even more anxious for summer to arrive. One thing I love to do in the warmer months is to entertain outdoors (who's with me?). One thing that is always tricky to dish out at a casual backyard gathering are salads. Rather than having guests pile up the leafy greens on their way through the potluck line, why not have individual serving sizes ready for them to grab and go?
I also really like this idea because it opens up to the possibility of serving salad as an appetizer! Small portions in a simple to grab and eat basket would make salad  a perfect appetizer at your next party.
Salads, the new party appetizer? Who's with me?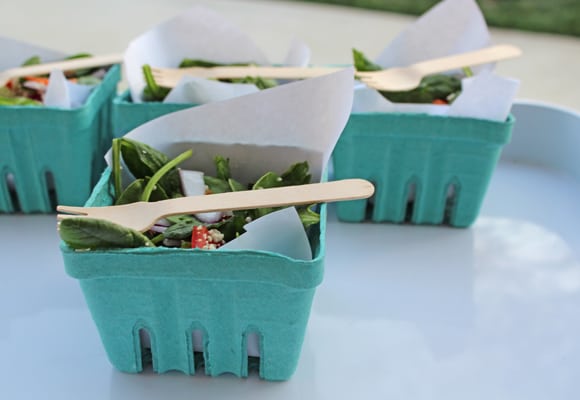 What you'll need:
Cardboard berry baskets (I got mine here).
Wooden forks (great selection here).
Parchment paper or other food-safe craft paper
Your favorite summer salad recipe (you could serve up a pasta salad this way as well)
What summer salad would you serve up? I've been pinning some favorites to try on my Pinterest board but would love to hear your favorite recipes! Tell me about it or leave a link below!