Looking for slumber party ideas? Just putting this fabulous kids' spa party theme together has got me longing for a day at the spa! A spa party theme would be perfect for any girlie-girl's birthday party theme ranging from age 7 to well, adult! What little lady (or grown woman for that matter) doesn't love some good pampering?
Choose a group of girls to invite, keeping it to under 10 girls will make the spa treatments run a bit more smoothly. Decide if your spa party will be an overnight slumber party or a simple "day at the spa."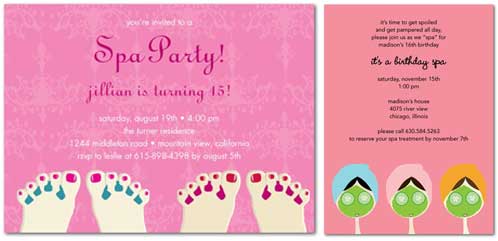 Here are two darling invites:  'Painted Toes' invite and  'Spa Girls' invite. Or, if you want to make them yourself,  these spa mask invites from Martha Stewart are adorable too
. Ask girls to bring their favorite bath robe for a true "luxury" feel. When they arrive, have them put on their robes and welcome them to the spa.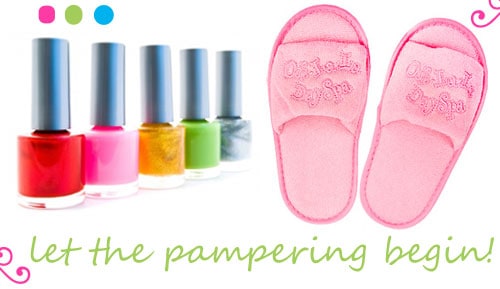 A great party spa treat would be to get each girl a pair of spa slippers. They'll love that they all match and the slippers will also serve as a fabulous party favor. Here's a cute spa slippers kit that they can actually make. So it's a bonus activity too!
Let the pampering begin with pedicures! Place chairs in a circle and grab some paint trays from you local home store to serve as water basins. Fill with warm water tossing in bath fizzies and a few rose petals for that extra touch. Consider recruiting Grandma, Auntie, or a friend to help you with your spa duties. Let each girl pick their polish color and get to work!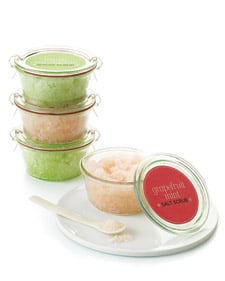 After the pedis, give each girl a facial scrub. I like this home facial scrub recipe which you can premake and store in small canning jars. You can slo try chocolate facial which I am sure the girls will be eager to lick off if it should drip!
Chocolate Facial Mask
1/3 Cup Cocoa Powder
3 Tablespoons Heavy Cream
2 teaspoons Cottage Cheese
¼ Cup Honey
3 teaspoons Oatmeal
Directions:
Mix all ingredients together using a small blender then smooth onto face. Relax for ten 10 minutes, then wash off with warm water. Enjoy baby soft skin!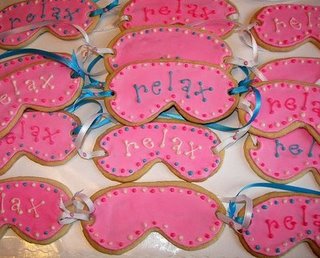 Wouldn't these make the cutest dessert? I spotted these face mask shaped cookies and thought they were perfect! You could even personalize them with the spa guests names! For beverages, serve up yummy fruit smoothies and for eats how about small sandwiches?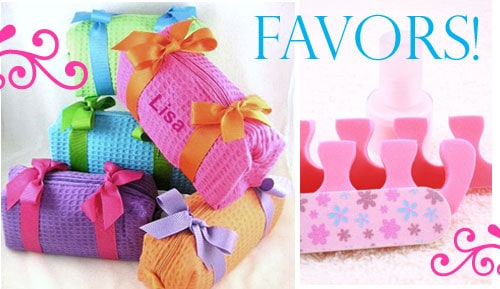 Make each girl a spa pampering toiletry bag that she can use during her spa visit and also take home as a party favor. Include mini sized items like a nail file, nail polish, lip gloss, and scented lotion.
Now you have your spa party inspiration– add your own details and enjoy a little girl time during a spa party!