I received his DIY dinner idea from Jeanne Benedict from the DIY Network's Weekend Entertaining and wanted to share it with you. She calls it "Boo" Spaghetti and it is really, really simple. Try it out and add a little spook to your weeknight dinner.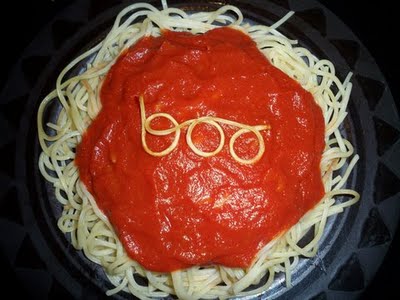 Jeanne's DIY instructions:
Cook spaghetti according to package directions, making sure to keep some long noodles intact, as opposed to breaking them to fit into the pot.
Line a cookie sheet with foil. Pull a noodle out and form the word "boo" on the foil; make a few.
Bake at 350 degrees for 3 to 5 minutes until firm and place your "boos" on top of red sauce on pasta!
Simple, right? She also has made a creative "Spider Web Design on Triple Layer Guacamole, Cheese, and Egg Torte" that you can see on her blog.
Thanks for sharing Jeanne!
Want to host a spooky dinner party? We have scary decor ideas for you as well!