I'm finally sharing pics from the recent Sweet Sixteen party I planned for my oldest daughter, Taylor. If you've been a reader for a while, you may remember her 9th Sweet Shoppe party, her 10th Zebra party, 11th Baking and Craft party–to name a few! Sixteen is BIG and I wanted to make sure the party reflected her personal style. It was desert meets succulent party theme. She picked everything, from the colors (peach and cornflower blue), to the theme (succulents), to the patterns we used throughout. It was a nice experience working with her to make the vision come to life. I also kept thinking, wow, I'm so lucky she has great style (because I LOVED her ideas)!  :)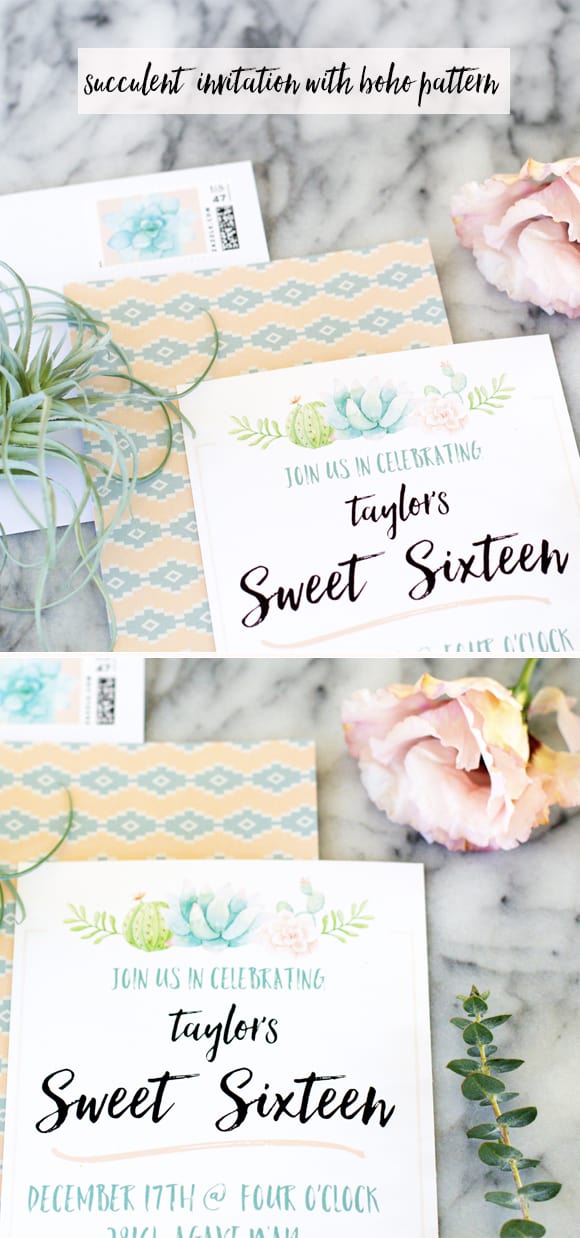 An invitation always sets the stage for a party and I was thrilled how this turned out. I designed them myself and printed them on high-quality paper. The succulents were incorporated on the front and we chose a peach and cornflower blue boho pattern for the back. I also designed coordinating stamps and thank you cards.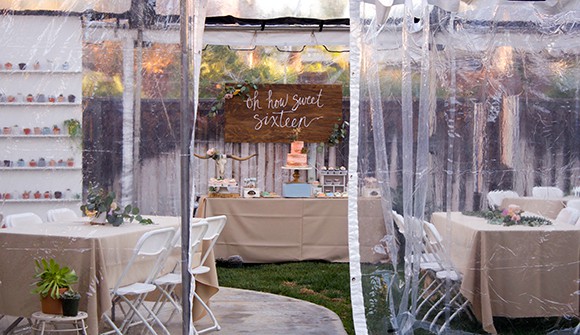 The guest list was pretty large since we included both family and her friends. We knew our home wasn't big enough to host everyone inside, and since it was mid December with temps in the 50's, we knew outside would be too chilly. We opted for renting a 20×30 tent for our backyard and it worked out better than imagined. It had a heater inside which made it completely toasty (it could get up to 75 degrees!). I loved the  clear plastic vs the traditional all-white because it gave the space a nice indoor-outdoor feel. We had market lights strung inside which lit the space at night. It looked amazing! Let's go inside to look at some of the details, shall we?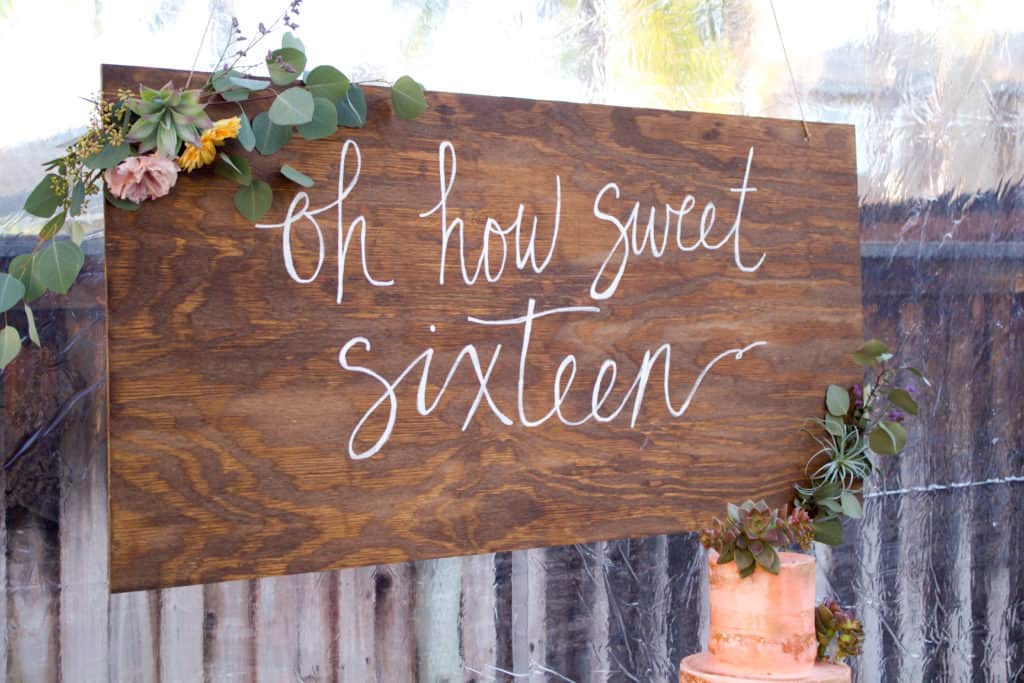 There were three hand-painted wooden signs throughout the party: above the dessert table, next to the favors, and at the entrance. I picked up the wood from Lowe's and gave it a quick stain. Then, I used water based Sharpie paint pens
to write on them.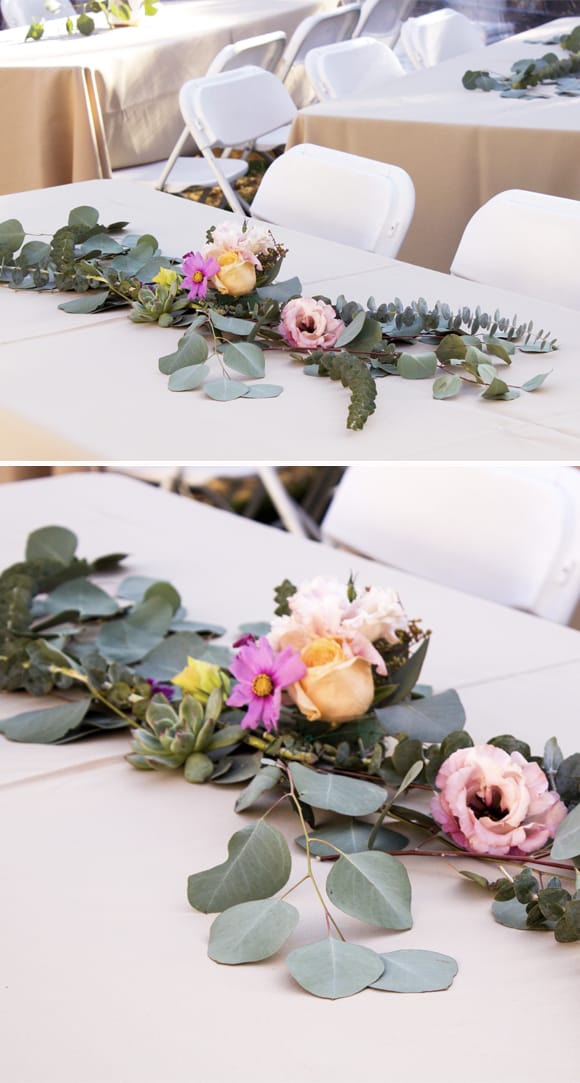 The linens were mainly khaki which was a nice neutral palette for the space. We wanted a that desert, natural tone and the khaki linens were the perfect backdrop for our floral table runners. (There was also one table with a cornflower blue linen and one with a peach–since these were the main colors of the party we wanted to let those colors pop subtly throughout the space.) The centerpieces were more like runners made out of eucalyptus leaves, fresh flowers, and succulents clippings. The eucalyptus (I used three different varieties), made the entire tent spell like a spa. That was  FABULOUS surprise. I hadn't realized how great it smelled before.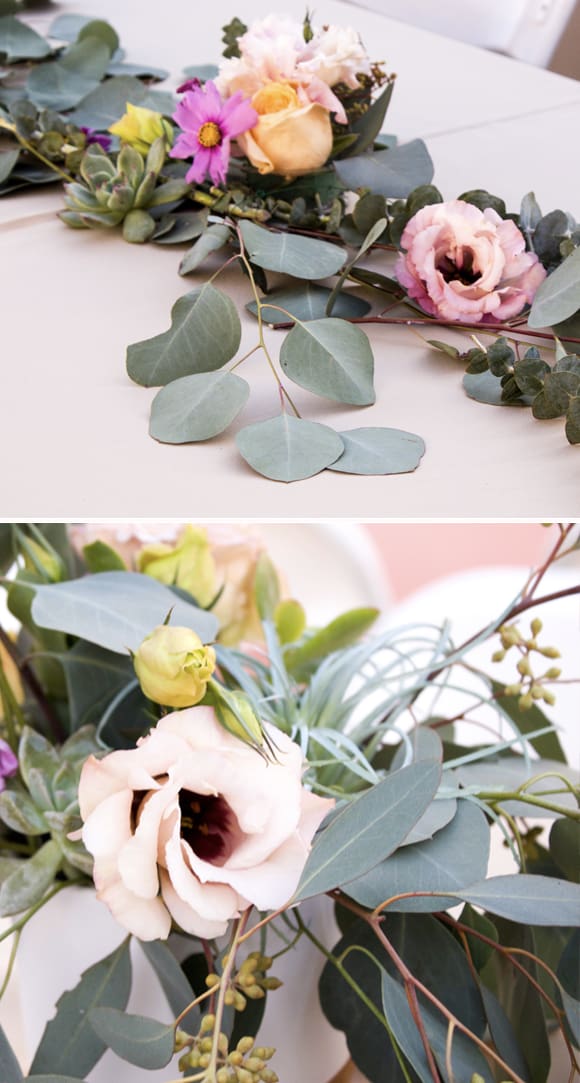 In addition to tucking succulents into each of the table arrangements, I also gathered larger potted succulents in the space. Since it was a succulent party theme, I wanted to make sure we used as many real succulents that we could (speaking of I cannot wait to show you the party favor installation we created!).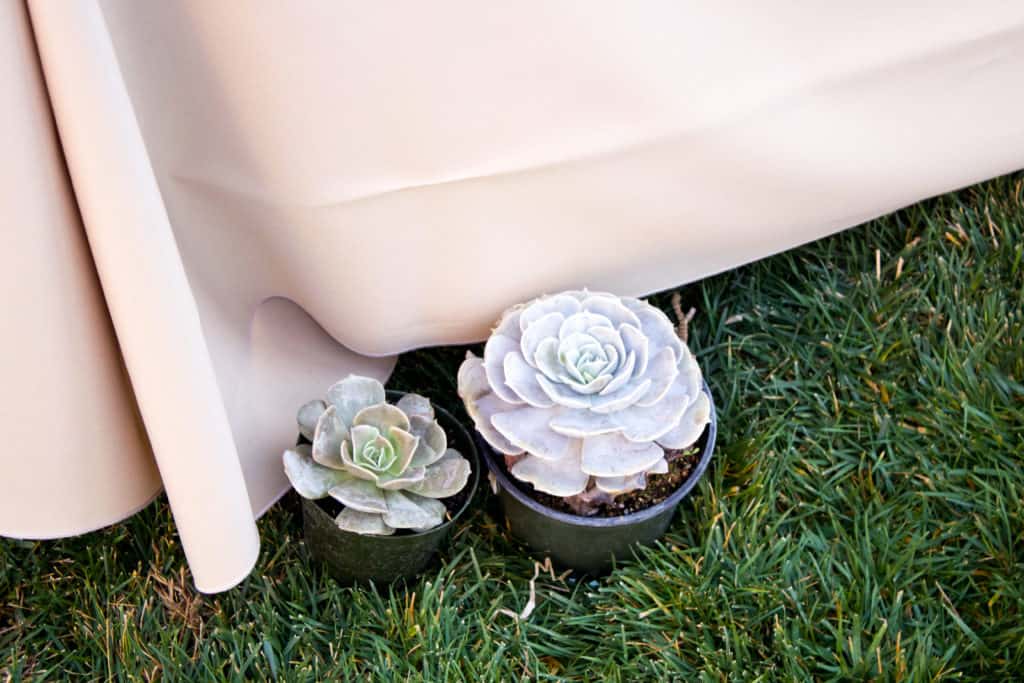 Using succulents throughout the space tied the theme together nicely. I purchased the larger ones from my local nursery.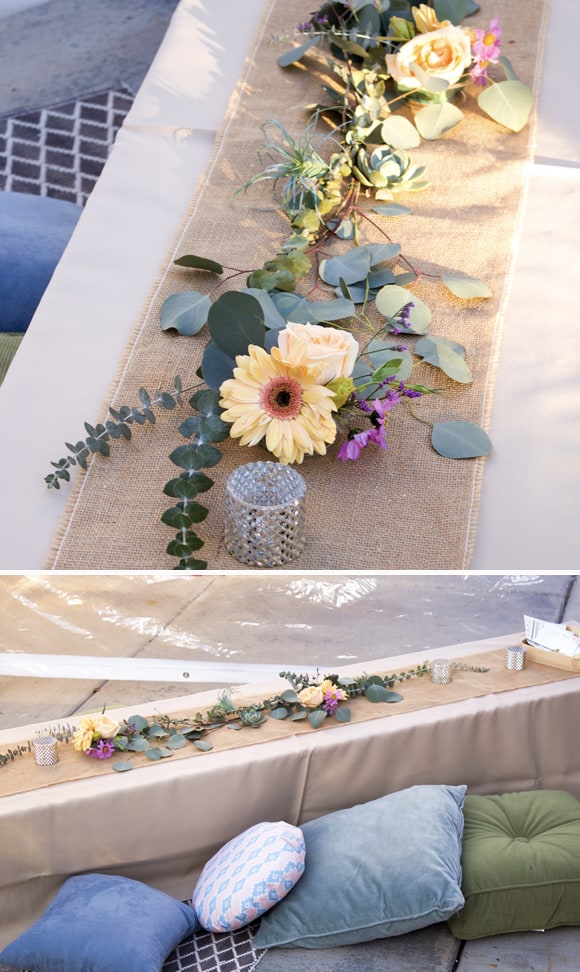 I also set up a low table for the teens to lounge around and apply some metallic jewelry temporary tattoos . The tribal prints looks really cute and they had fun applying them. I added floor pillows for them to sit on to make it comfortable. I picked up a few large floor pillows from Hayneedle that were great. I also designed a couple using the pattern from the back of the invitation. The others  I got at a thrift store.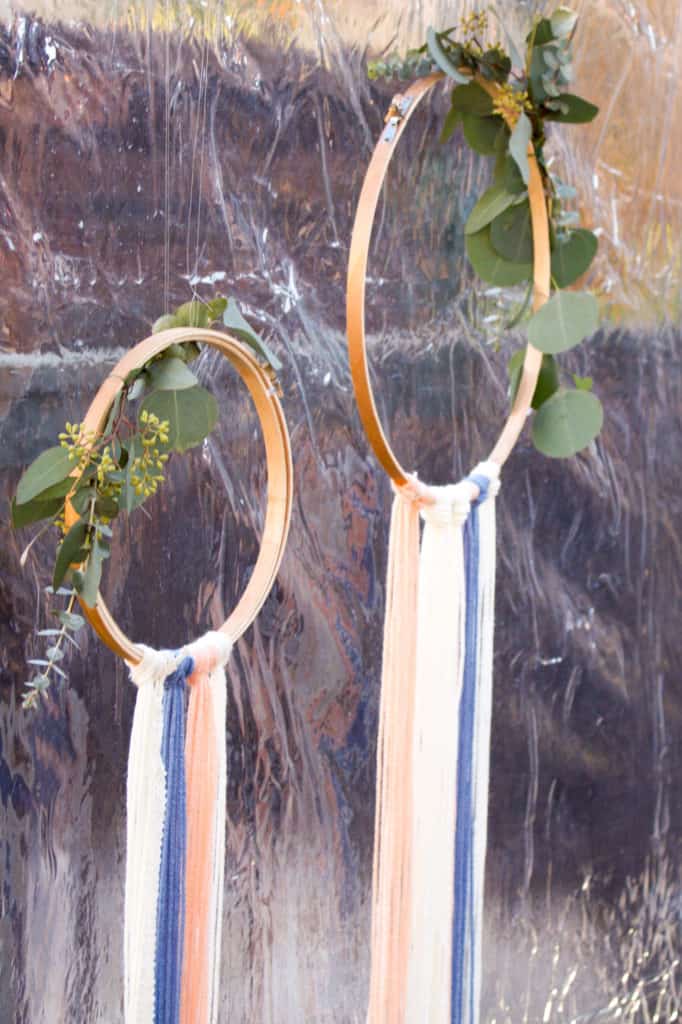 A little handmade decor rounded out the space. These didn't photograph that great with the plastic tent wall, but they were really cute. And the great thing? They cost $5 to make! I used a wooden embroidery hoop and some yarn. So simple! I attached some eucalyptus to the hoop using floral wire and then hung them with fishing line.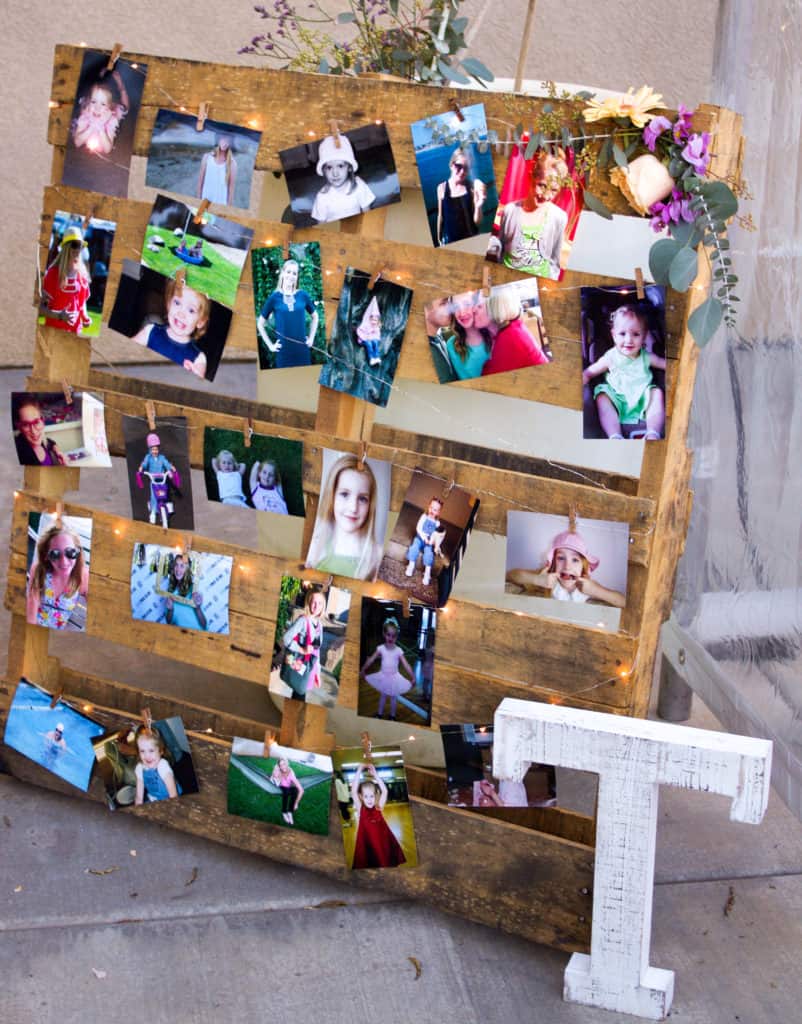 And what would a Sweet Sixteen party be without a few baby pictures (am I right?). I strung photos on a pallet and added twinkle lights so they lit up at night. Just so HARD for me to believe she's 16 already!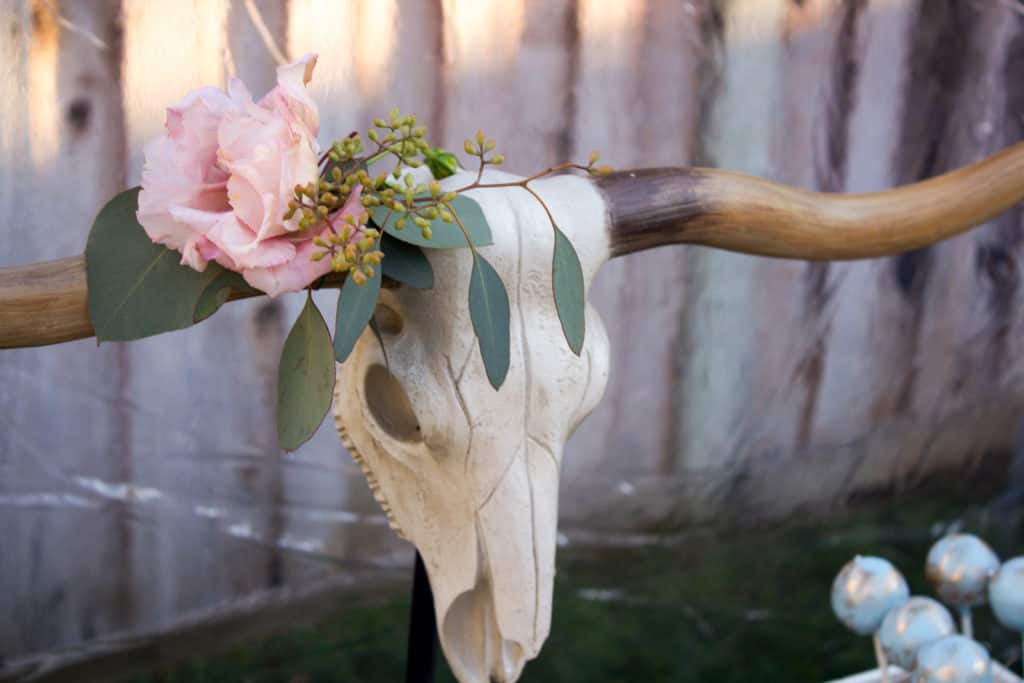 I hope you're loving it so far, there is so much more to share.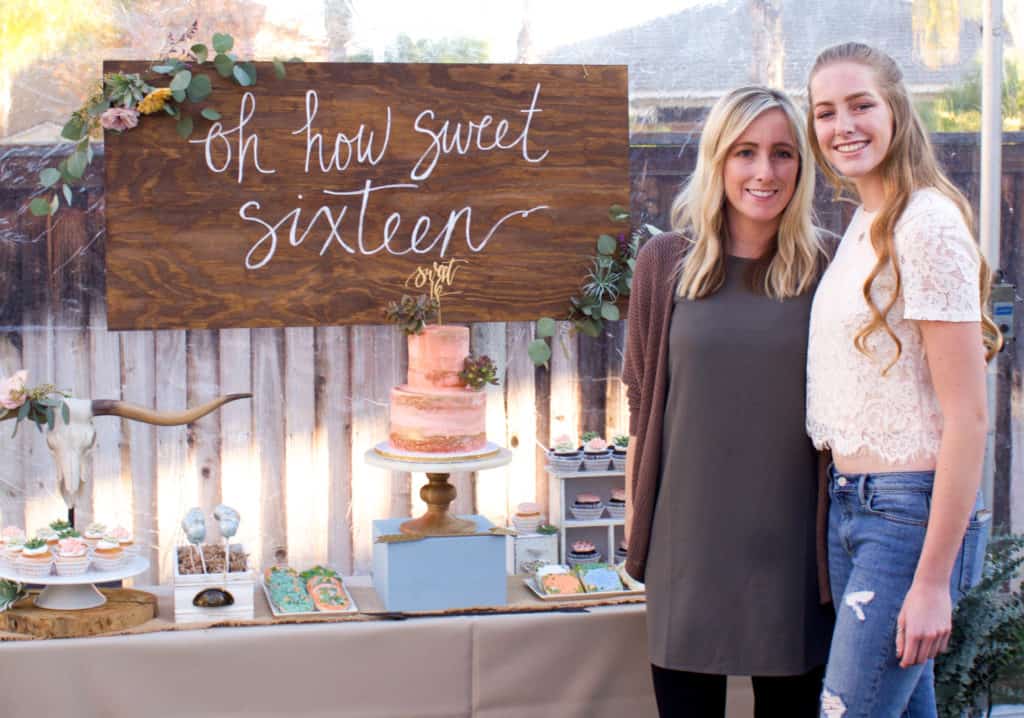 I'm going to pause there so this post isn't forever-long. But here's a little peek at the desserts. And this is me and the birthday girl. She has heels on but even without them, she's taller than me. Love her to pieces. (Now please stop growing up m'kay?).
I haven't even gotten to the dessert table, photo booth, or party favors (which were my FAVORITE!).  Check them out in Part 2, here.