If you're looking for tea party ideas for your next book club, birthday party, or viewing party, you might like these simple ideas.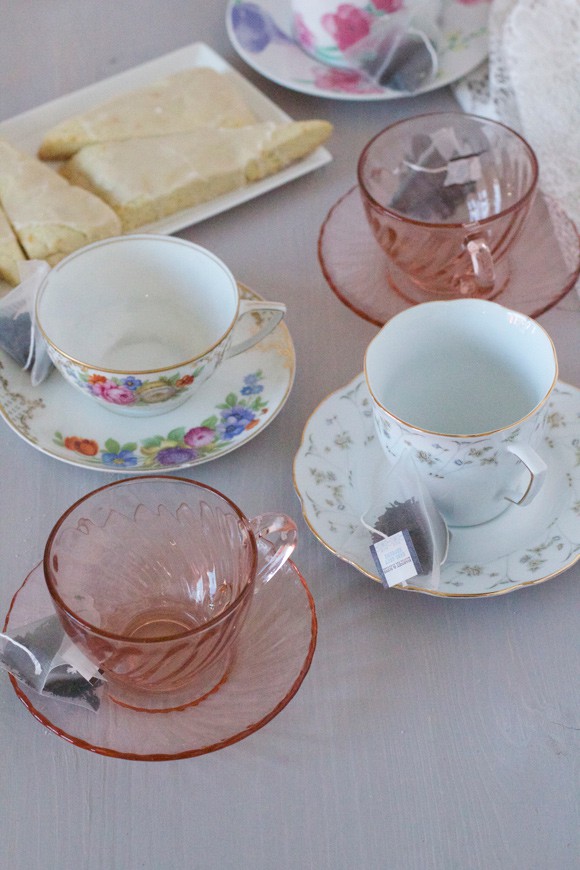 Are you hooked on Downton Abbey like I am? I confess to catching on late and then bin-watching season after season (there could be worse things to binge on, right?). As the finale of season 5 is approaching (it's Feb 22!) it's time to start thinking about hosting a finale party. Because, why not? If you're a fan of the show, it's a must. If you're not into the show, you can find any reason to gather the ladies in your life for a little tea party… I'm sure of it.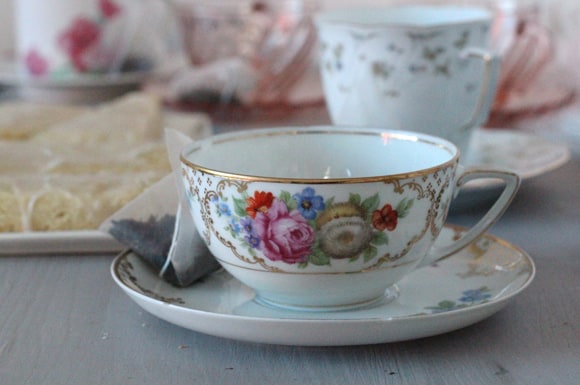 Last Sunday I spent the afternoon browsing local thrift shops in hopes of collecting a few vintage tea cups. I was pleasantly surprised how many I found! I had to limit myself to only picking up what I really needed. But they are just so unique and pretty. This one was my favorite.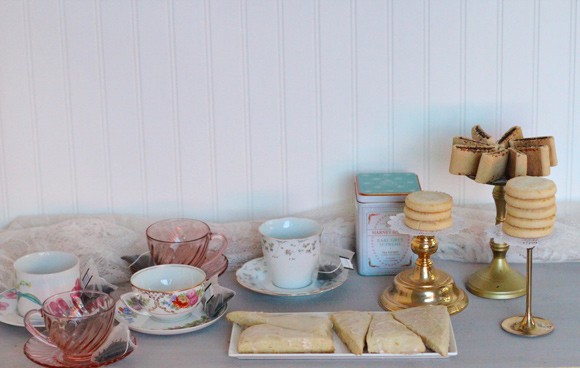 I set up a "tea and treats" station where guests can help themselves during the commercials. If you're looking for tea party ideas, I love the idea of a self-serve approach. I set themed cookies (Pamela's Fig Bars and Lemon Cookies) on top of gold and brass candlesticks I picked up at the thrift store as well. I also made a batch of orange scones with champagne glaze (recipe below).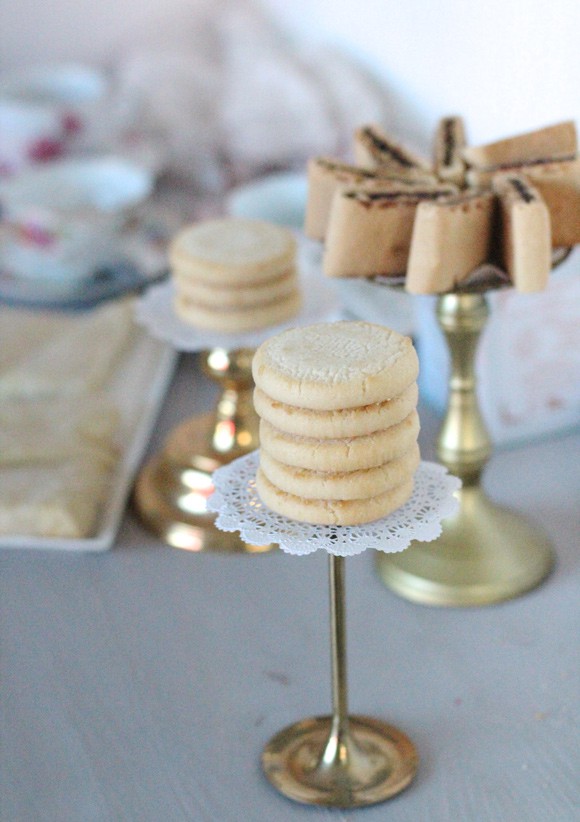 Incorporating store bought cookies and one homemade recipe kept things simple. Just how I like them to be.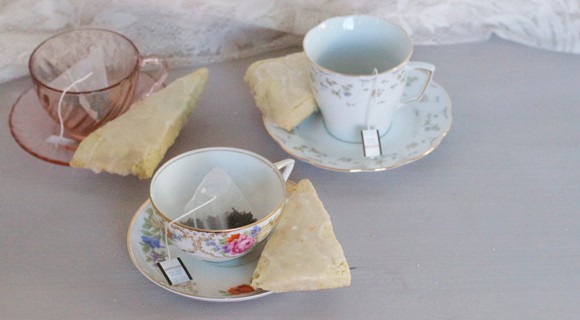 I had never made scones before and was pleasantly surprised how simple it was. I researched a few recipes and then made my own adaptations because I had a vision of using champagne as an ingredient.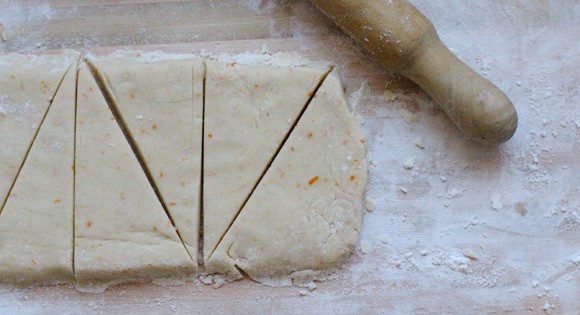 Here's what the dough looked like pre-oven.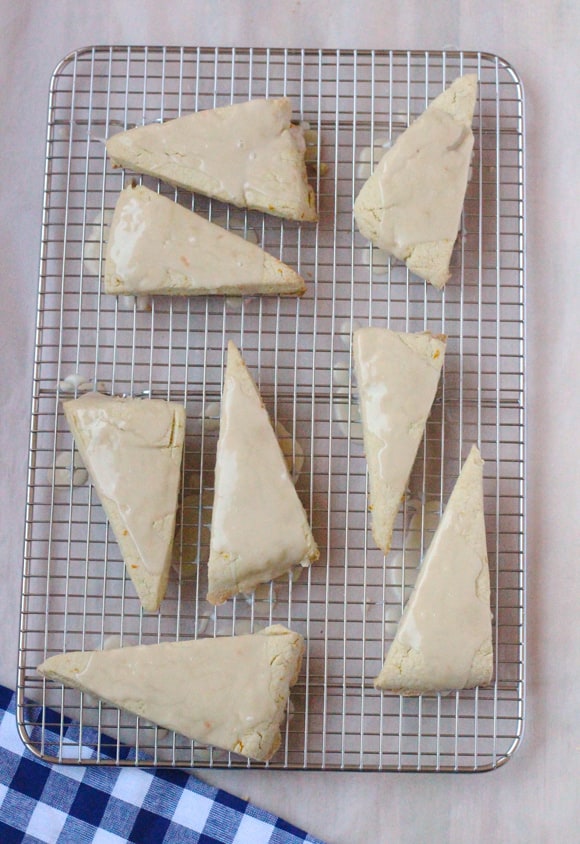 This was what they looked like, baked and glazed. So delicious with a cup of hot tea. And because I used Pamela's All-Purpose Flour Artisan Blend, they just happen to be Gluten-Free.
Will you be sipping tea during the finale? If you can't wait that long, I say whip up some of these scones now… they didn't last long in our house!
Orange Scones with Champagne Glaze
This post was done in collaboration with Pamela's Products. All thoughts are my own.
ORANGE SCONES WITH CHAMPAGNE GLAZE
Ingredients
⅓ cup sugar
zest of one large orange
2 cups Pamela's All-Purpose Flour Artisan Blend
1 teaspoon baking powder
¼ teaspoon baking soda
½ teaspoon salt
8 tablespoons unsalted butter, chilled
½ cup Sour Cream
1 large egg
For the Glaze
3 tablespoons unsalted butter; melted
1 cup powdered sugar
3 tablespoons chilled champagne
To Make
Preheat oven to 400 degrees. Line a baking sheet with parchment paper.
In a medium bowl, combine sugar and orange zest; Add in the flour, baking powder, baking soda and salt and mix.
Grate butter into flour mixture on the large holes of a grater; use your fingers to work in the butter until the mixture until combined.
In a small bowl, whisk the sour cream and egg until smooth.
Stir sour cream mixture into flour mixture until large dough clumps form. Use your hands to press the dough against the bowl into a ball. The dough will be sticky first, but as you press, the dough will come together.
Place on a lightly floured surface and pat into rectangle about ¾-inch thick. Use a sharp knife to cut into 8-12 triangles; depending on your desired scone size. Then, place them on the baking sheet, about 1 inch apart. Bake until golden, about 15 minutes. Cool for 10 minutes and prepare the glaze.
In a medium bowl, prepare the glaze by mixing together the melted butter, powdered sugar, and champagne. Whisk until very smooth. Drizzle (I used a ladle) the glaze over the scones and then allow the glaze to harden. Once hard, you can stack the scones on a platter or store them in an airtight container for later.
Looking for more tea party ideas? These might come in handy: