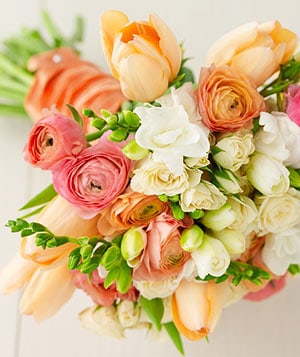 Most often- it is the little details that make all the difference. Little thoughtful touches can really be impressive and usually are much more meaningful. While checking out my favorite magazine, I came across this very thoughtful idea. The next time you make or order a flower arrangement for someone, consider picking out blooms that fit their personality. Did you know flowers have meaning? Me either. Not only are they gorgeous sentiments- they also can hold extra special meaning to.
If you are a bride, I love this idea over at Real Simple: Add a signature flower to each of your bridesmaids bouquets that fit their personality. Attach a small note sharing why you chose that particular flower for them. Thoughtfull right?
Here are what a few of my favorite flowers mean- in the language of blooms:
-Lily: Purity and sweetness
-Peony: Happiness and prosperity
-Sweet Pea: Departure
To see what your favorite blooms means, visit Real Simple to read their full list.