Looking for something cute and sweet to whip for your little Valentine or to serve at your Valentine's Day party? We've shared several Valentine's Day cupcakes (and even an adult only version)  but today we're loving these super simple cookie pops!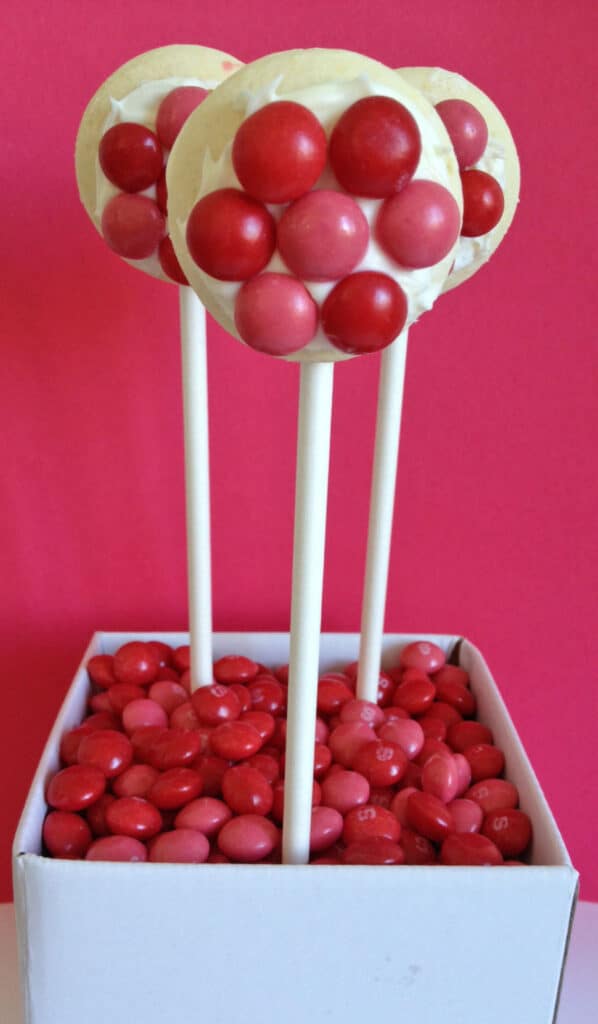 Aren't they cute?!
Recently, the nice folks at Wrigley Candy Co. sent me a huge box of sweet surprises. Think… all the good stuff — Skittles, Starburst, Lifesavers, + gum galore! Besides snacking like crazy (someone please come take this candy away from me) I've been playing with fun new recipes like this one.
What I used:
-Mini sugar cookies (these are store bought even, see — simple!)
–White frosting
-Red & Pink Skittles
-White lollipop sticks
*note – you may have to eat all other colors of Skittles in order to isolate the red & pink. It's okay, just go ahead and eat them all.
What I did:
–Used frosting to attach to cookies together, placing the stick in the middle (like a sandwich)
-Put more frosting on one top of the cookie
-Placed the Skittles on the frosting for the decoration
DONE!
I placed my completed cookie pops in this perfectly sizes Blumebox and covered the pop insert with more Skittles.
What do you think, could cookie pops be the next cake pop? I'm a much bigger cookie fan, so I'd be okay with that ;).
I received candy from Wrigley to complete this post. However, all thoughts & opinions are my own.