This is a sponsored post. All opinions are my own.
Looking for veggie tray ideas for your next BBQ or dinner party? I love laying out a variety of fresh veggies and dip for guests to enjoy. Especially at a summer BBQ where the menu is typically heavy on grilled meats. A fresh veggie tray is a great way to offer guests a great appetizer to snack on without being to heavy.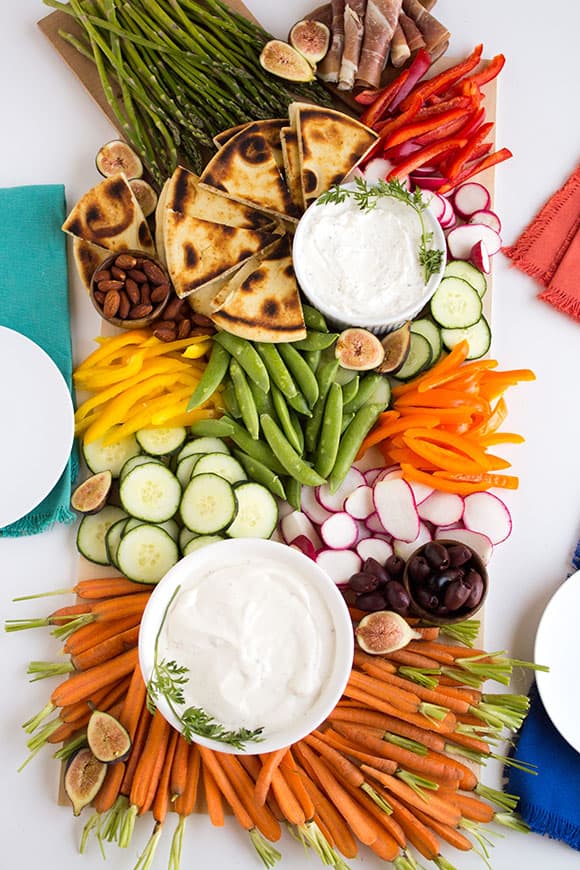 When possible, I always head to our local farmers market to pick up some fresh vegetables. I love to mix up what I serve based on what's in season. And I always look for something unexpected to add into the tray–in this case they were some delicious black figs I discovered.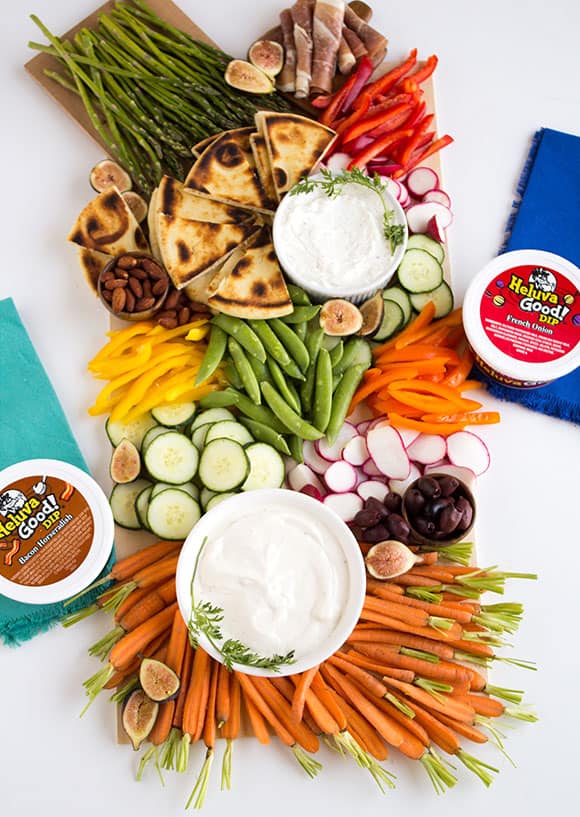 There are several ways you can go when thinking of veggie tray ideas, but my favorite is creating a long board like this that can go in the center of the table. I find when you put the appetizers off to the side or out of the proximity of where your guests are sitting, they often go untouched. Using a long board almost makes it feel like a colorful (and edible) centerpiece.
I suggest picking two different dips to compliment what you have on your veggie tray. I always reach for Heluva Good! Dips because they have a wide variety of flavors that taste amazing (and all I have to do is open the tub!). You can find several flavors on dairy aisle of the supermarket. They're made with real sour cream and lots of flavorful spices which compliment the local, fresh veggie assortment nicely. I chose French Onion and Bacon Horseradish. These flavors worked well with he diverse items I was serving.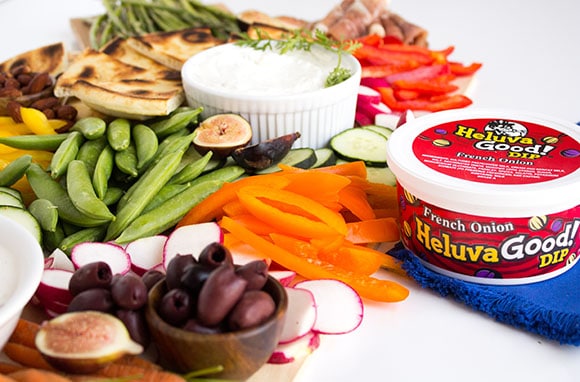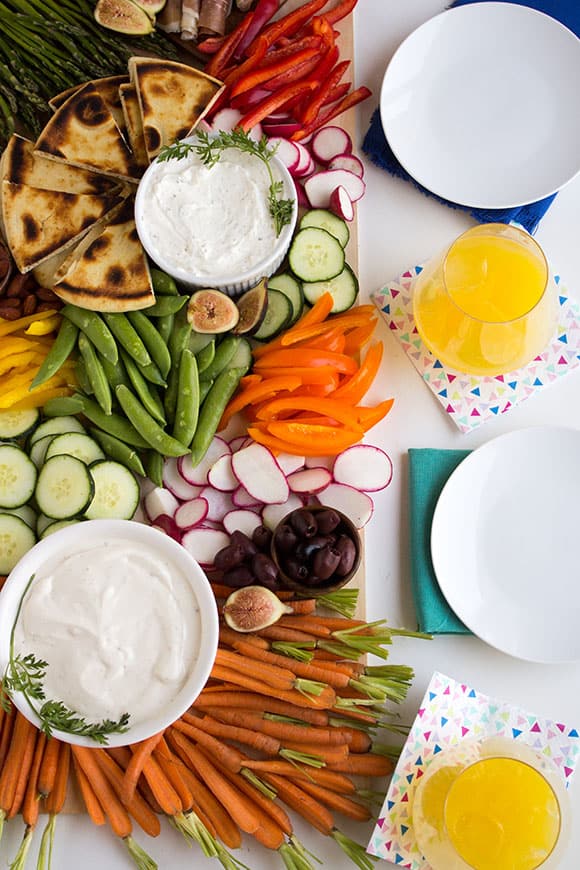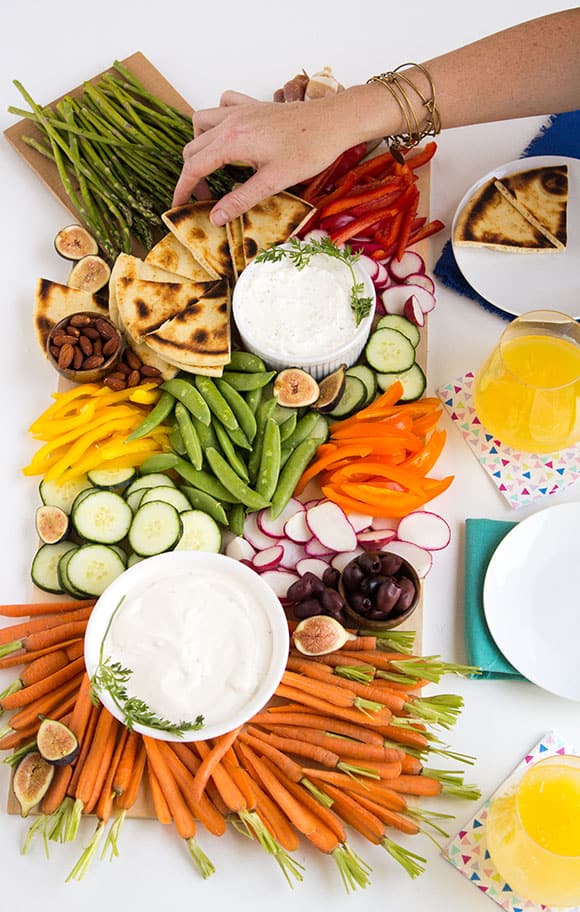 My tip for making a dramatic veggie tray that looks really impressive, is to make sure you make it look bountiful. I like to overfill it with piles of different fresh vegetables, local artisanal pita bread, a few olives, and nuts. Also, adding a small portion of salami or prosciutto offers a nice variety and the meats pair really well with the dips. It's really simple to put together but looks pretty fancy (if you ask me).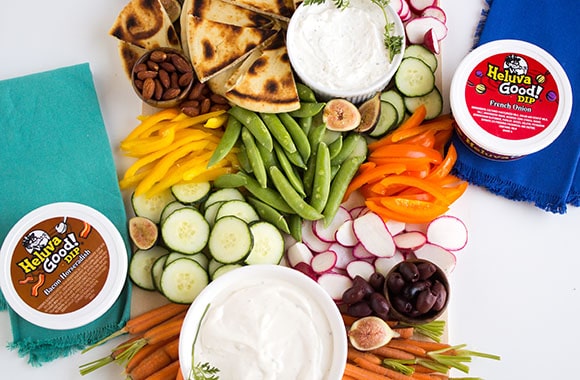 Set some small plates and napkins on the table and let guests help themselves.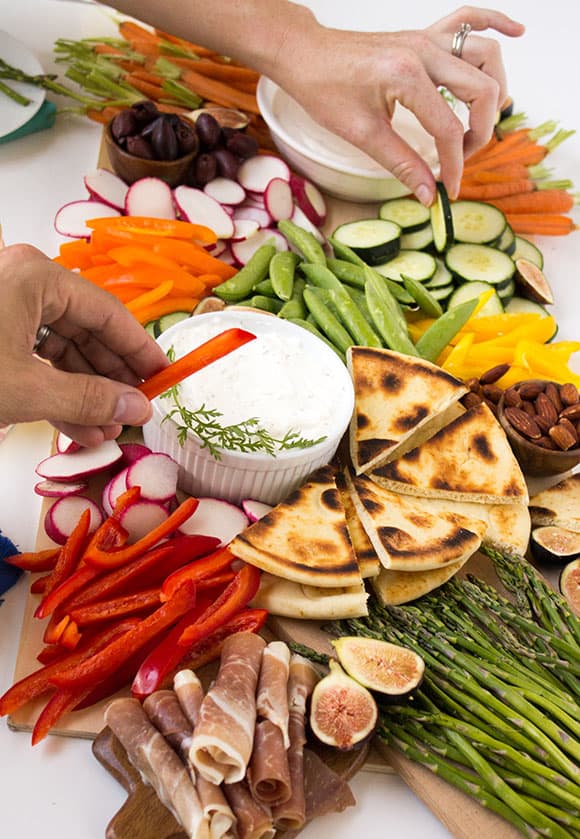 The dramatic presentation and use of flavorful dip will even have your youngest of guests reaching for more veggies ;).
Visit HeluvaGood.com for full product info and to find out where you can buy Heluva Good! dips in your neighborhood.