Summer is winding down but it's still extremely hot here in Southern California (it was 115 yesterday …yeah, it's H-O-T). Even though the temperature might not reflect it, summer is coming to an end –but I'm not ready to completely let these lazy summer days go. I'm holding on a little bit longer while sipping this Seagram's Escapes watermelon cocktail!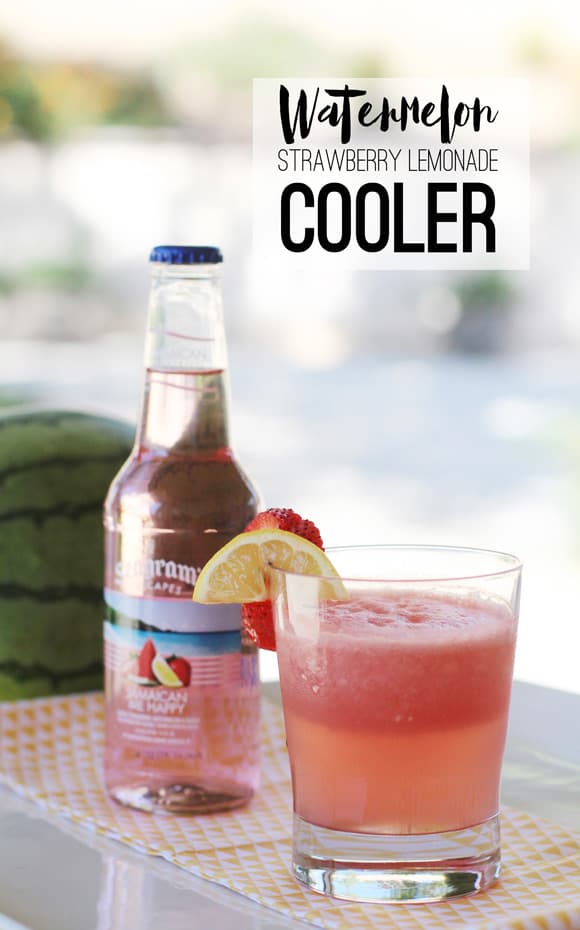 This is the last weekend before school is in full swing for both of our girls, so we set up for light and refreshing pre-dinner sips & salads this weekend (just for us grown ups). There's no flavor that screams "summer" more than watermelon (am I right)?! That's why this cocktail is the perfect one for your summer send off sipping enjoyment (now say that three times fast!).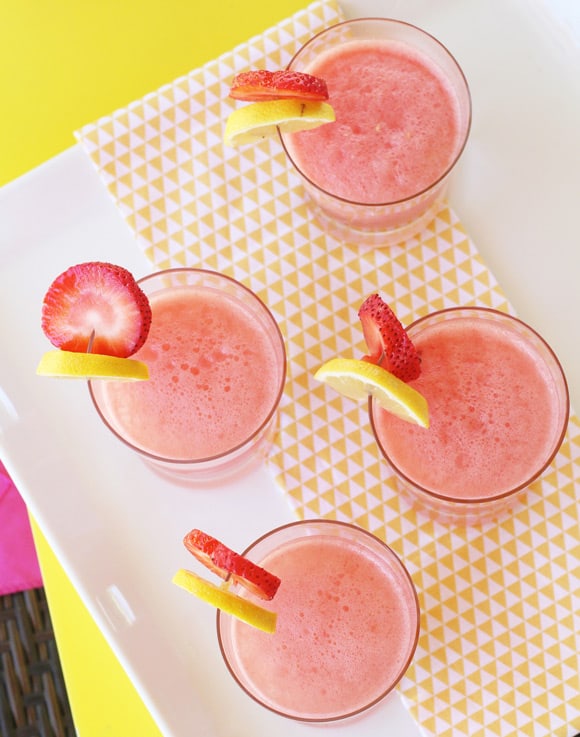 When I recently saw the colorful Seagram's Escapes bottles, I instantly thought — SUMMER! I mean, the colors alone will put a smile on your face (but believe me, so will the flavors… so good!). The Jamaican Me Happy flavor inspired the cocktail and salad, both included watermelon, which means it all tasted light and refreshing. I also let the bottle influence the colors used in setting the table. Pinks and yellows were used in the table runner, plates, napkins, and serving dishes. The tablescape complimented the drink colors and gave our evening a nice summer vibe.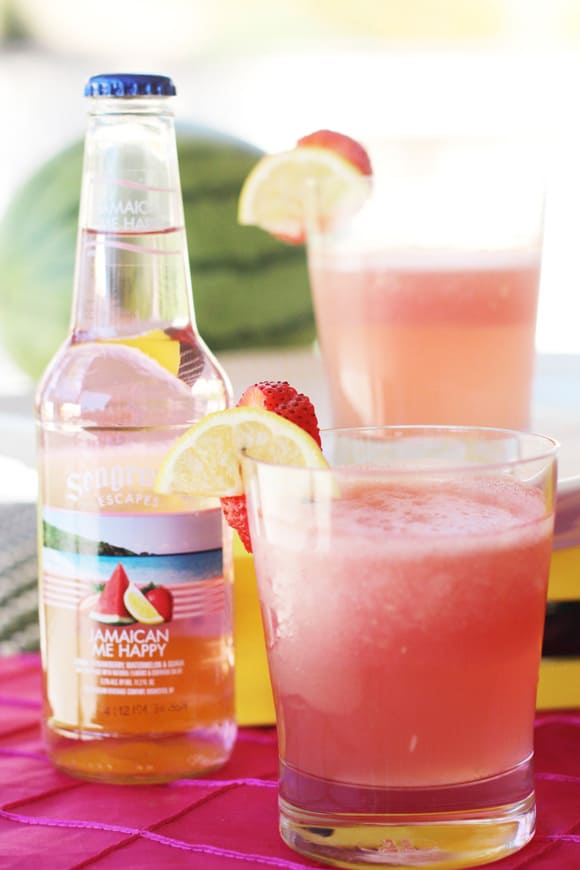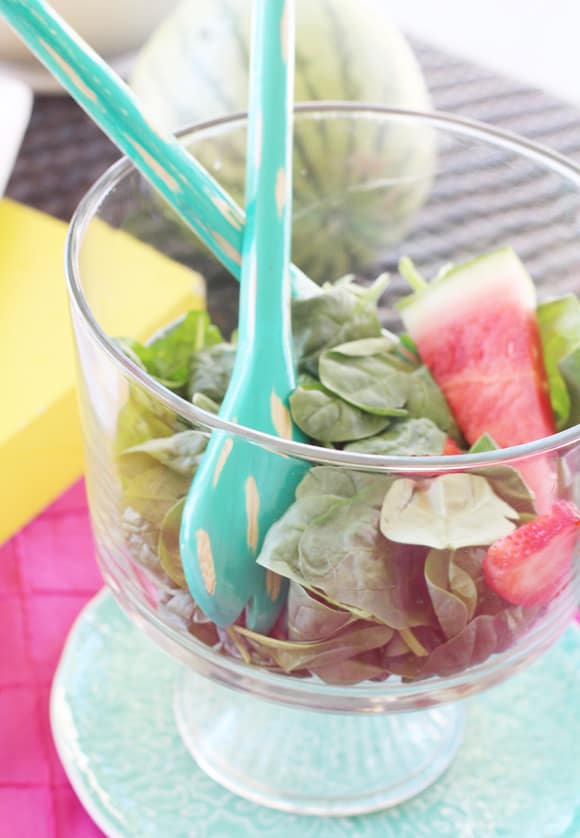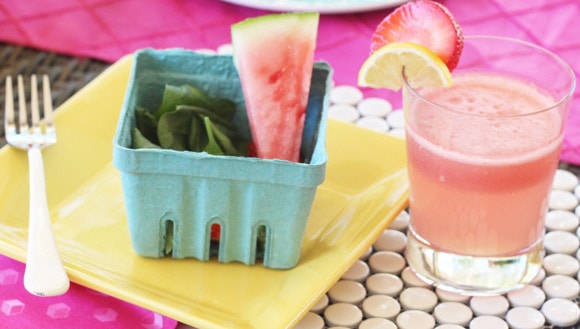 The salad was super simple, which is what I prefer in the hot summer months. Baby spinach, fresh strawberries, a light balsamic dressing, and a wedge of watermelon. This salad is really basic but full of fresh summer flavors. Of course, I love to serve them up in berry baskets when entertaining outdoors.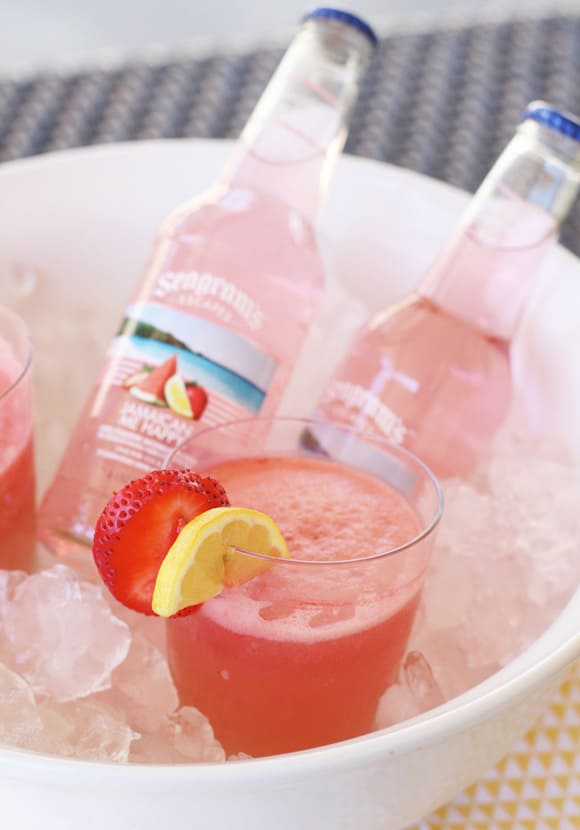 Even in the evening, it's warm outside. Keep drinks chilled with a shallow bowl of ice. When not sipping, set your glasses on ice to keep cool. This also works if you're pre-making drinks in a pitcher, just place the pitcher right into the center of the bowl of ice. Bonus: This makes for easy refilling!
Place lemon slices, strawberry slices, and watermelon wedges out for garnish your glasses. You can stick them right on ice as well to keep them chilled.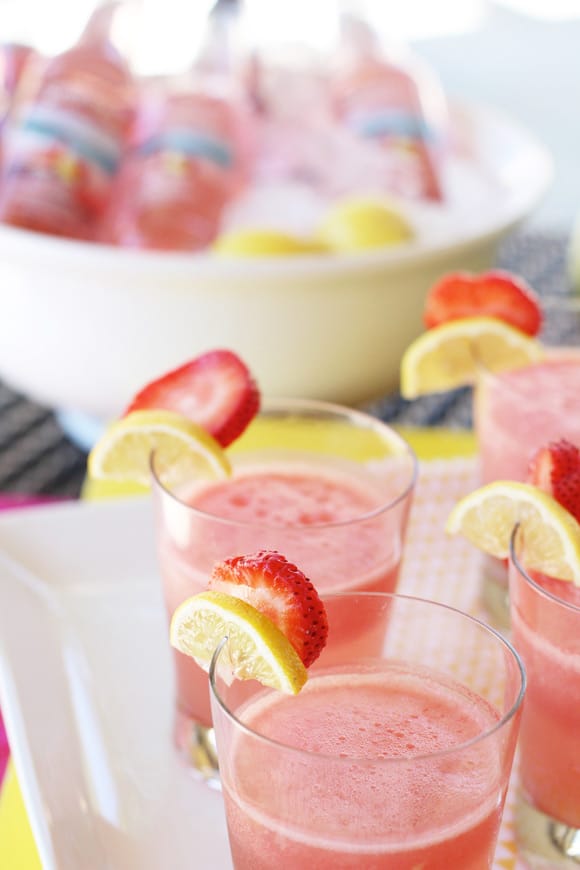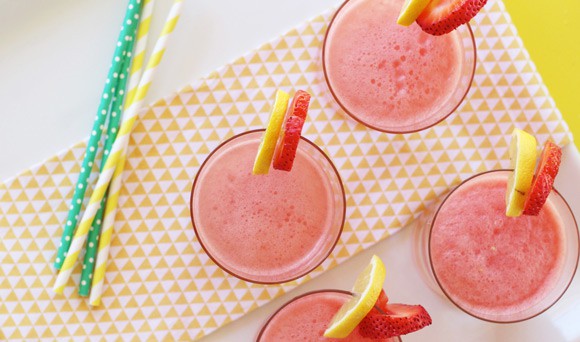 Want to make your own watermelon cocktail?
Watermelon + Strawberry Lemonade Cooler
Tag your photos @HostessTori and #TScocktails. Can't wait to see what you make!
Ingredients
2 bottles Seagram's Escapes Jamaican Me Happy
2 oz vodka
2 cups frozen watermelon cubes
To Make
In blender combine Seagram's Escapes, vodka, and frozen watermelon cubes. Blend and divide amongst four glasses.
To make watermelon ice cubes: Cut up a seedless watermelon into 2" x 2" cubes and place them into the freezer for at least 30 minutes. When you're ready to blend your drinks, just grab them and put them in the blender with the other ingredients.
Tips for your own send off summer party:
Let your Seagram's Escape bottle influence your menu (flavors) and tablescape (colors)
Keep drinks on ice
Make a pitcher for easy serving
Add simple garnishes (like lemon slices and watermelon wedges) to each glass
Keep your menu light and refreshing
This is a sponsored post, thank you for supporting brands that allow me to share new simple ideas with you. Thank you to Seagram's for helping us send off summer in style, cheers!
You might also like these peach + pineapple frozen drinks.